Dental professionals, product developers and suppliers from across the world gathered at IDS 2023 in Cologne, Germany to discuss the latest advancements and technologies in dentistry. From innovative materials and new aesthetic solutions to smart technologies for use in surgery and workflow, the 100th anniversary of the International Dental Show has showcased a myriad of innovations.
Modern-day technologies include glass ionomer cement, compomers, composites, special bulk filling and hybrid composites. Topics of interest also included the different colors available to patients to choose from and to dentists to work with, as well as other options for dentures, implants and prosthetics.
Sustainability in Dentistry
The environmental impact of dentistry was also addressed, with eco items among the many products showcased. These included dental floss made from recycled water bottles—with a container and outer packaging made from recycled materials—and a toothbrush with a reusable handle, both from Swedish operation TePe. 
Portfolio director Anne-Kristin Ottosson said:
"Through an advanced production process where no chemicals are involved, post-consumption plastic bottles are transformed into recycled polyester floss, resulting in considerably lower carbon emissions than virgin materials. 

Even the avocado oil the floss is infused with is a by-product from the food industry."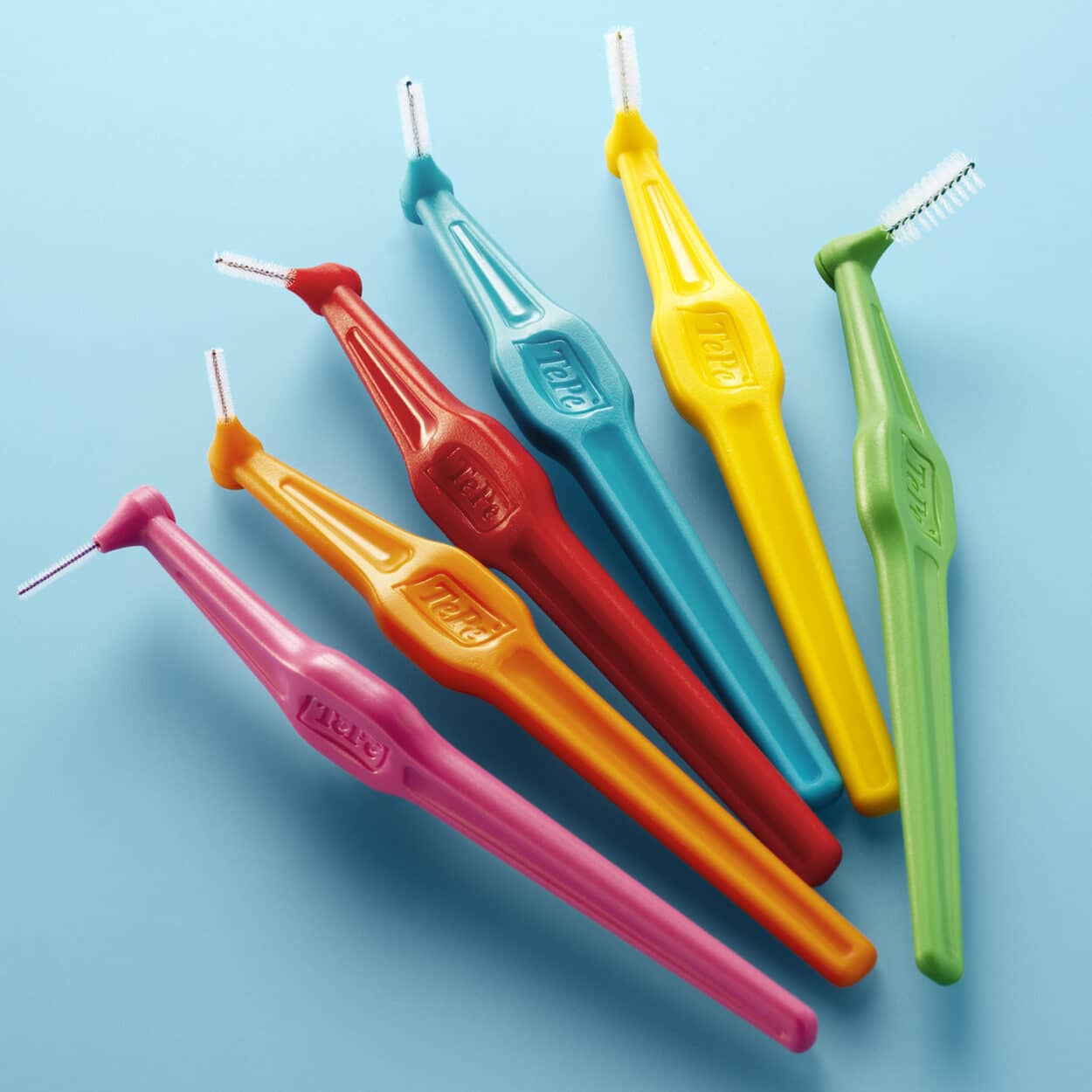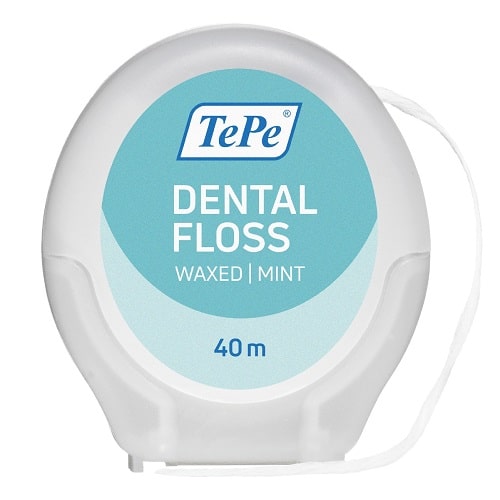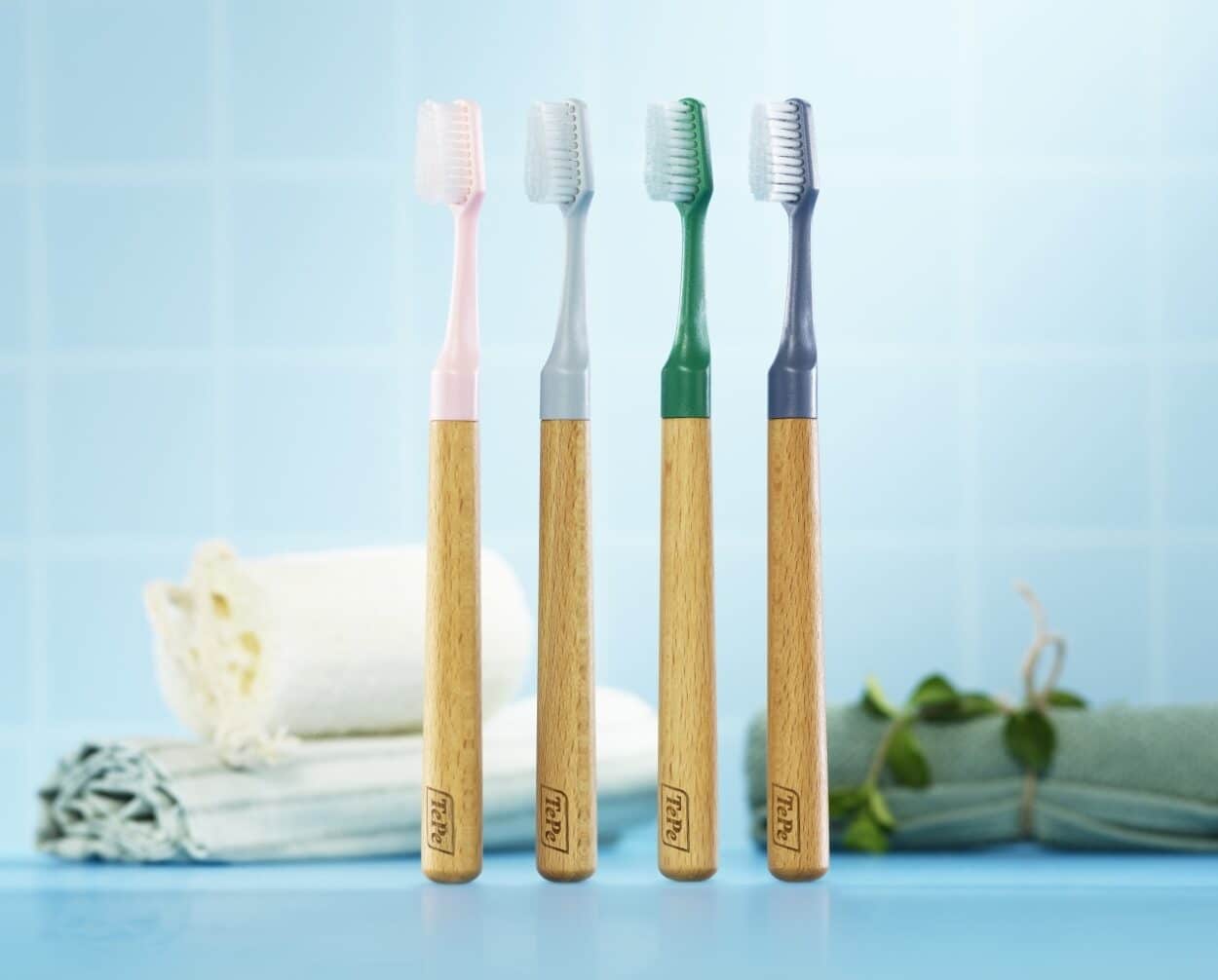 The toothbrush has a reusable wooden handle and replaceable, plant-based plastic brush heads. It is manufactured in Sweden using 100% renewable energy. She added:
"We have successfully been phasing out fossil plastic from our existing products and packaging during the last couple of years. But this is the first product that we have developed with sustainability in mind right from the start."
Smart Dentistry
Robotic dentistry and machining were topics of discussion at IDS, together with 3D printing and artificial intelligence (AI). 
US-based Image Navigation showcased its image-guided implant dentistry system, the IGI 2.0, which offers the precision of navigation and the safety of robotic tools in implantology. Lawrence Obstfeld, CEO, said:
"Our IGI V2.0 is a Waze for dental implantology, providing the highest accuracy in implant surgery together with the safety of robotics—without a large and expensive robot in the surgical field.  

The surgeon navigates in real-time, according to the pre-surgical plan. The auto-stop will disable the drill if it is not following the on-screen indicators displayed on the screen, ensuring that the execution meets the plan."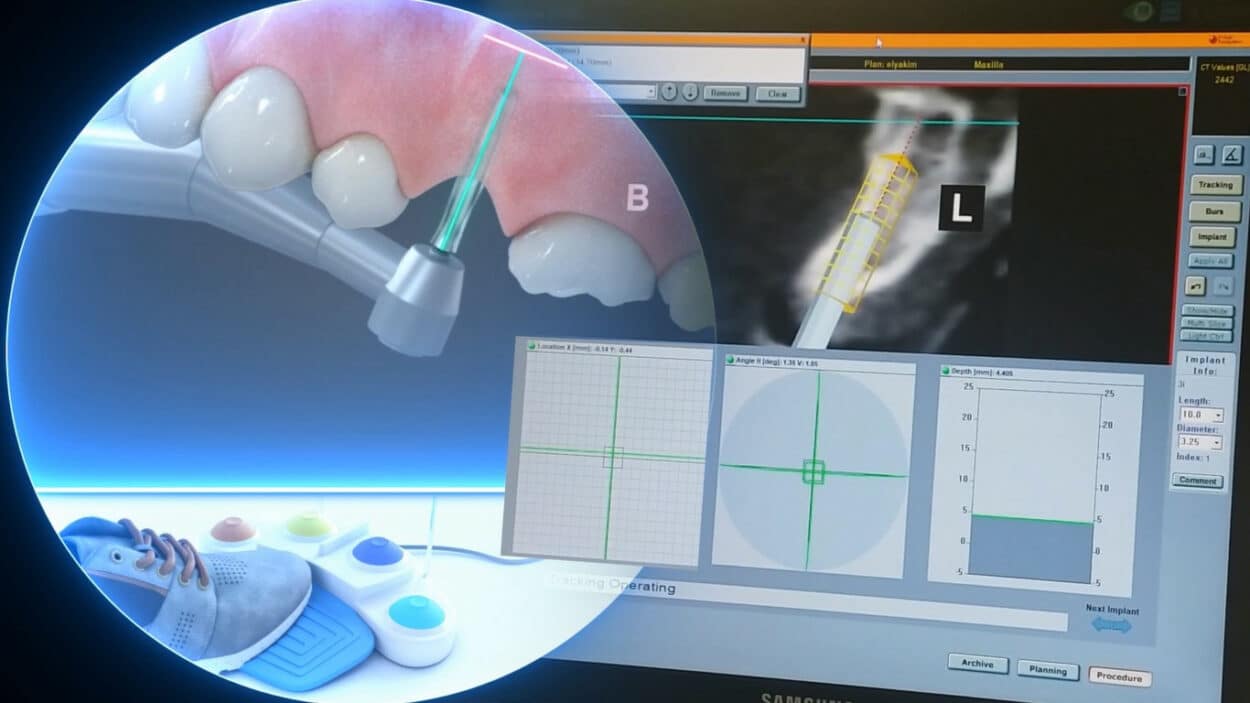 Stratasys introduced its J3 DentaJet 3D printer, which is aimed at smaller dental labs. It features biocompatible resins and can create mixed parts for crown and bridge models, implantology and orthodontic models, all in the same print job. Its large circular-build tray and high-speed mode can help labs to scale and boost output; printed parts are cured during the process, minimizing post-processing. 
According to Ronen Lebi, Vice President of Dental at Stratasys, it was ideal for smaller dental labs that had previously been limited to small, single-material, table-top 3D printers. He said:
"Adding a J3 DentaJet 3D printer can help labs produce best-in-class dental applications that require extreme accuracy at scale as demand is growing.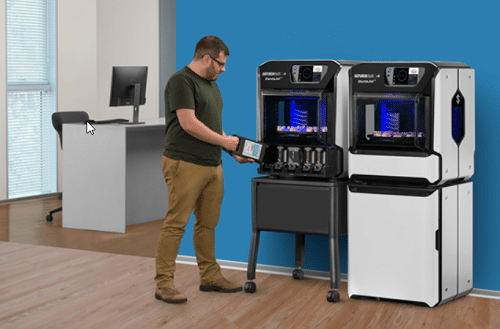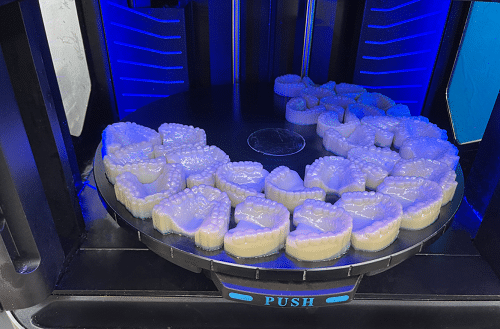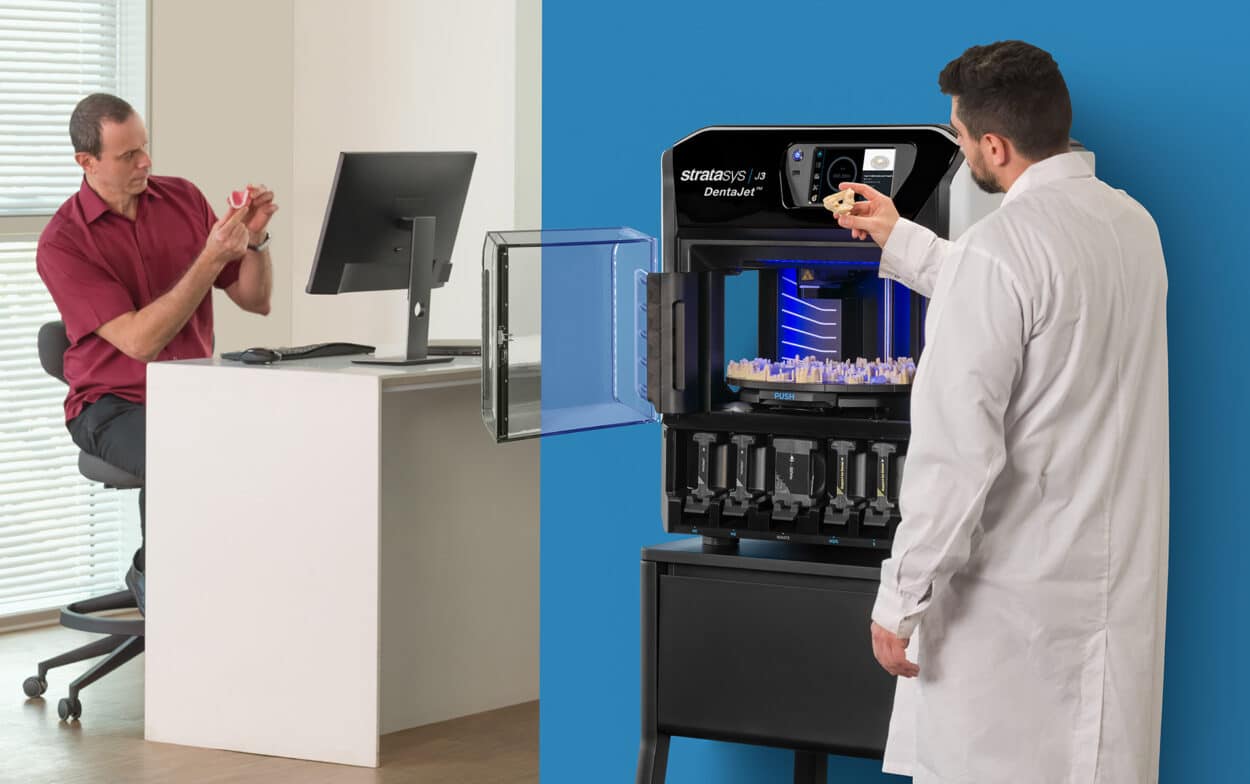 Dentbird Solutions discussed its options for integrating AI, cloud and CAD technologies to make AI digital dentistry possible. It offers a software-as-a-service (SaaS) approach, which makes the solution available on the internet.

It provides AI that automatically designs the optimal crown, taking into consideration the patient's surrounding teeth and occlusions. Its AI is being developed so that it can be used not only in the form of the generated crown but also in a wide range of inlay, bridge and denture work. It also aims to complete a fully integrated AI digital dentistry solution with seamless connectivity from intraoral scanners to 3D printing and milling machines.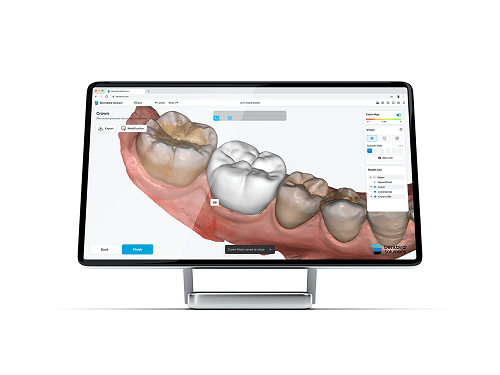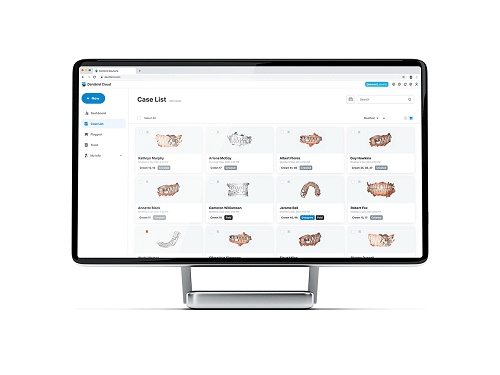 Prosthetic Solutions
Patient comfort and costs of dental work were also under discussion, with options such as dentures, implants and implantology all scrutinized.
Prosthodontist and Clinical Professor at Loma Linda University, US, Dr. Michael Scherer, for example, discussed the latest in fixed full-arch implantology. He spoke about using existing ZEST Dental Solutions' Locator abutments to create a fixed full-arch restoration. He said:
"A lot of our patients are choosing complete dentures and are more or less settling for a substandard prosthesis.

There are a lot of challenges associated with non-implant retainer supported prosthetics. They move around, they often need adhesives and glues to hold in the prosthesis and have a lower bite strength. Even some of the best made dentures in the world can dislodge or become loose when the patient is chewing harder or crunchier foods.

As I result I have become a huge fan of implant retained over-dentures in my clinical practice, with two, four or six implants per arch and using a locator abutment to take the denture and snap it in place."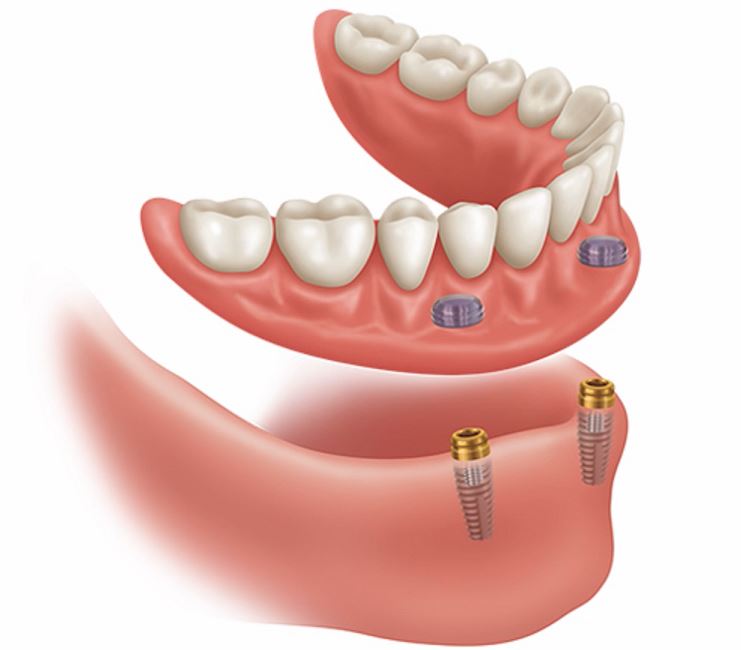 Dr. Scherer said patients often had no choice but to opt for dentures because of the lower price point. Implant-retained dentures were a good option but more expensive and could still result in movement. Dr. Scherer observed:
"Permanent teeth—a screw retained (fixed) option—are wonderful to chew with and the patient doesn't have to take them out but typically this costs US$ 25,000 to US$ 30,000 and bone reduction is required.

Historically, there hasn't really ever been an option in the middle, but the Locator fixed prosthesis now fits into this gap. It is only removable by the dentist and costs around US$ 12,000 to US$ 14,000 per arch. 

It allows us to create a full-arch, fixed restoration and gives the patient a choice between options with no need for bone removal. It is less invasive, requires shorter appointments and results in greater patient comfort."