Scientists have developed a smart dental implant that resists bacterial growth and generates its own electricity through chewing and brushing to power a tissue-rejuvenating light. In light of the IDS dental show from March 14-18 in Cologne, Germany, we took a look at this cutting-edge technology.
Millions of people across the globe have dental implants to replace a tooth that has been lost or damaged due to injury, decay or gum disease.
Despite the high success rates in healthy patients with good bone integrity, the quality of implants can deteriorate over time and they often need to be replaced within five to ten years due to local inflammation or gum disease. This is costly, time-consuming and potentially painful for the patient.
Dr. Geelsu Hwang and his team at the University of Pennsylvania School of Dental Medicine seek to fix this issue. They have developed an innovative new smart implant that is free from the risks of wear and tear seen in traditional implants.
The crown composite contains piezoelectric nanoparticles as active agents. These nanoparticles can convert any kind of mechanical stimuli to electrical power. For example, by chewing food and tooth-brushing, it can generate sufficient power to light up embedded LEDs in the abutment for light therapy.
Targetting the Pathogenesis of Biomaterial Infection
Dr. Hwang, who has a background in engineering that he brings to his research on oral health issues, explained:
"With advances in technologies, a range of biomaterials have been fabricated for human use, including dental, orthopedic, and nasal implants.

However, infection on medical devices is still an unresolved problem in modern healthcare. Our new implant system is designed to precisely target the pathogenesis of biomaterial infection. It prevents pathogen accumulation at the implant interface and stimulates soft tissues that make them much more resistant to pathogens.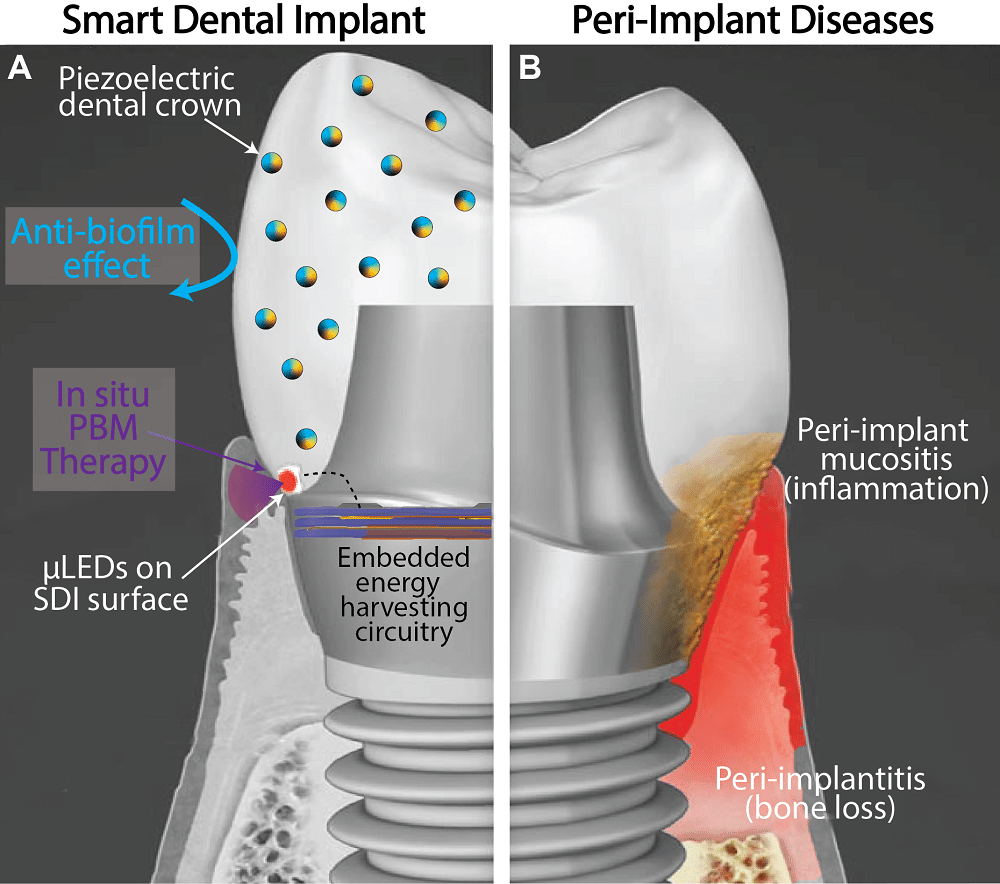 He added:
We believe this approach can be applied to other parts of the human body where bacterial infections are common."
Implant Material That Resist Bacterial Growth
In a paper published in the journal ACS Applied Materials & Interfaces and another paper published in the journal Advanced Healthcare Materials, Hwang and colleagues lay out their platform, which could one day be integrated not only into dental implants but other technologies, such as joint replacements.
The team experimented with the material barium titanate (BTO) for the dental implant and found that it generates enhanced negative surface charge that repels the negatively charged cell walls of bacteria and that this repulsion effect is likely to be long-lasting.
To test its potential as the foundation for a dental implant, the team first used discs embedded with nanoparticles of BTO and exposed them to Streptococcus, a primary component of the bacterial biofilm responsible for tooth decay commonly known as dental plaque. They found that the discs resisted biofilm formation in a dose-dependent manner. Discs with higher concentrations of BTO were better at preventing biofilms from binding. Hwang explained:
"We wanted an implant material that could resist bacterial growth for a long time because bacterial challenges are not a one-time threat. Phototherapy can address a diverse set of health issues, but once a biomaterial is implanted, it's not practical to replace or recharge a battery.

We are using a piezoelectric material which can generate electrical power from natural oral motions to supply a light that can conduct phototherapy and we find that it can successfully protect gingival tissue from bacterial challenge."
Dr. Hwang and the team have recently filed their patent application in the national phase to the US, Europe, China, Japan and Canada. They have also found a start-up company called LEDEN and are actively seeking potential partners and investors for further development of our implant system.
Hwang's co-authors on the paper were Penn Dental Medicine's Atul Dhall and Yu Zhang, and Temple University's Sayemul Islam, Moonchul Park and Albert Kim.