This summer, MedicalExpo e-magazine is republishing ten of its most popular articles—an opportunity to review the cutting-edge innovations and digital technology that have made an impact in several healthcare sectors this year. Here is article #9 in chronological order:
From tiny devices with high amplification to cutting-edge gadgets that can detect conditions in a few heartbeats, the traditional stethoscope is making way for more innovative solutions.
(Published on June 17, 2022)
Clive Smith, CEO of US-based Thinklabs Medical, developed the digital Thinklabs One, for example. He explained:
"In the mid 90s, I read a paper indicating that stethoscope acoustics had essentially not improved since René Laennec built the first one in 1816. I thought the stethoscope was probably the most widely used piece of medical equipment, so developing it seemed like a great opportunity."
After eight years spent refining his sensor and transducer, Clive launched a stethoscope with an electromagnetic diaphragm. Since then the model has been further developed. Today, the digital Thinklabs One is a miniature device that fits into the palm of the hand and can amplify sound 100 times.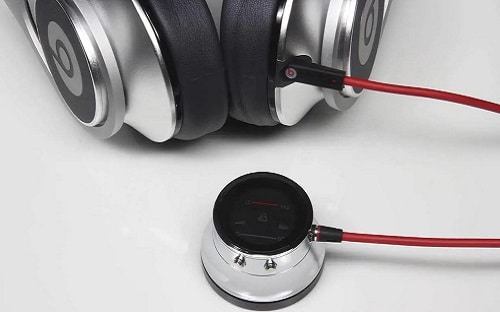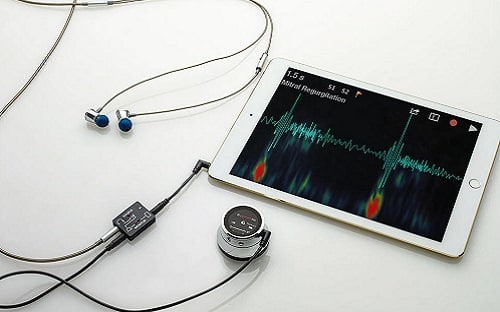 There is also an app to provide a real-time display of the sound waveform and frequency of heart and lung sounds. These can also be recorded, saved and shared. He added:
"People can connect the device to any headphones. They can use wire headphones and put the whole thing in their pocket. Or they can put the device into a latex glove for infection control.

When telemedicine came along, Thinklabs One became convenient for just plugging a cable into and connecting into any existing platform.

One of our approaches is that we can bring the excellent sound of our stethoscope to any platform people are already using for telemedicine."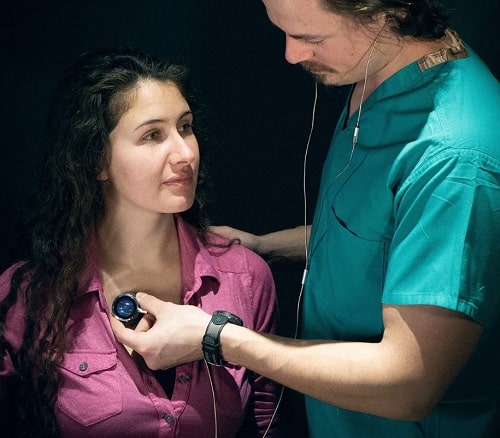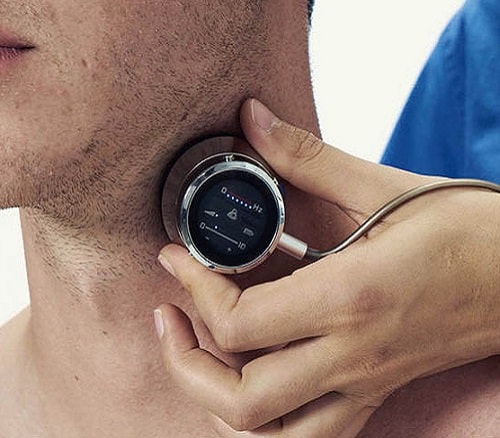 Infrasound Technology
Israeli start-up Sanolla has come up with the AI-ready VoqX, which listens to infrasound. Infrasound is acoustic waves that cannot be heard by humans. Dr. Doron Adler, CEO and Co-Founder, said:
"The VoqX was based on research that did a mapping of the sounds produced by the body to the frequencies at which they are active. This demonstrated that over 60% of the body's sounds lie in the infrasound range.

This range has been completely ignored by the medical community over the past 200 years that physicians have been using stethoscopes. This is for the simple reason that infrasound is inaudible to the human ear.

The idea was that the infrasound would have clinically rich information that would be an excellent resource for developing AI algorithms that would use the full spectrum—infrasound and audible."
The VoqX uses a microphone, which picks up audible sounds, and an accelerometer that detects infrasound vibrations. Frequency shifting algorithms move the body sounds to the range at which the human ear is most sensitive. Dr. Adler explained:
"The AI algorithms then make use of all of the information, including the infrasound and the audible sound. The signal processing and AI processing are all performed on-board the device, integrated into the chest piece.

This means that no internet or cloud connectivity is required in order for the AI to return accurate results. That said, Bluetooth connectivity does allow the auscultation [body sound] information and AI results to be transmitted into the patient's electronic medical record."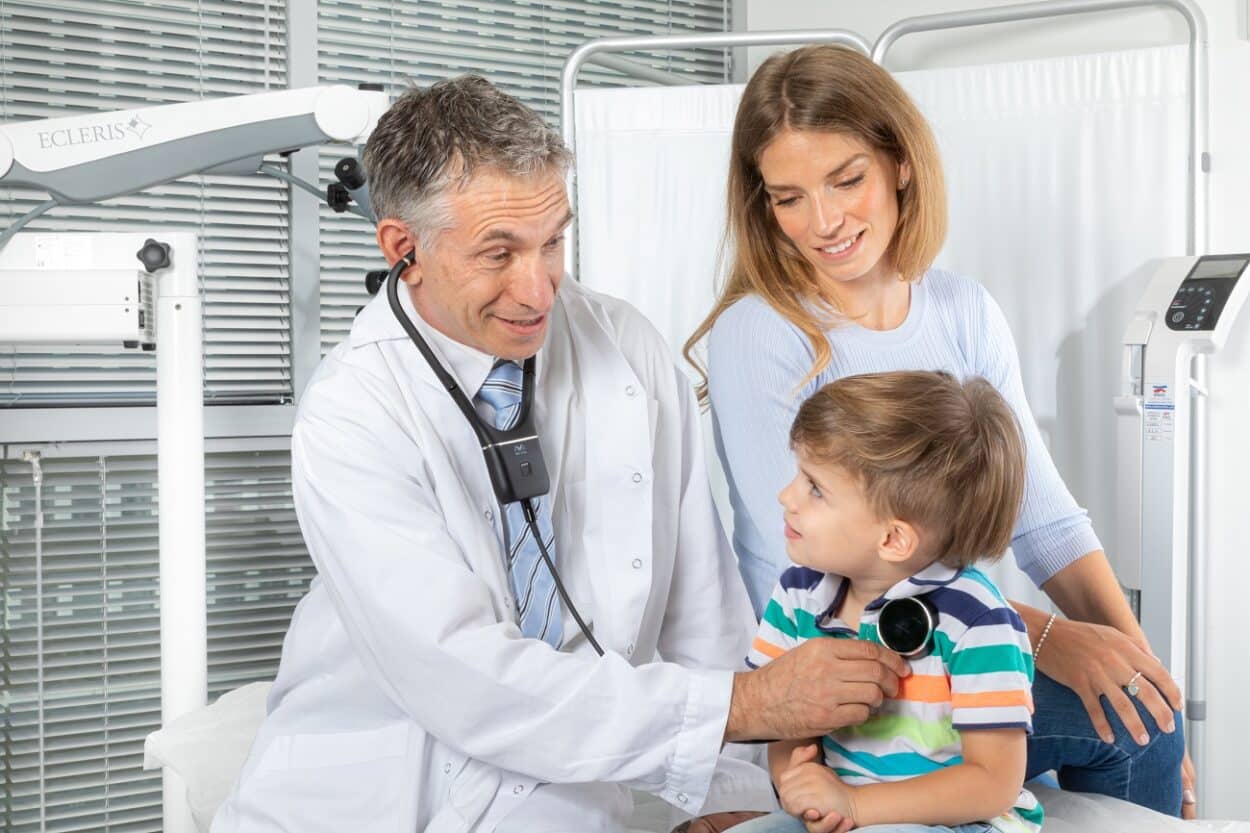 The VoqX can help detect any condition that manifests itself in body acoustics. However, it is currently focused on the prevalent cardiopulmonary diseases. These include heart valve diseases like aortic stenosis, aortic regurgitation, mitral regurgitation, pneumonia, heart failure and COPD.
Detecting With Algorithms
Jason Bellet was one of three team members who founded US-based Eko, also with the mission of bringing the stethoscope into the digital age. He said:
"We thought that if we could digitize heart and lung sounds, we could then apply machine learning and AI to help providers across the care spectrum to analyze those sounds.

This way they would hopefully detect signs of cardiac and pulmonary disease much earlier in the patient's care."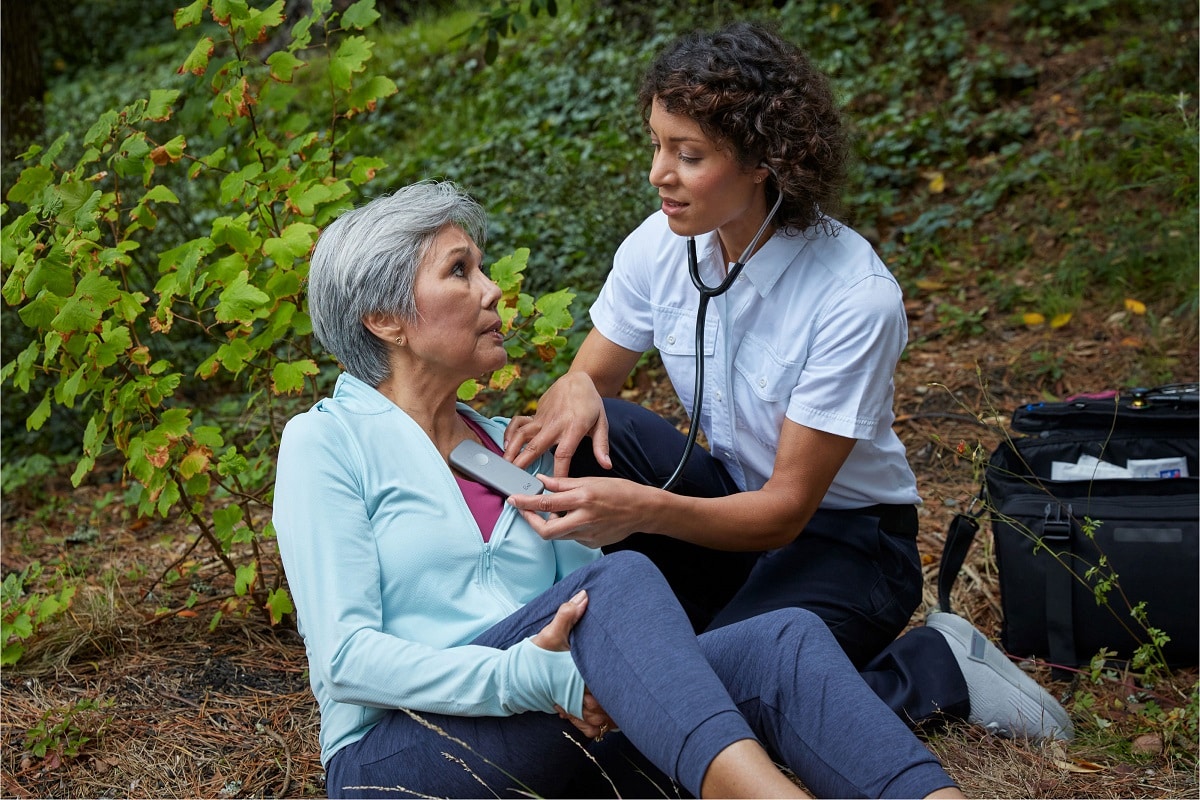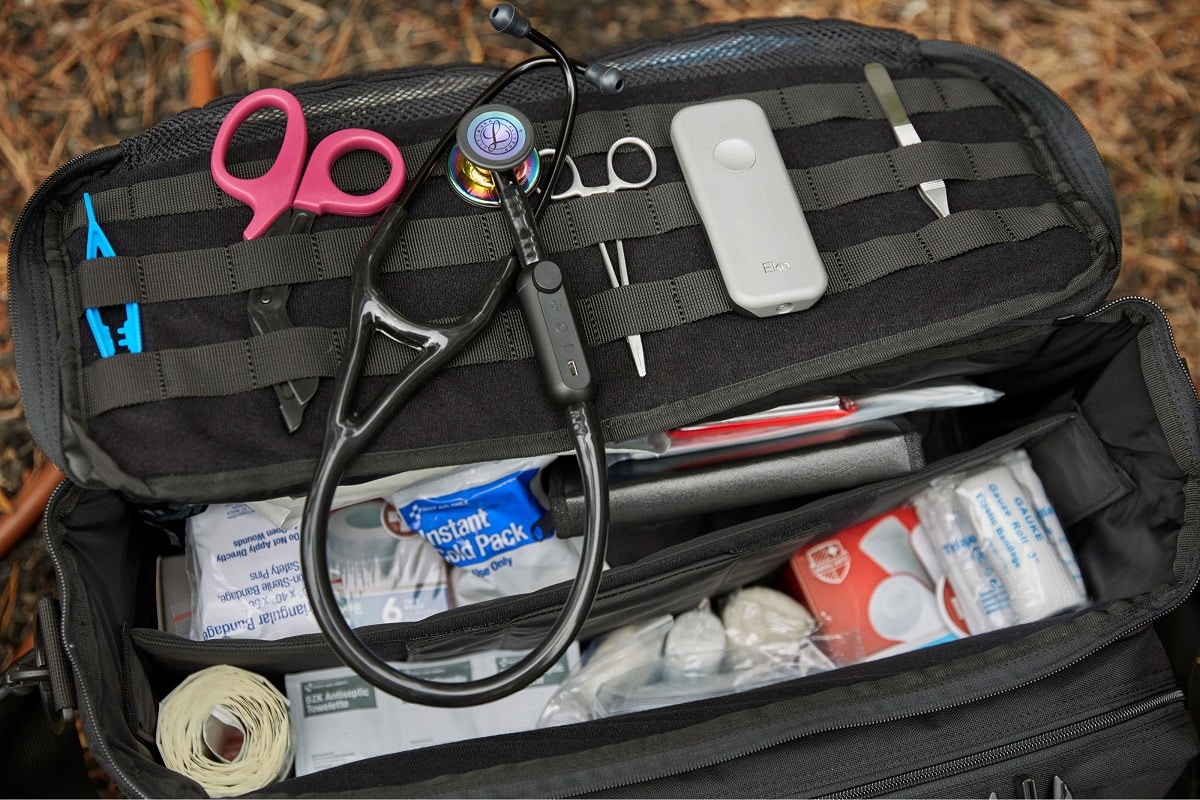 According to him, as many as 50 to 60% of the early signs of structural heart disease are missed because the provider does hear them through a traditional stethoscope. He added:
"We built a digital stethoscope that amplifies while also actively reducing background noise. Then we stream those sounds via Bluetooth to smartphone applications, which can send them to the patient's records or share them for a telemedicine visit in real time."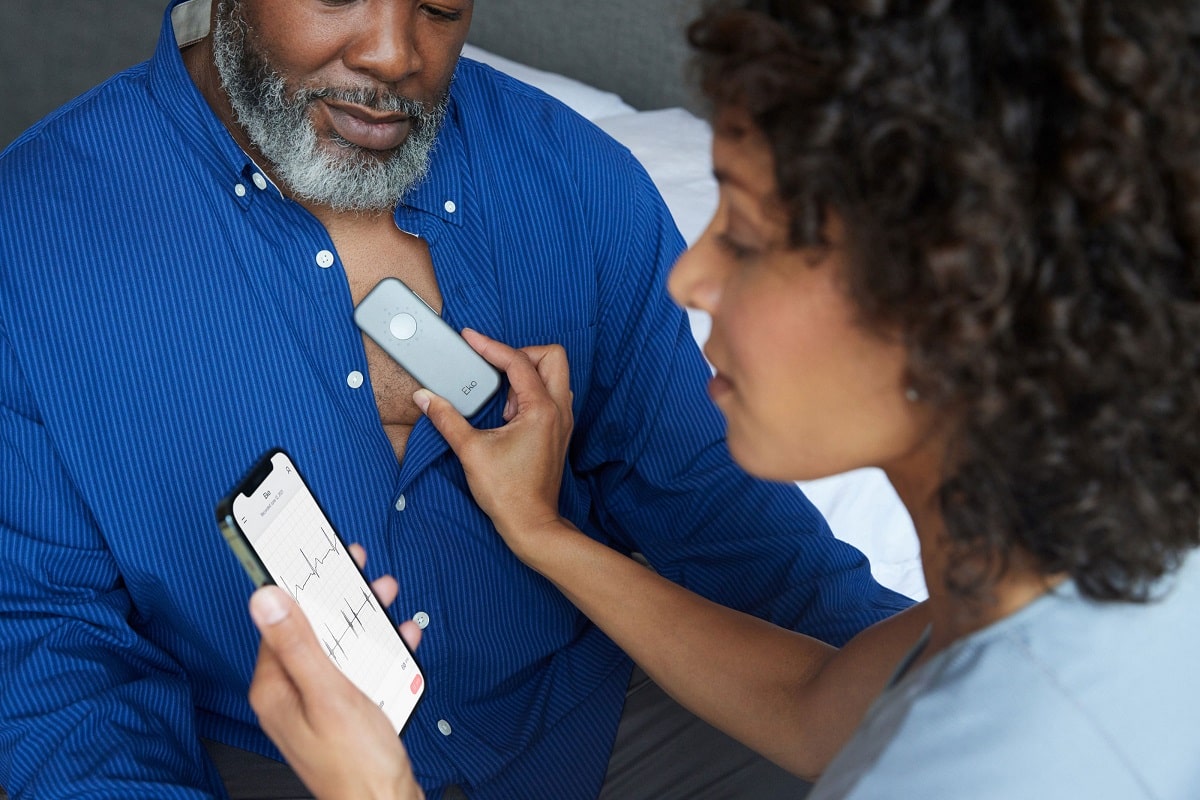 Eko also embedded an ECG into the stethoscope to assess the electrical performance of the heart and built algorithms to allow clinicians to detect heart murmurs and atrial fibrillation.
"The practitioner hears the amplified sound in real time and then hits a button in the app to send it to the cloud. This provides an interpretation within 15 seconds."
Monitoring at Home
Polish StethoMe developed a home device for the monitoring and control of childhood asthma. It also records and detects abnormal sounds occurring in cystic fibrosis, pneumonia and bronchitis and measures respiratory parameters, such as pulse and respiratory rate and inspiration-expiration ratio.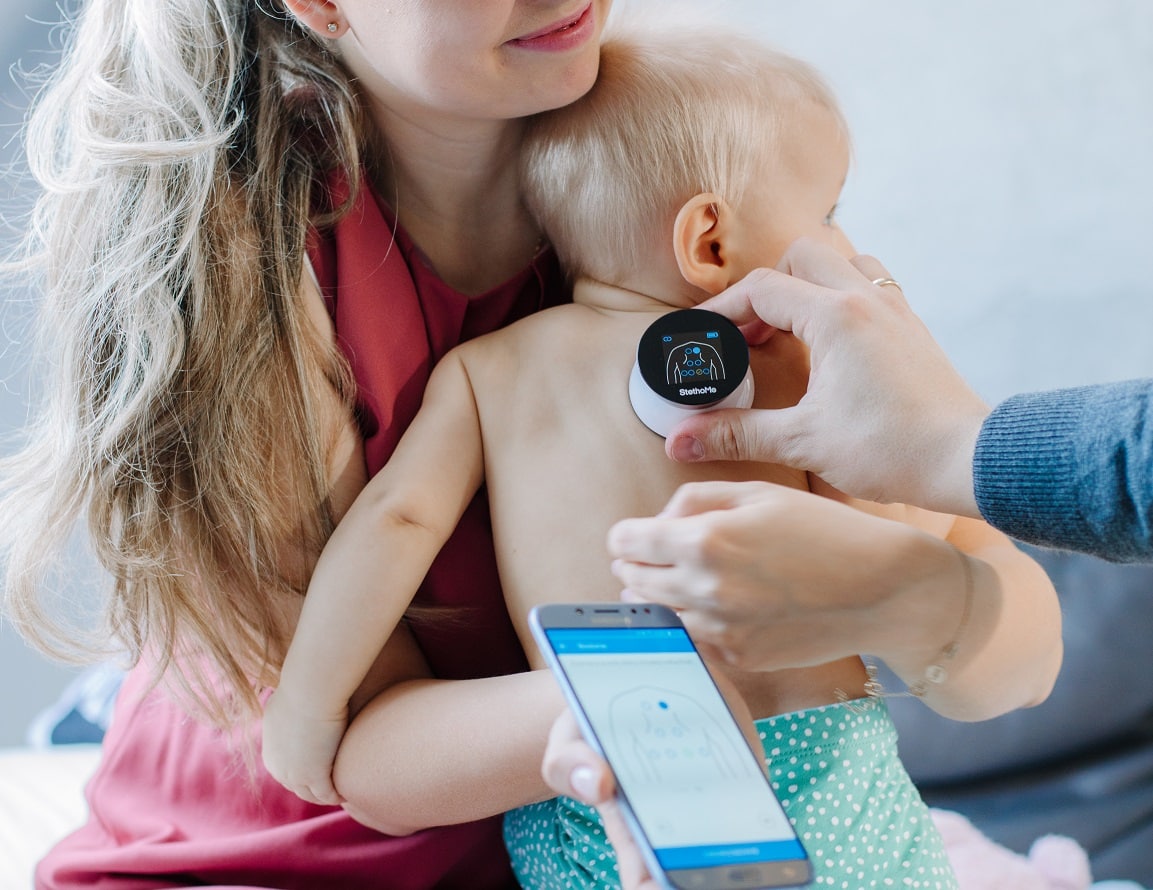 VP Product and Co-Founder Dr. Honorata Hafke-Dys explained:
"The stethoscope is integrated with the StethoMe AI, which relies on AI algorithms and connects to the smartphone and app via Bluetooth.

After the examination, the recordings are immediately analyzed by the algorithms. Information on the presence of any abnormalities is automatically available to the parent. The parent can also send the results to any doctor by a text message or an email."