Wheelchair users who endure overheating problems when sitting in their chairs for long periods of time can now relax with a new cooling cushion that just arrived on the market.
It's an all too common problem for wheelchair users: their bodies become overheated when sitting for long periods of time with little air circulation around their backs. However, a solution that regulates body temperature has been introduced thanks to the efforts of Belgian-born Corien Staels.
With the aid of the fan the cushion not only cools the back, but reduces the user's core temperature.
In 2015 Staels first developed her wheelAir cushion after seeing how her Glasgow University supervisor, who used a wheelchair, become overheated. She started her company Staels Design in 2016 to further develop the product and has received significant funding to bring it to production.
After witnessing the problem of overheating, Staels also discovered that those with spinal cord injuries had to cool themselves off in drastic and unforgiving ways. This included having to strap ice packs to their bodies or spray themselves with water hoses post-exercise. Soon it became apparent to her that overheating was not just a problem for those with immobilizing spinal cord injuries, but for all wheelchair users.
The patent pending wheelAir product is a specially designed supportive cushion that uses battery-operated inbuilt fan technology. Layers of breathable viscoelastic foam make up the cushion itself which is machine-washable and fits all self-propelled wheelchairs.
Taking Away Excess Heat and Moisture
The cushion fits heights from 300 mm to 450 mm and is available in a number of widths including 290 mm, 330 mm, 360 mm and 400 mm. The lithium battery lasts for up to 20 hours and is rechargeable via a micro USB charger. With the aid of the fan the cushion not only cools the back, but reduces the user's core temperature by removing excess heat and moisture. This, according to the manufacturer, allows for instant comfort and better temperature control.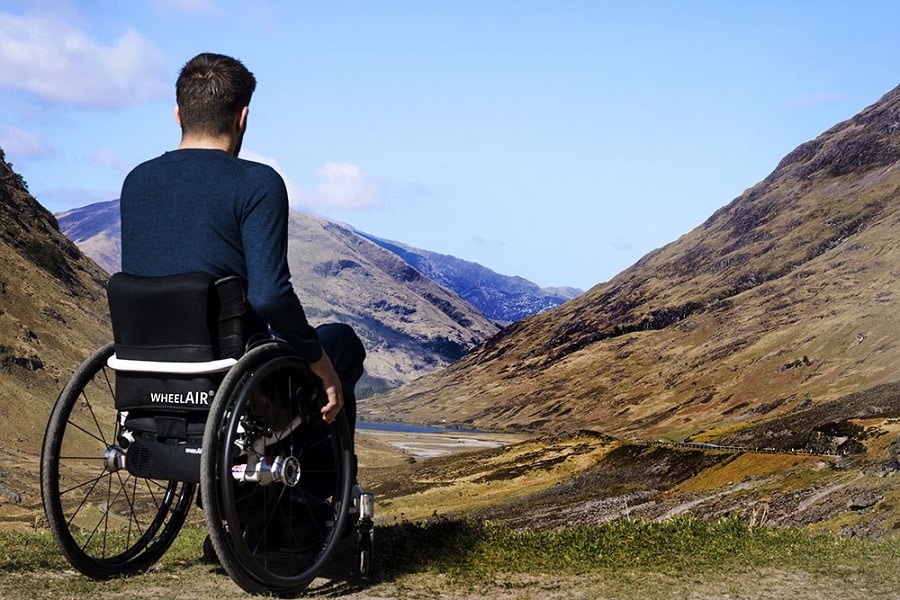 So far, the product has generated a great deal of interest among wheelchair users and especially with Paralympic athletes. Staels said:
"We have already sold our first batch of 500 cushions in ten countries. They are all manufactured in Dunfermline, Scotland and retail for £650 each (740 euros)."
Also for Truck or Taxi Drivers
There are four settings on the airflow system within the cushion to suit all situations and people. Staels said:
"We developed the cushion primarily for users of self-propelled wheelchairs. But they can also be used for truck or taxi drivers sitting long hours behind the wheel or indeed office workers. However, at the moment, we are concentrating on the mobility market and have a number of new products coming that will help a lot more people. One of these is a higher tech version of the wheelAir cushion."