TechnoMedica is a Japanese company that provides automated pre-analytical medical equipment to laboratories with advanced technology. They were the first in the world in 1991 to develop an automated tube selecting and labeling system. Now they have around 90% of the market share in Japan. We spoke with Takashi Soematsu, Business Development Manager at TechnoMedica, who believes that the Covid-19 pandemic is a chance and an opportunity to change our mindsets.
MedicalExpo e-Magazine: Could you introduce us to your company's top products?
Takashi Soematsu: TechnoMedica is a Japanese pre-analytical solution provider founded in 1987. We started with blood gas analyzer manufacturing. At that time, the blood gas analyzer was an imported product on the market but there were challenges when instruments were troubled because of geographical differences. Our founder decided to manufacture in Japan to provide better after sales support to the customer and TechnoMedica became the only one Japanese blood gas analyzer manufacturer. In 1991, we were the first in the world to develop an automated tube selecting and labeling system: the BC ROBO-520. It became our top product. After that, we were keen to provide pre-analytical solutions to laboratories with more advanced technology using original software and RFID tag labels instead of paper labels. We have around 90% of the market share in Japan.
MedicalExpo e-Magazine: What are their most innovative aspects?
Takashi Soematsu: In 1991, one of our customers said there were a lot of pre-analytical errors when blood samples arrived at clinical laboratories, which seemed generated by humans. For example, blood samples with bad labeling on the tube, tubes without labels, etc. TechnoMedica developed an automated blood collection tube labeling instrument to reduce such errors and improve workflow for laboratory technicians. The instrument is connected with a LIS (Laboratory Information System), it receives patient information from the LIS, picks up selected tubes, prints barcodes on the paper labels according to the LIS, and dispenses into one plastic box for each patient. Nowadays, customers have rich experience with us and we are focused on how TechnoMedica can provide better blood collection workflow, shorten TAT (Turn Around Time) and specimen management.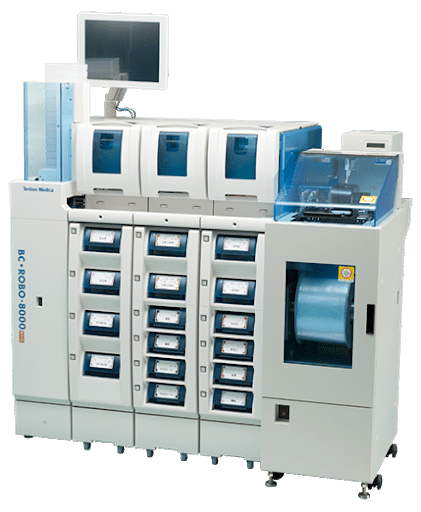 One of our innovative solutions is RFID. Conventionally, to prepare the blood collection, we use a paper label: we print a barcode with the patient name, their ID, birthday, etc. and we label it on the specific blood collection tube. Our BC ROBO can do all of that automatically. However, there are still problems, such as specimens that cannot be identified on time when they arrive at the laboratory. Sometimes, they lose the sample and have to re-collect blood from the patient. Some large laboratories receive thousands of specimens a day and reading barcodes cannot make real time 'time-stamps' recording to the LIS when arriving at the laboratory. TechnoMedica focuses on RFID features that are able to read several pieces of information at the same time and are contactless. We developed the first automated tube selecting and labeling system in the world, BC ROBO-8000 RFID and TRIPS (TechnoMedica RFID Process Control System), which can manage the RFID and trace and record the "time-stamp" of each specimen.
MedicalExpo e-Magazine: What are your advantages compared to the competition?
Takashi Soematsu: We have more than 30 years of experience in pre-analytical solutions. This experience is our biggest advantage, our know-how, which our competitors cannot catch up to.
MedicalExpo e-Magazine: Could you tell us more about the purposes of automation in the laboratory field?
Takashi Soematsu: One aspect is limited human resources and depopulation. In Japan, where the population of the young generation is decreasing, automation has become one of the top topics not only in the laboratory but also in other industry fields. Another aspect is to dedicate more time to the patient. Automation is good for humans as we do not need to do routine work and we can return this reduced time to the patient care.
MedicalExpo e-Magazine: What kind of tasks will never be automated in a lab?
Takashi Soematsu: Patient care. Patient care should be done by humans and cannot be automated.
MedicalExpo e-Magazine: Has the Covid-19 pandemic changed things for your company? If so, how?
Takashi Soematsu: The Covid-19 pandemic affects our business but it is a chance and an opportunity to change our minds. As we are a solution provider, focusing on Covid-19 prevention. Less contact between laboratory technicians, staff and patients is required from the market for safety. We, therefore, developed a new system which makes reservations for blood collection time, in order to reduce patient waiting time and the time they spend in the hospital. This system changes the patient's mindset as well. Previously, patients would have reservations but they would come to the hospital earlier than their reservation time (i.e. 90 minutes earlier) to do the blood collection as soon as possible and they would wait inside the hospital. With our system, patients understand that blood collection will be done at the reserved time. Therefore, they do not arrive at the hospital so early and spend less time there.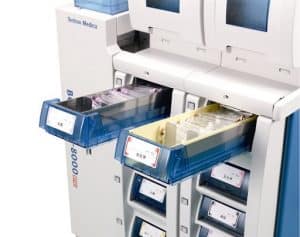 MedicalExpo e-Magazine: Since the beginning of the pandemic, most of the main medical trade shows have gone digital. What do you think of that? Do you think customers and manufacturers still need live contact to do business together?
Takashi Soematsu: It depends on the customer. Business is better talking face to face and customers also think so. We still think that direct communication is much easier and faster for business not only with customers but also distributors.
MedicalExpo e-Magazine: Who are your customers and in which countries?
Takashi Soematsu: TechnoMedica is selling to the global market, Korea, China, ASEAN countries, Italy, Spain, Denmark, Mexico, Brazil, etc.