National and private health services across the globe are investing in innovative technology to improve the efficiency of patient experience prior to hospital admission. For ambulance crews and paramedics on the ground, the latest advances are transforming patient care.
One of Europe's biggest ambulance manufacturers, WAS, develops 1,300 vehicles a year using the latest developments in technology to ease the handling of patients and care. The vehicles use a variety of virtual onboard "assistants" to ensure the highest efficiency during rescue operations.
The WAS smart assist takes an automatic inventory of all onboard medical consumables and equipment, giving medics real-time information on expiry dates, usage and maintenance and intervals. Using advanced RFID technology, this can be monitored on the move.
Meanwhile, the WAS Door Assist System avoids potentially damaging excess noise by ensuring all the doors in the WAS box body close quietly. The paramedic guides the door to the first latch on the closing device and the door is then automatically pulled into the seals, quietly and without producing any vibrations. The doors are securely closed and cannot spring open again.
Andreas Ploeger, managing director, said:
3Innovations are mainly related to the ease of handling patients and comfort. We are always responding to customer needs with a focus on improving the work for our customers. Sometimes we also develop new ideas to give impulses to the market.3
One such idea is the world's first entirely electric ambulance the company recently launched in the GVW 5 ton category. The battery managed model weighs five tons and can reach 120 km per hour. Based in Germany the company supplies ambulances to Europe, the Gulf region, Asia and parts of Africa. Boasting one of the world's most extensive ranges of first response vehicles and emergency vans, the in-house development team also uses touchscreen navigation technology and automatic climate control onboard.
Artificial Intelligence
In Britain, artificial intelligence is being used to help direct traffic light management systems in order to speed emergency crews through congested city streets. Liverpool-based tech firm Red Ninja has developed an algorithm called Life First Emergency Traffic Control (LiFE) that enables paramedics to use real-time data about congestion to manipulate traffic.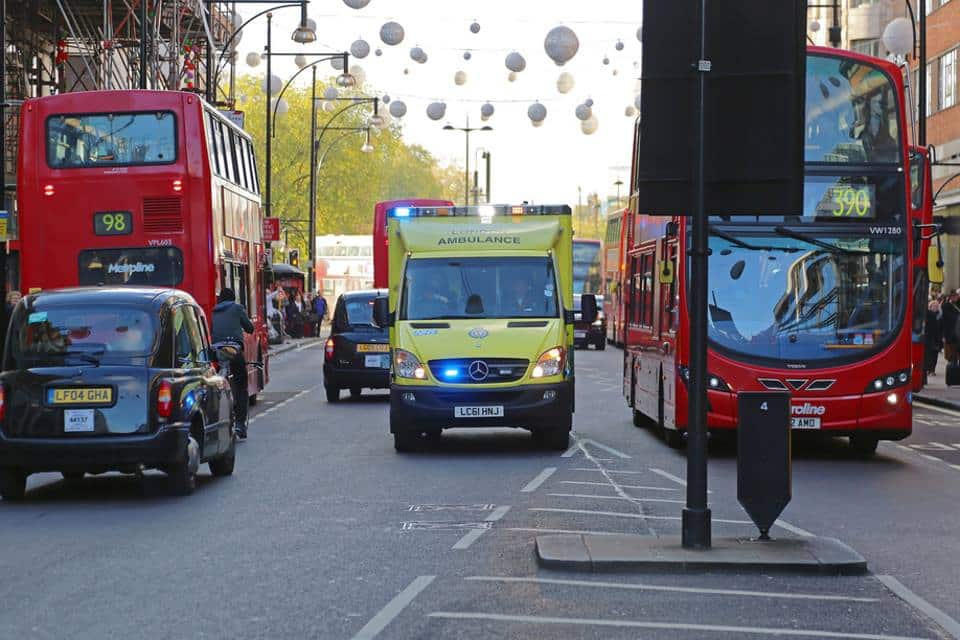 Through extensive analysis of data around the way traffic lights are used to control congestion, the Red Ninja team realized that they could manipulate traffic in real time. They then employed artificial intelligence to develop an algorithm that could create a clear run through the traffic. The system enables ambulances to reach emergency cases more quickly by integrating ambulance route-finder applications with city traffic management systems. When the trial was launched in Liverpool last year the company founder Lee Omar said:
"We don't make a product and then try and sell it. Instead we try to understand the problem we're trying to solve. We work in a collaborative way—if you create products in this way, they're more likely to stick."
The American Way
The last two decades have seen various initiatives to develop the most effective smart ambulance. In countries such as Australia and the US, where ambulance teams have to cover vast distances to get their patients to hospital, efficiency is vital. Life Line, an American ambulance manufacturer, uses a unique touch-screen dashboard system to save time and streamline paramedics' output. The system uses standard touch screen and quick-hit buttons, interchangeable modules, real-time monitoring and backwards compatibility to ensure every digital element in the vehicle is streamlined.
In addition to digital advances, the development of lightweight materials has transformed the mechanics of ambulances in recent years. LifeLine's vehicle use Labyrinth-style door construction to maximize impact resistance, a double aluminium insulated floor for durability and a two-piece aluminium crash rail to absorb any collision. Jeff Mehmen, the company president, said:
"We have a relentless focus on producing high end ambulances and providing service after the sale that exceeds customer expectations."