Mobility has been stepped up a gear with the launch of new equipment at REHACARE 2019, in late September in Düsseldorf. High-performance scooters and therapeutic trikes are among the latest models to prove mobility products are quickly moving forward.
New from KYMCO and offering exceptional levels of comfort are the new Komfy 4 and Komfy 8 mobility scooters. With a fresh design concept based on customer-centric specifications, these models employ modern technology and superior ergonomics for optimal ease of use. Features include adjustable front and rear suspension systems, a reclining captain-style seat and easy to operate delta-style, wrap-around handlebars.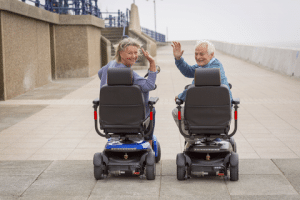 From SupaMobility there's the new MicroLite, which claims to be the world's lightest mobility scooter. Weighing in at less than 18kg, it challenges traditional perceptions of a portable scooter with its easily dismantled design. Also offering high levels of indoor maneuverability and outdoor performance, the scooter has a maximum speed of 6kmph. Manufactured in aluminum, it can carry a load of up to 100kg and features dynamic braking.
For the younger user with special needs, the second generation of the Trets trike, from Hase Bikes is now being rolled out. Redeveloped for improved handling, greater adjustability and easier mounting and dismounting, children with little mobility can ride autonomously on this therapeutic trike. The new Trets has a significantly lower frame, as well as under-seat steering. The bottom bracket, with its crank arms and pedals, is now positioned closer to the ground for a better foot position.
The size of the new Trets can be adjusted as its riders grow: suitable for children from 1m to 1.6 m in height, it can be quickly and easily altered in length, height and angle.