The REHACARE trade fair, which took place in Düsseldorf, Germany last week, centered on the themes of Inclusion and Digitization. The 2023 edition showcased an array of cutting-edge devices in physiotherapy alongside innovations in inclusive sports and leisure activities.
The Invictus Games, an international sports event for physically and mentally handicapped, ill or injured soldiers, veterans, police and firefighters, was staged in parallel with the event. The Cybathlon saw sportspeople with disabilities compete with each other using assistive technologies, including computer-brain interfaces.
According to Project Director Hannes Niemann, new technologies and advancing digitization played a crucial role at REHACARE. He explained:
"Digitization unlocks new possibilities to compensate for many impairments by technical means, to regain skills and to improve care. 

Innovative solutions, such as digital nursing assistance systems, telemedicine applications, nursing robots, Smart care beds and many other innovative products provide enormous support and help us rise to the challenges of an aging society."
A New Era in Rehabilitation
The future of rehabilitation looks set to see increasing use of new technologies such as robotics, exoskeletons, virtual reality (VR), real-time data analysis and pioneering optical systems, according to many of those presenting products at the event.
Tomasz Górecki, Export Sales Manager at Poland-based Meden-Inmed , said: 
"It feels like we are on the verge of a new era with some of these devices. We are seeing more and more sophisticated systems in both patient care and rehabilitation."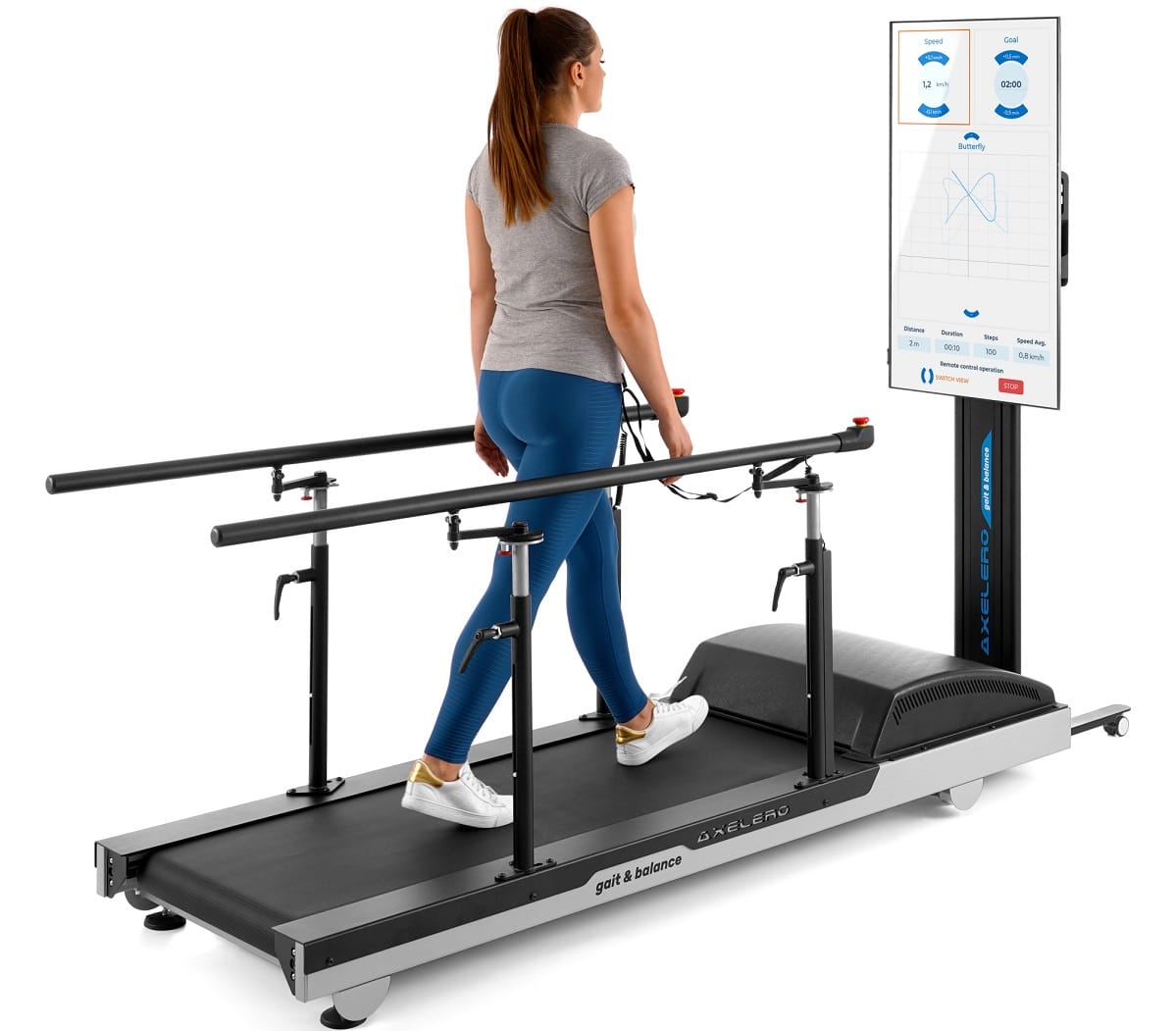 The company showcased several of its pioneering physiotherapy innovations, including the AXELERO, for training gait pattern disturbances and balance for patients with neurological disorders and lower limb motor system dysfunction. He explained:
"This is a treadmill with sensors for gait training and balance—it measures the biometrics of weight.

So, if you are leaning to one side or if you have a tendency for the right leg's steps to be longer or shorter than the left's then you get a report and can draw conclusions to help correct gait and conduct physiotherapy procedures."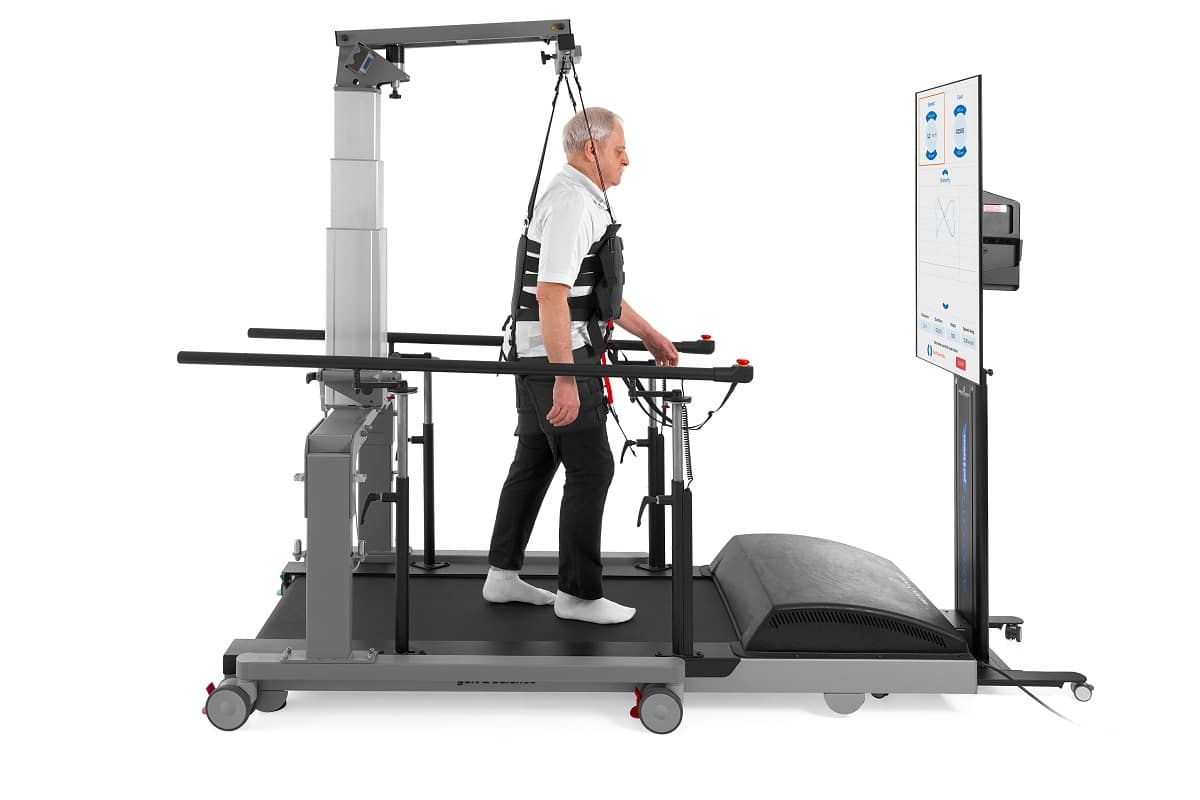 The construction of the device allows it to incorporate the dynamic, partial weight-bearing gait therapy device ELEVEO. Putting both pieces of equipment together offers the possibility of relieving the patient's weight (up to 160 kg), making training much easier. 
3D Technology 
Meden-Inmed also showcased its Neuroforma, a computer system supporting neurological rehabilitation. With a balance control module or off-loading arm, this is an innovative platform for motor, cognitive and balance control exercises. 
It consists of a large display, a computerized system for data analysis and an optical system for movement analysis in 3D technology.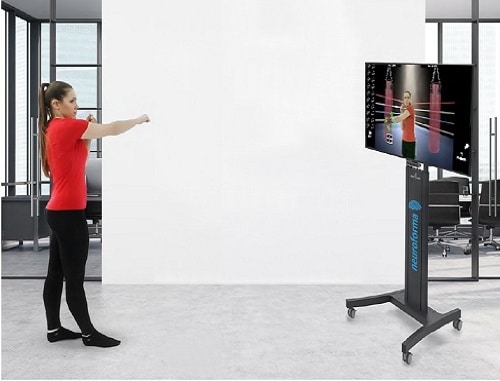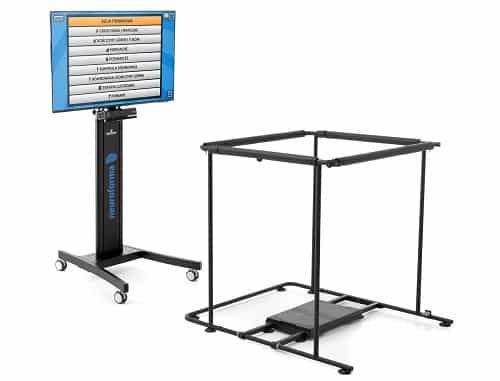 While using Neuroforma, the patient stands or is seated in front of the screen, which shows their real, mirror reflection. Around that reflection, virtual objects appear. The patient's task is to move their body so the reflection displayed on the screen catches, hits or moves the appearing objects.
VR technology enables the patient to receive constant, immediate biofeedback. He added:
"Then we have our Pelvictrainer for pelvic muscle training, which is innovative as it is non-invasive and provides feedback information for the patient in real-time."
Virtual Reality
ICAROS GmbH also showcased its innovative physiotherapy equipment, which combines training hardware with VR technology. The German company specializes in developing and producing gamified full-body workout and rehabilitation equipment with the aim of making exercise engaging and entertaining. 
Its flagship ICAROS product is designed for professional use in orthopedic and neurological therapy and rehabilitation, improving core and balance training for patients with physical limitations.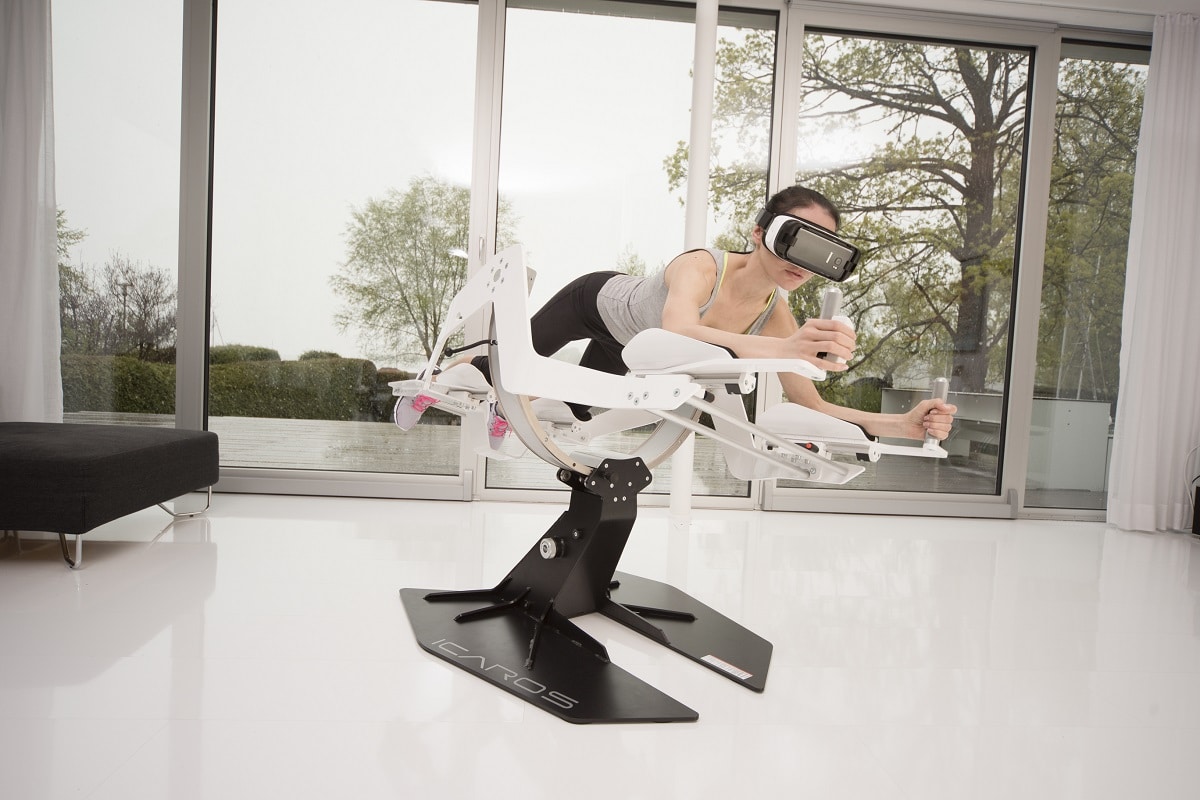 It trains for strength, coordination and conditioning—but, while working out, patients fly through the Alps, dive into the ocean or compete with other athletes around the world in futuristic worlds at ICARACE, a global online multiplayer racing game.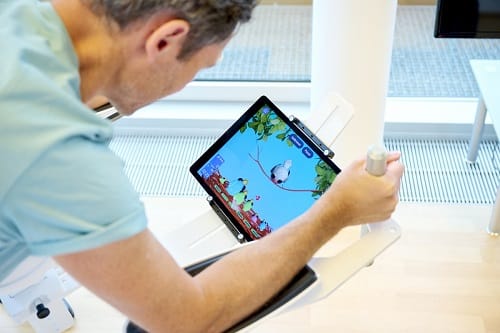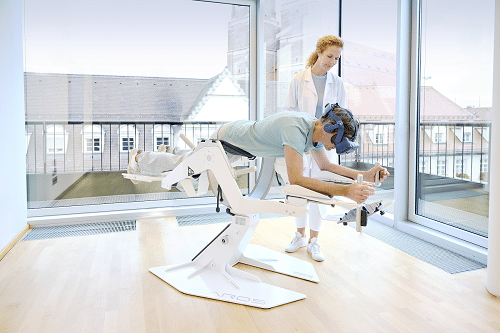 Stefan Winklhofer, Head of Product Management, said the system could be suitable for those with physical limitations caused by a stroke, Parkinson's or other conditions. He said:
"Through motivation, i.e. through a playful component, patients can slip out of their patient role during training, which brings them to unimagined progress. We see enormous potential in the use of VR systems in the medical field. 

This is not only to increase the immersiveness of the experiences and to bring the playful aspect into it, but also because VR systems themselves are a tool in the medical industry."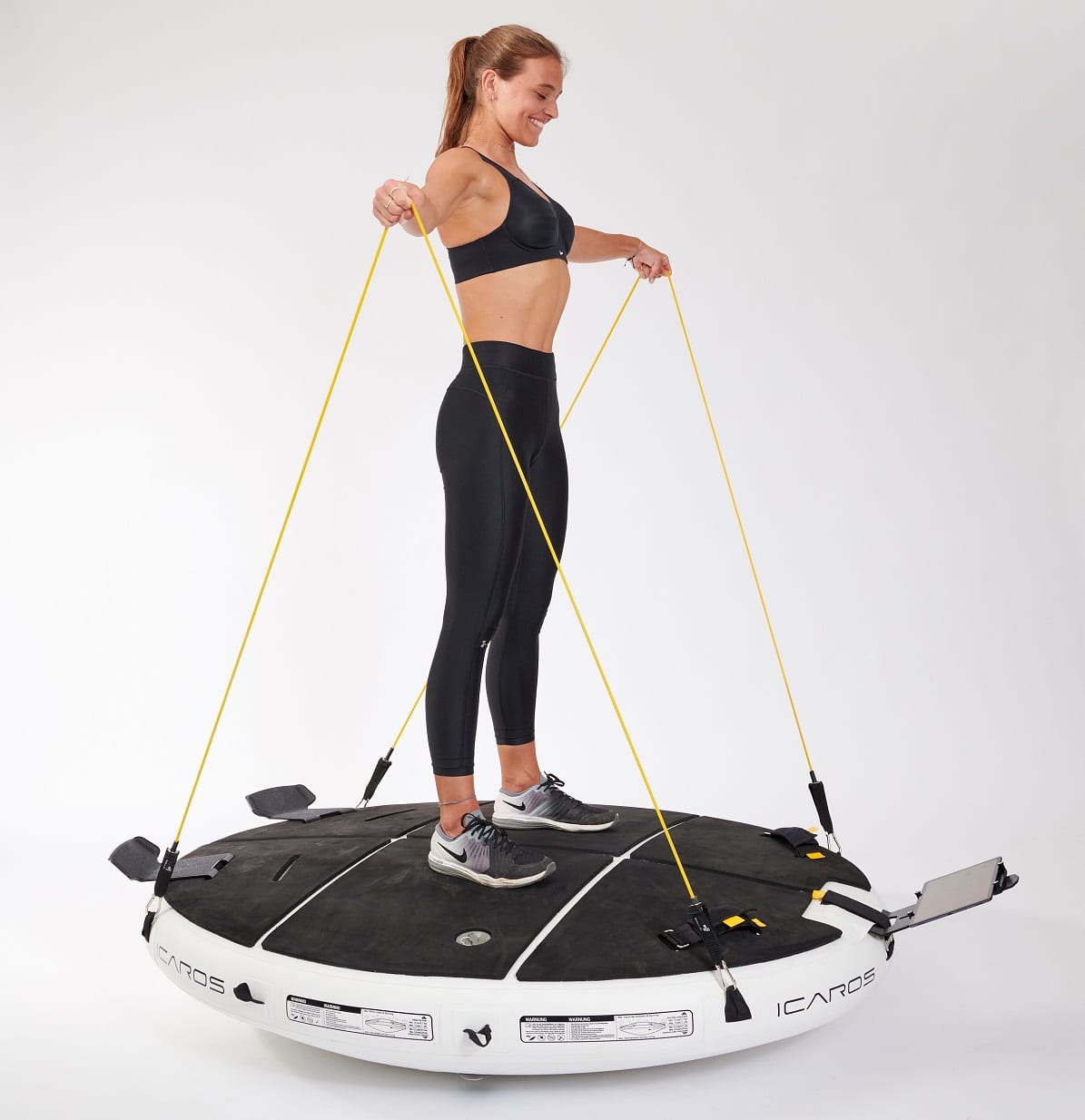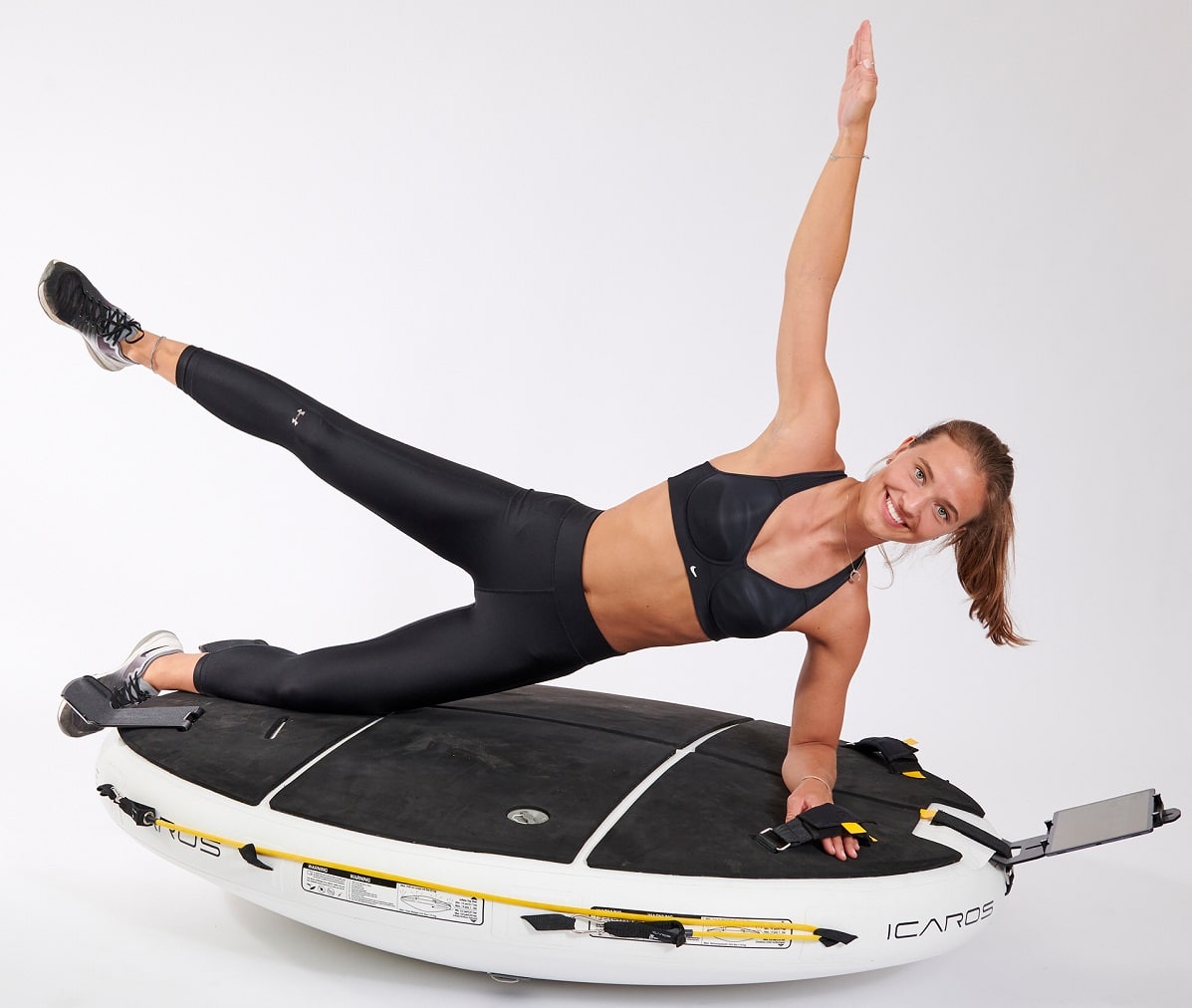 He added: 
"Brain current measurement already shows that VR technology can be used as its own medical tool. 

Especially in the case of disease patterns that are based on brain damage, such as stroke patients, a stronger focus can be generated by massively distracting the patient."