A treatment derived from natural milk proteins is being heralded as a possible replacement for antibiotics in animals, and perhaps even humans.
David Javier Iscovich, CEO and co-founder of Israel-based Mileutis, said IMILAC could help treat cows and have widespread implications for human health. He explained:
"The World Health Organization (WHO) states that using antibiotics in food animals may have a negative impact on human health by inducing the spread of antimicrobial-resistant (AMR) pathogens that may spread to people. Antibiotic resistance is a major global health problem and causes one death every 15 minutes in the US alone, according to the Centers for Disease Control. Worldwide, it is estimated that antimicrobial resistance is responsible for 700,000 deaths each year globally, and this is predicted to rise to 10 million."
Mileutis, established by Mr Iscovich and his father Dr Jose Iscovich, is a clinical-stage company that develops and commercializes natural bioactive peptides derived from milk proteins. The company's biopharmaceutical products are focused on chronic and infectious diseases, in order to enable significant reductions in antibiotic use in human and animal health management.
David Javier Iscovich added:
"On the animal health market, Mileutis develops products for mastitis and metritis, among other diseases. IMILAC, the company's leading product for dry cow therapy management, consists of an intra-mammary formulation derived from natural milk proteins. The animal health application of IMILAC is to prevent and treat intramammary infections (mastitis) in food-producing animals through an immune-stimulatory mode of action."
Boosting the Immune System
IMILAC aims to prevent and treat mastitis by enhancing the resident (or innate) immune system within the animals' mammary glands. This occurs through the augmentation of humoral components, which makes mammary epithelial cells; monocytes, macrophages and polymorphonuclear neutrophils, activate and function faster.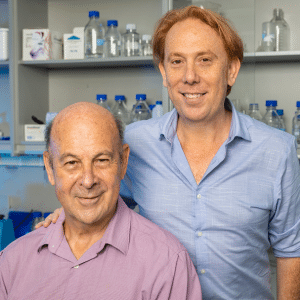 He suggested:
"We believe that we can replace all the antibiotics used for prevention and the vast majority of treatments for curing mastitis and metritis [inflammation of the uterus]. Together, these represent around 90% of all antibiotics in the dairy industry. As such, the dispersion effect of pathogen-resistant bacteria from the dairy barns to the consumer will be drastically reduced and, furthermore, the slope of AMR development will be reduced."
An Alternative for Humans?
In addition to improving human health by reducing AMR, Mileutis hopes to take its therapeutics beyond the dairy industry with other products. The hope is that humans too might one day be treated with similar products. Mr Iscovich said:
"There is significant potential for human health besides the contribution for the reduction of the AMR. Currently, breastfeeding mothers are administered with antibiotics upon the occurrence of mastitis. But many mothers refuse to be treated in this way in order for the antibiotics not to be delivered through the breastfeeding process to the baby."
By stimulating the human immune system instead, IMILAC or a derivative could offer a realistic alternative.
"Our platform will pave the way towards the development of additional therapies for human as well as animal health."