An autonomous, self-balancing exoskeleton that has been engineered to emulate the human walk is being developed for personal use within the home and during daily activities. Atalante, from French company Wandercraft, allows people with severe mobility impairment to stand up, walk and carry out rehabilitation exercises within a hospital setting. A slimmer, cheaper and more individualized version of the hands-free exoskeleton is now in development.
The hope is that it will support those with paraplegia, quadriplegia and hemiplegia to carry out everyday tasks and movements, explained Jean-Louis Constanza, Wandercaft's Chief Business and Clinical Officer.
"The finalized prototype of this new personal version will enable the user to sit, stand, walk, cook, bend down to grasp low objects and get into a car. They will be able to do pretty much everything any of us needs to be able to do, other than get into a bathtub full of water."
A Self-Balancing Solution
Founded in 2012, Wandercraft was founded after Mr. Constanza decided to look into a robotic solution to help his son Oscar, now 16, to walk. He explained:
"My son has a neuropathy and has been losing upper limb strength and the capability to walk since he was born. When he was five years old, I gave him his first wheelchair and told him I was a robotics engineer and he said I should make a robot that would allow him to walk. I started looking around to see what was being done in exoskeletons and discovered that he would not be walking easily with one to his university."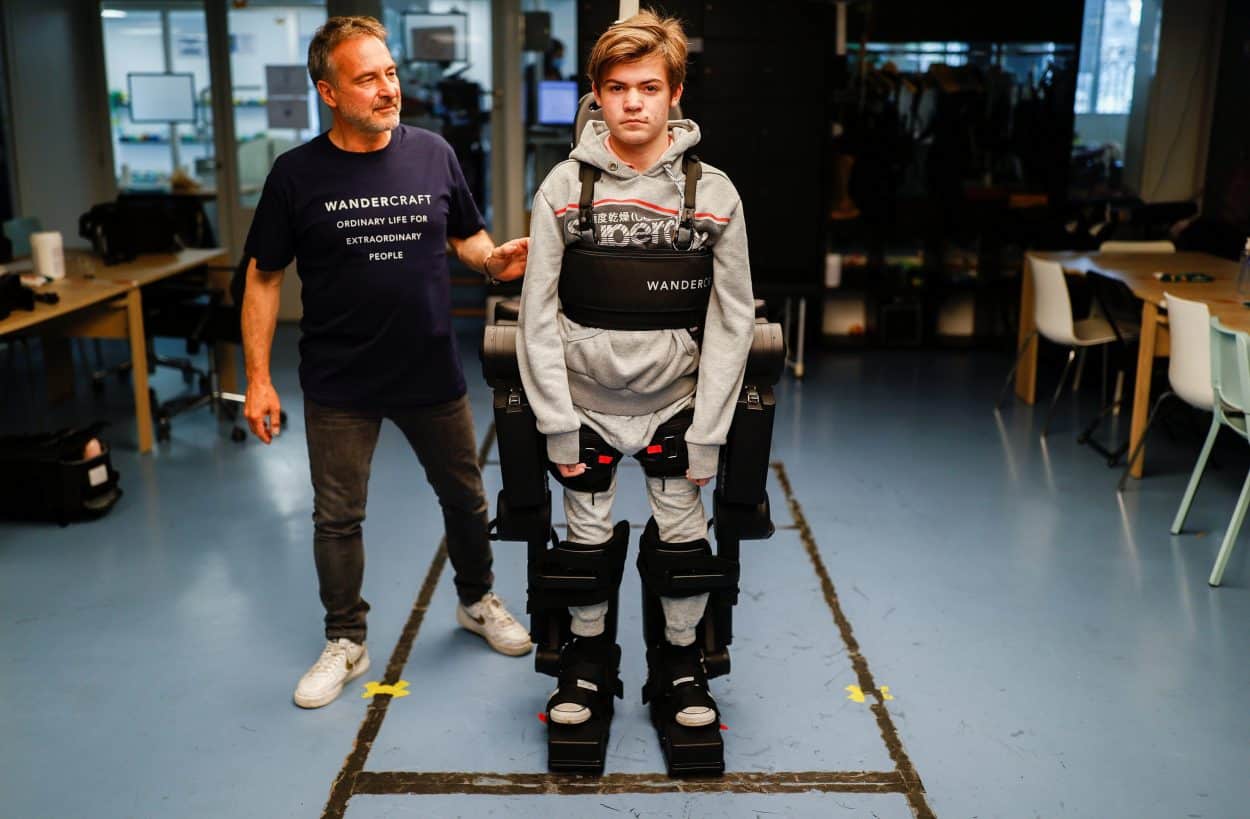 Mr. Constanza teamed up with two young graduates of France's École Polytechnique and together they began to work on the concept of a self-balancing exoskeleton. Problems they had to overcome included ensuring the person inside the robot was not harmed and creating a walk that was truly humanoid: unlike humans, robots have joints that are never straight and are always flexed. He said:
"Finally, we had to consider the fact that every time you put someone new in the exoskeleton it effectively becomes a completely new robot and all the algorithms have to be recomputed. But we did it and we started selling the hospital version for rehabilitation nine months ago—and sales are really booming in Europe. Around Paris nearly all the big hospitals will be equipped within the next six months."
Slim and Strong
The technology behind the personal version, which is made from aerospace-grade aluminium, stainless steel and carbon fiber, does not differ greatly from the original Atalante, Mr. Constanza explained.
"The software is the same platform—it will evolve but it is a very strong piece of software and artificial intelligence. The hardware is much slimmer, however it is twice as slim because it needs to be able to sit in the front seat of a regular car and to use an accessible toilet. In fact, it is more important that it is slimmer rather than that lighter, as it carries itself."
The hospital exoskeletons are secured by safety cables to stop them from falling in the event of something unexpected occurring. The personal Atalantes will not have these as they are being designed to make small recovery steps if they are pushed from the side, back or front. He added:
"We will also be integrating sensors, so the exoskeletons are capable of detecting stairs."
A Special Product
Wandercraft wants as many people as possible to have access to the new Atalantes and expects to sell them in high numbers. The personal models will be much cheaper than the hospital ones, which cost about €150,000, due to their advanced design and economies of scale in production. Mr. Constanza observed:
"They will also be cheaper because unlike the rehabilitation version they will be individualized. Exoskeletons used in hospitals have to be fully adjustable for an array of sizes."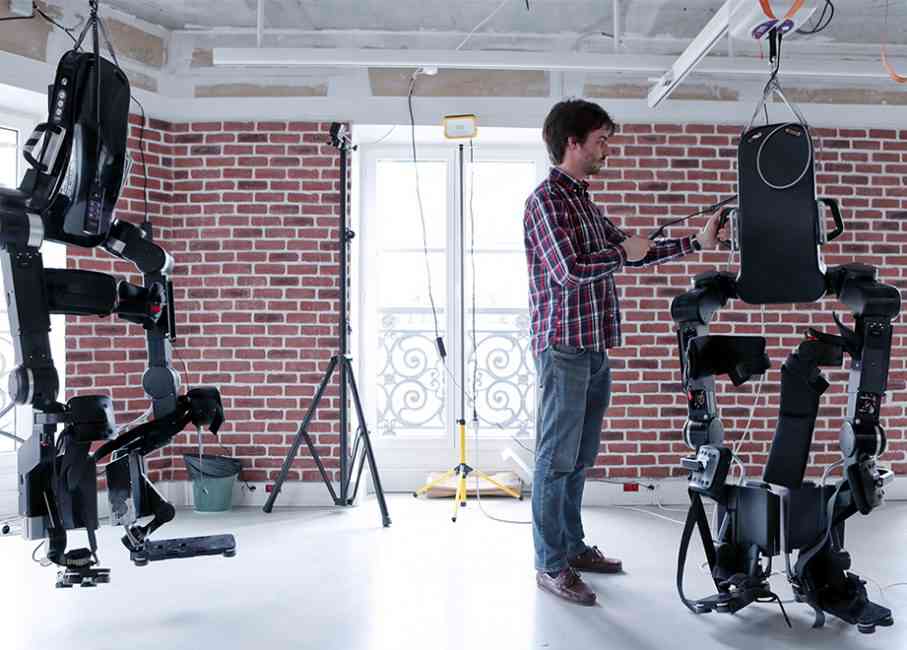 The company is hesitant about being too specific about a release date as it says delays can be disappointing to those eagerly awaiting the product.
"This is a very special device and seeing someone using one for the first time is always very emotional. It is the moment of standing up with nothing in front of them to stop them falling that makes them laugh or cry—it is always a shock. The act of walking is then a continued exhilaration. Standing in our exoskeleton is not like being verticalized in a frame or standing up in crutches, it is like becoming yourself again."