A small hospital in the city of Flint, USA, has been named one of the top 250 smartest medical centers in the world for its use of innovative technology to make patient care safer, better and more efficient.
Hurley Medical Center, with just 400 inpatient beds, came 111th on Newsweek's global list and was designated the smartest hospital in Michigan. Dr. Michael Roebuck, MD, Chief Medical Information Officer at the center, said the accolade came as a surprise. He explained:
"We were especially honored to be included, given that we are a single hospital system without the financial resources of some of the very large health systems included in that list."
Hurley Medical Center is a teaching hospital with a trauma center, neonatal ICU, pediatric department and emergency department. He added:
"We have always tried to maximize available technologies for the benefit of patient care, even before the electronic health record era. However, in about 2009, we began preparation for our migration away from paper and on to an electronic platform for our medical records. In 2012, we went live with our Epic system and launched ourselves into this technology driven, smart hospital era."
According to Dr. Roebuck, it has always been the hospital's goal to best utilize available technologies to make patient care better, safer and more efficient.
Predictive Technology
The hospital uses artificial intelligence (AI) to predict clinical change in a patient's care course. He said: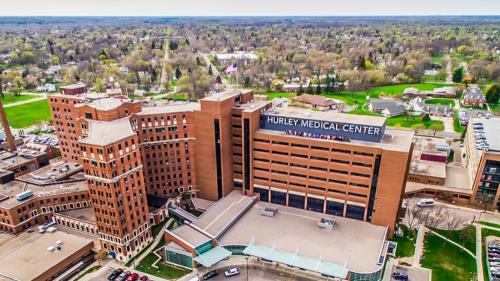 "We have a tool called the deterioration index that looks at many patient care variables and tries to predict which patients will clinically deteriorate over the next six hours. This allows us to intervene prior to any deterioration which makes patient care better."
The center's neonatal ICU has also been using smart technology to predict symptoms in babies. Dr. Roebuck explained:
"They take the patient's vital signs from our monitors, some of which are collected every few seconds, and look at the distribution of these vital signs over the last day. This collection can include thousands of individual data points—reviewing data and sample size so big cannot be done in the human mind and requires AI to assist."
Hurley is also piloting a program that uses a stream of electrocardiogram tracing to analyze changes in waveforms and predict which patients might deteriorate.
Growth in Telemedicine
The Covid-19 pandemic pushed Hurley to develop and implement telemedicine more intensely. Dr. Roebuck said:.
"Through the pandemic we completed tens of thousands of telemedicine visits which clearly benefited the patients—in some of our clinics this was the only way to get patients seen. As we move forward, hopefully emerging from the pandemic, we look to implement this tool not only in the outpatient setting, but also in the inpatient setting."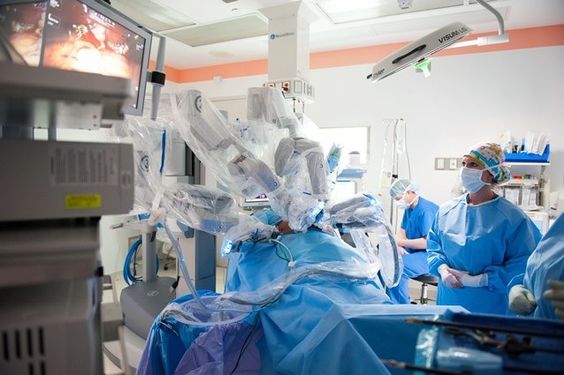 Hurley uses the latest robotic surgery technology such as the Da Vinci Surgical System. They perform robotic surgery for hernia repairs, hysterectomies, appendix, gall bladder and many other surgeries. Digital imaging is another area in which it has forged ahead:
"All our radiology software is integrated directly with medical records, allowing providers immediate access to all the current and past images for a particular patient. Radiologists have full access to patient care historical information when reading films, which helps make their readings more accurate.
He added:
This digital imaging system allows our practitioners located anywhere, whether inside or outside the hospital, to view images with diagnostic level resolution."
Another area in which Hurley's technology is leading the way is in medication ordering and dosing.
"When a provider orders a medication, our electronic medical record helps to be sure the patient has not had an adverse reaction in the past to it. It also looks for the possibility of interaction with ongoing medication the patient may be taking and provides awareness that there is the potential for interaction or allergic reaction."
Administering nurses scan barcodes on patients' wristbands and on individually wrapped medication doses to check that the right medicine is being given to the correct patient, at the correct time, in the correct dose.
Improving Care
Smart technology can be found throughout the hospital buildings: there are refrigerators that self-monitor temperatures and a technology called Extract is used for paper management. Dr. Roebuck said:
"There are documents that need to be scanned into the patient's medical record, which can sometimes be a laborious process. Extract takes these scans, 'reads' them, identifies the patient referenced and files the scanned documents directly into the patient chart without the need for human intervention."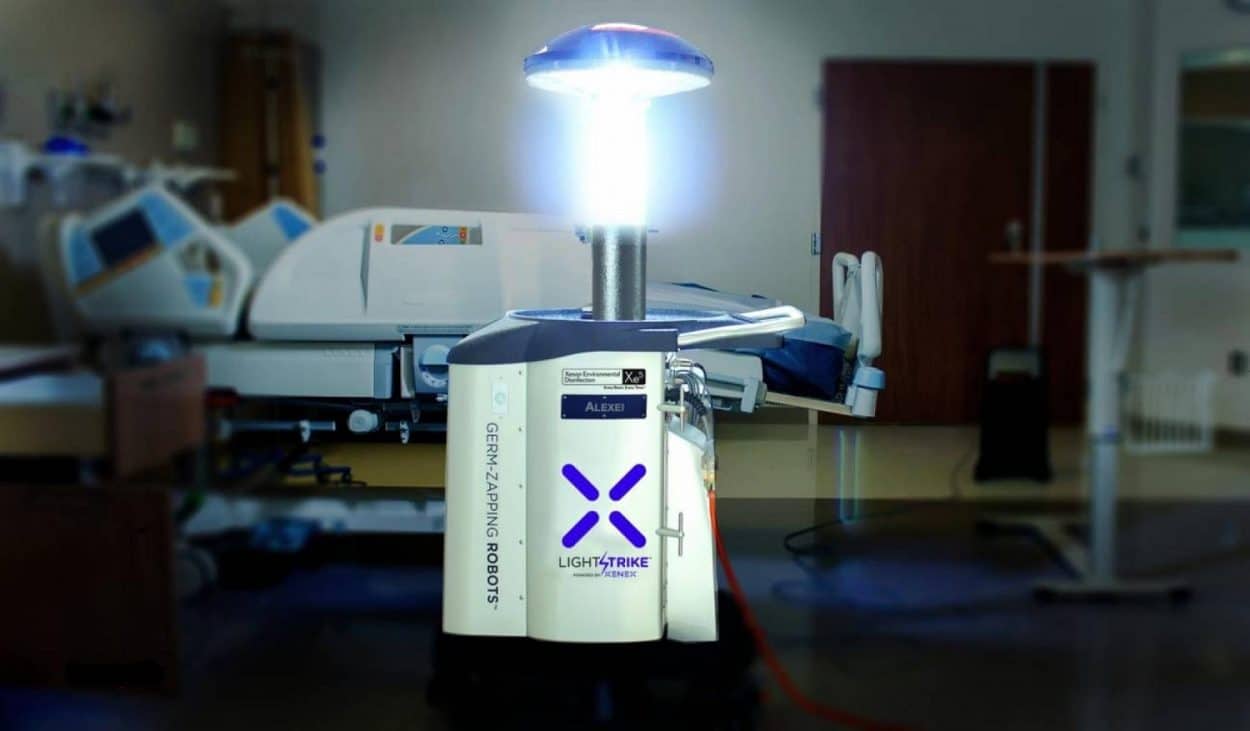 Hurley also uses ultraviolet light robots to blast away SARS-CoV-2, the virus that causes Covid-19. The robots, created by Xenex and called LightStrike, are part of Hurley's new cleaning process being used in Covid-19 patients' rooms. They use a xenon lamp to create bursts of light that are stronger than sunlight and can wipe out the virus.
Dr. Roebuck believes smart medical technologies will only improve from now on.
"It's hard to really predict where all this will go, but no doubt patient care will get better. That is the reason we will continue to invest in technology and continue to strive to be at the forefront of smart hospitals."