A project to offer free HIV self-testing kits via smart vending machines could soon be piloted in Australia.
Dr. Owain Williams, senior research fellow at the University of Queensland's School of Public Health, is heading up the program hoping to reach those with the virus who are not currently being tested. He explained:
"This project is about normalizing testing, breaking down barriers and getting to the people who are hard to reach. It is about getting to the last 10% of people who are not testing—addressing what we describe as 'the last mile problem.'"
Smart Distribution
The tests themselves, which use oral swabs to test saliva for the presence of antibodies and give immediate results, are now commonplace, Williams explained.
"Even the vending machines are not completely new—there have been similar pilots in San Francisco, U.S., and Brighton, U.K.—the real novelty here is the use of smart vending machines. These will be a new generation of vending machines to help us learn about those who are testing."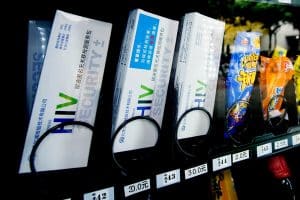 Likening the system to free city bikes, where customers receive a unique code to unlock a bicycle, he explains, test users will be given a pin for the vending machine. If they don't already have a code then the machine, which is wi-fi enabled, will send them a link:
"They will go online and fill in short survey: this is completely anonymous but gives us basic demographics. It tells us if they are urban or rural, their gender, sexuality and testing history, to help build up a basic client profile."
And, he added: "Because the test is time-dated, we will learn whether they are accessing it out of hours, possibly for convenience or because they are frightened of seeing a doctor."
Follow-up Care
After accessing the test, the client will receive SMS messages asking whether they used it and what the result was. Those with a positive result will be called to discuss possible treatment options. Those who do not respond to messages for three days will also called by a trained facilitator, usually someone living with HIV. Williams said:
"What is crucial is that although this is anonymous it is embedded in a follow-up service and that people are linking to care."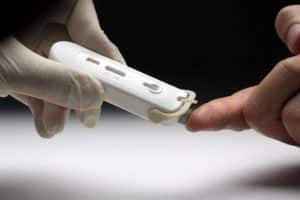 The project is currently going through ethical approval, but if given the green light is expected to be operational very soon. Initially, one machine will be set up on a university campus in Toowoomba, southern Queensland, and another in a "sex-on-premises" venue. Williams explained:
"This project builds on one I ran with an online ordering system, where we posted kits out. What has changed here is the method of supply. What we saw with that project was that 41% of people accessing our kits had never tested for HIV before, and that was absolutely huge. The real aim here is to go even further, to reach even more of these people who are not testing. That would be incredible."