Door handles are among the most contagious places in a building. To avoid contamination with Covid-19 in hospitals, factories or elderly homes, Materialise has created a 3D-printed door opener that can be placed on a door so it can be opened with the arm or the elbow. In a solidarity effort, the Belgium-based 3D printing company is sharing free design files for anyone who has access to a 3D printer and wants to print the parts.
The 3D-printed door opener can be attached to existing door handles. It features a paddle-shaped extension that allows people to open and close doors with their arms instead of their hands. For safety reasons, not all doors can remain open. By removing the need to touch door handles, the 3D-printed door opener can help reduce the spread of the virus, according to the company. Experts at Materialise designed this hands-free opener with easy installation in mind. It doesn't require drilling holes or replacing the door's handle. Setting it up is simple: it only requires fastening two 3D-printed pieces together with screws over the existing handle.
Thanks to the flexibility and freedom of design through 3D printing, the Materialise team was able to quickly create, test and validate the opener. They are calling on everyone who has access to a 3D printer to print these two simple parts and make them available to their local communities in order to minimize germ contamination through door handles. The experts at Materialise explained on their website:
"Careful analyses by our risk prevention advisors on how viruses spread confirm that by using our covered arms instead of our bare hands, we can work together to avoid further passing on of Covid-19."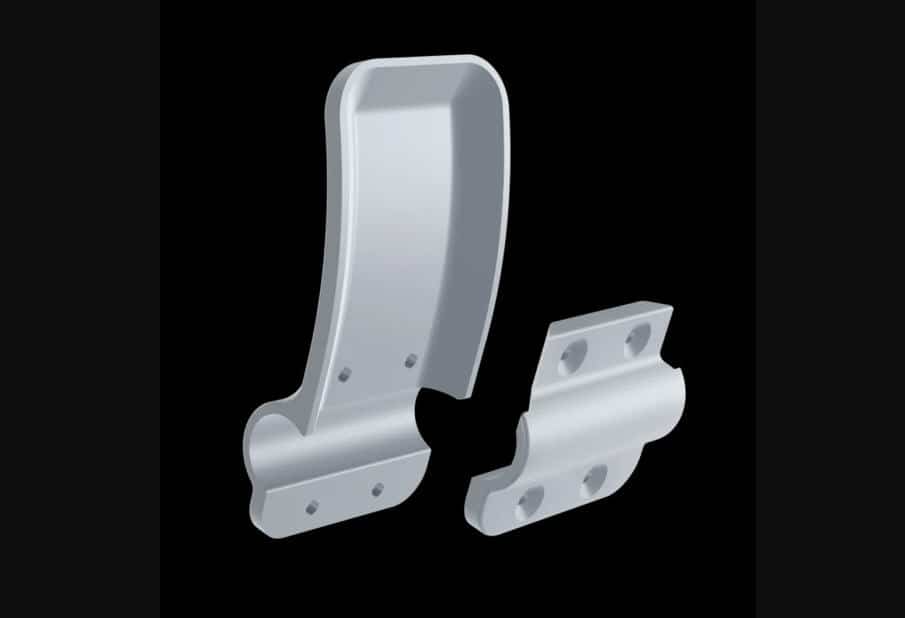 Fried Vancraen, CEO of Materialise, said:
"The power of 3D printing in combination with Materialise's three decades of 3D printing expertise made it possible to turn an idea into an innovative product in less than 24 hours. By making the design available digitally, it can be produced on 3D printers everywhere and become available around the world in a matter of hours. In this case, we designed the product in Belgium and people in China, Europe or the U.S. can now 3D print the door opener locally."
People can download the design file for free on Materialise's website. In this video Materialise provides technical information for those who want to print the openers:
The models are applicable for Multi Jet Fusion (MJF), Laser Sintering (SLS), or Fused Deposition Modeling (FDM) technologies. Many hospitals have their own 3D printing facilities. For example in the US, the Mayo Clinic already printed itself some of these openers, according to a tweet from Jay Morris, the director of the clinical 3D printing lab there: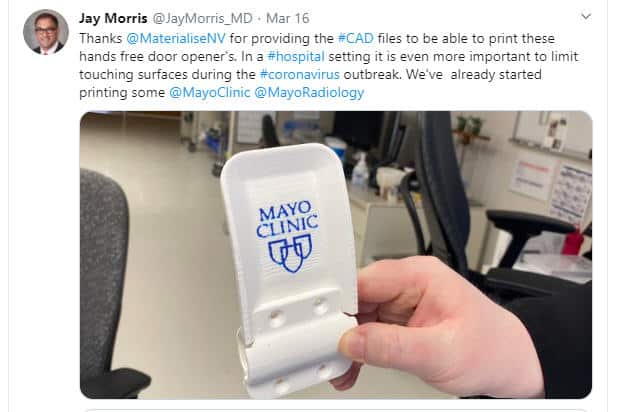 According to a 2014 study published in The American Society for Microbiology, contamination of just a single doorknob or table top results in the spread of viruses throughout office buildings, hotels, and health care facilities. "Within 2 to 4 hours, the virus could be detected on 40 to 60 percent of workers and visitors in the facilities and commonly touched objects," explained the authors.