Micro-channeling is one of the most sought-after non-surgical procedures heralded by beauty and dermatology experts as a simple solution to a myriad of skin problems. With little or no recovery time needed, the pain-free treatment is used for anti-aging, skin tightening, the reduction of fine lines and pigmentation, shrinking pores and healing scars.
The process involves the application of a plate or patch that has microscopic structures made of plastic, like small needles, to the skin. When pressed into the skin, these "needles" create channels to the deeper dermal layer of skin, which stimulates collagen production and allows active skincare ingredients, such as hyaluronic acid, to penetrate further.
In addition to being a popular rejuvenation therapy resulting in plumper, younger-looking skin, it is also used as an effective treatment for acne scars, surgery scars and stretch marks. It helps break down the old scar tissue and foster the development of new, healthier skin which, when combined with cutting-edge growth factor serums, improves healing.
Differences Between Micro-Channeling and Micro-Needling
Micro-channeling is similar to its predecessor micro-needling, a technique involving taking a metal roller with multiple sharp fine points and rolling it across the skin to create micro-injuries, commonly used for wrinkles, acne scarring, pigmentation and other skin issues. These injuries encourage the skin to produce more collagen and enable topical serums to reach deeper into the skin to accelerate the healing process.
However, there are some key differences between the two procedures, starting with the tools used for both. Micro-needling devices look like a pen with longer needles on the end and micro-channeling devices have a round tip with uniform needles that are smaller and shorter. These shorter needles stimulate stem cells in the epidermis while the longer, more invasive needles can cause damage to dermal cells.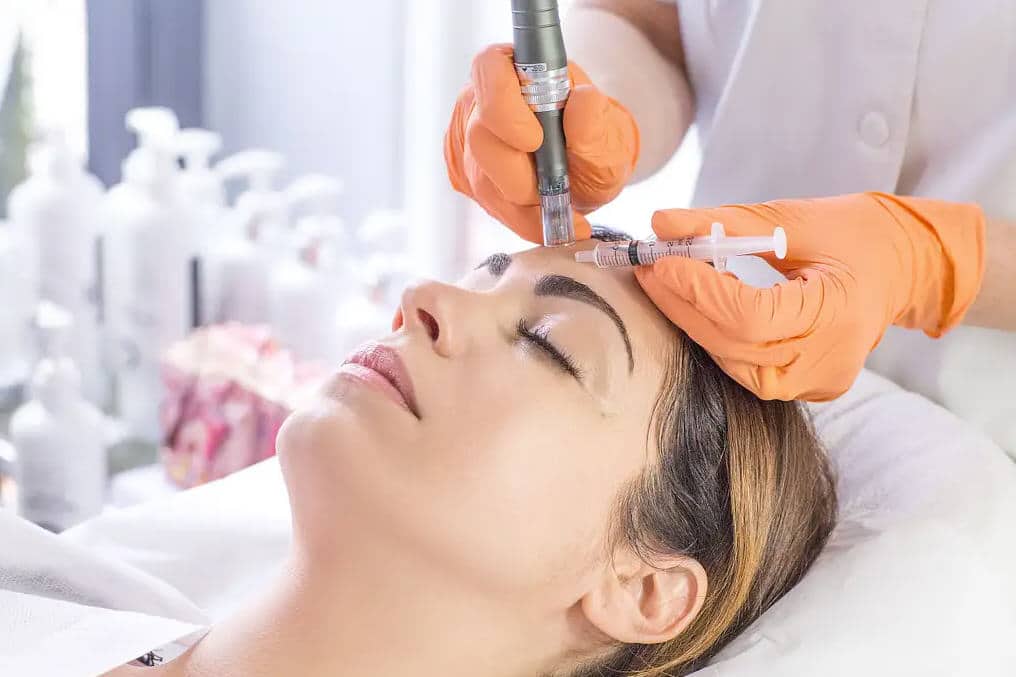 Instead of using the roller technique of micro-needling, which can drag on the skin and create further trauma or micro-tears, the micro-channeling device creates a linear stamping technique, resulting in clean, consistent channels that prevent bleeding.
This reduced tissue damage results in less inflammation and little or no discomfort, which means skin numbing creams are not required and significantly less recovery time is needed. Typically people can return to their normal day-to-day activities within 60 to 90 minutes of a micro-channeling session, compared to 24 hours or in some cases days of recovery for micro-needling.
Facial Rejuvenation Within the First 24 Hours
Although the production of new collagen, known as neocollagenesis, can take several weeks, many people notice improvement in the texture and tone of their skin within the first 24 hours and a significant improvement after two or three sessions. The best results are seen around 15 to 20 days after an appointment.
During each session, the skin is cleansed thoroughly and the device is applied to the treatment area for about thirty minutes, during which time the chosen serum is infused into the skin.
Aftercare includes not washing or applying anything to the face for around six hours and no exfoliation or sun exposure for seven days. Although it is highly effective for people with fine lines and wrinkles, acne scars or dull skin, micro-channeling is not recommended for those with an active inflammatory skin condition, such as rosacea, active eczema, psoriasis or seborrheic dermatitis.
About €200 Per Session
The treatment is not intended to be done on a continual basis and it is carried out when needed, making it more cost-effective and less time-consuming. Prices vary depending on the treatment area, but to treat the face and neck costs on average €200 per session, with most clinics and salons offering package deals.
For preventative work or to tackle early signs of aging, two to three treatments might get rid of fine lines and wrinkles, but for deep acne scarring four to six treatments are needed. Results last in varying degrees, generally between two and nine years, according to beauty experts.
For people wanting to experiment with micro-channeling without the salon price tag, there are some effective home treatments, such as the under-eye patches developed by beauty brand Radara. Created from a medical-grade, biodegradable polymer, these small patches contain 3,000 0.5mm needle-like structures that are dripping in two different molecular weights of hydrating molecule hyaluronic acid.
Clinical studies have found that the patches reduce fine lines on average by 20% with five minutes of use per night, for seven days.