As the medical world is putting imaging technology into sharp focus with ECR 2021, we spoke with Dr. Richard Ljuhar, co-founder and CEO of ImageBiopsy Lab (IB Lab). This Vienna-based musculoskeletal (MSK) AI-technology developer was recently named Best New Radiology Vendor in the EuroMinnies 2021 and its deeptech solutions are being installed at more than 100 sites across Europe and the US.
MedicalExpo e-Magazine: How did your AI software for MSK diseases come about?
Dr. Richard Ljuhar: The founding team has spent most of its career in the field of osteoporosis assessment and detection and was frequently confronted with requests for more reliable methods of disease prediction. Existing methods such as radiological bone mineral density (BMD) measurements using dual-energy X-ray absorptiometry (DXA) were considered not to capture the entire spectrum of the strength and structure of the bone (which in turn is connected to fracture risk factors). Therefore, the initial idea was to use advanced image processing algorithms to extract relevant parameters of bone microarchitecture out of a plainfilm (2D) radiograph. Such information could provide critical information and give insight into the bone health without the need for a painful and invasive bone biopsy.
MedicalExpo e-Magazine: How does your technology work?
Dr. Richard Ljuhar: IB Lab is aiming to disrupt the way bone and joint diseases are currently being diagnosed. Technologies such as AI-supported software offer a novel way to translate imaging data into structured health information. IB Lab has developed (and certified) a unique MSK-analysis-focused digital workflow platform named IBLAB ZOO. Our deeptech technology is based on state-of-the-art image recognition algorithms and AI, trained on data sets extracted from an accessible image pool of 10 million medical images of various formats. The initial focus of our MSK platform has been on 2D X-ray modules for the knee, hip, hand and spine. The structured information extracted from imaging data enables us not only to disrupt the current workflow by providing standardization and increasing diagnostic accuracy, but also to create new insights into the prediction of disease onset and treatment outcomes.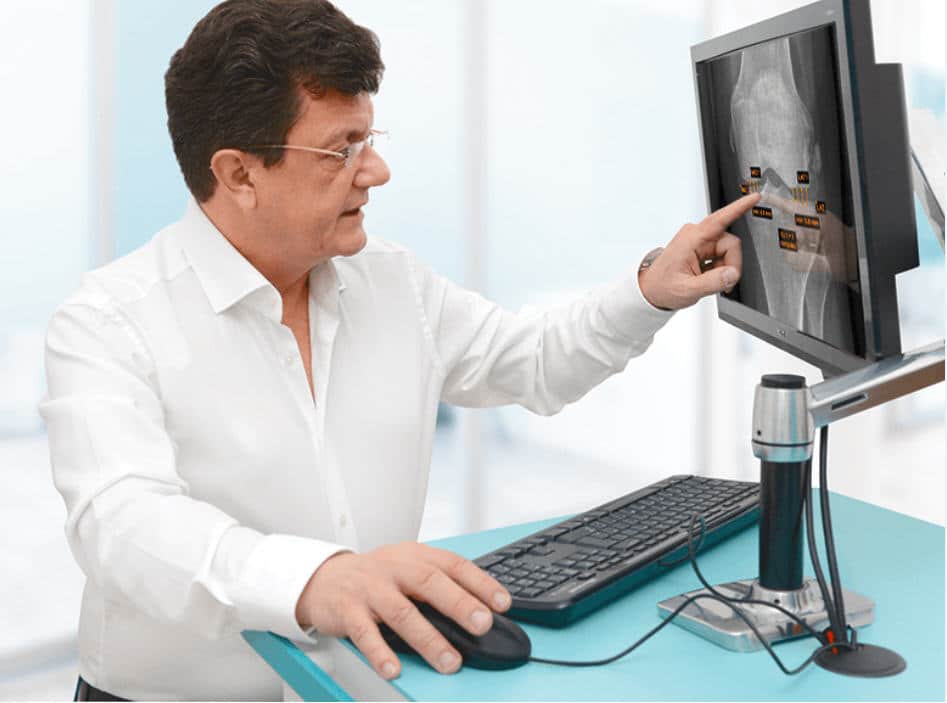 MedicalExpo e-Magazine: What difference does the technology make to patients and medical professionals?
Dr. Richard Ljuhar: Targeted treatment options ensure shorter periods of suffering, quicker recovery by applying objective assessment/progression measurements and prevention/delay of disease progression, leading to better outcomes. Enhanced and well-structured reports ensure ideal patient communication. MSK diagnoses are often time-consuming and subjective. IB Lab supports radiologists and orthopedists in their daily decision-making with standardized, fast and resource-effective AI-based software solutions for automated measurements on radiographs that accelerate the workflow and improve the time and quality of patient care.

IB Lab applications can save up to three minutes of interpretation time per X-ray, saving up to 45 to 60 extra minutes per day for a radiologist.
MedicalExpo e-Magazine: What do you believe the future of radiology will look like?
Dr. Richard Ljuhar: I think we all agree that radiologists (or more broadly speaking, human readers) will not be replaced by software algorithms. But I am convinced that physicians will embrace the benefits digital health offers. In a few years from now, there won't be any image study seen by radiologists which has not been pre-analyzed by an AI algorithm first.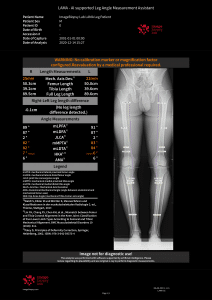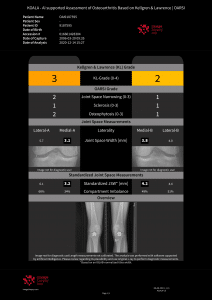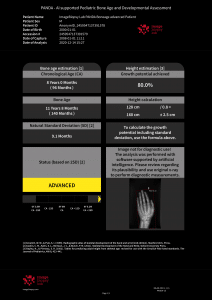 "In a few years from now, there won't be any image study seen by radiologists which has not been pre-analyzed by an AI algorithm first." (Credit: IB Lab)
AI in the healthcare market is relatively new with huge growth potential due to easier integration. The global market size of AI in healthcare is expected to grow from €4.18 billion in 2020 and reach €38.5 billion by 2026. It is projected to grow at a compound annual growth rate of 44.9% during this forecast period. The major factors driving the market growth are the increasing volume of healthcare data and growing complexities of datasets driving the need for AI; the intensifying need to reduce towering healthcare costs; improving computing power and declining hardware costs; a growing number of cross-industry partnerships and collaborations; and the rising imbalance between the health workforce and patients driving the need for improvised healthcare services.
MedicalExpo e-Magazine: What other exciting developments do you predict?
Dr. Richard Ljuhar: We will get much better at predicting disease. In my opinion, this is the key to having a lasting impact on healthcare and society. I see AI as the tool which will help us drive this development. It has the potential to give physicians the tools needed to extract information from healthcare data which is currently available but not accessible.