Canon Medical will be showcasing some of its latest innovations at this year's ECR Online Edition from July 15-19, such as the deep learning reconstruction technology Advanced intelligent Clear-IQ Engine (AiCE) or the Aquilion ONE/PRISM Edition spectral CT system.
The company, which is part of the Canon Inc group, offers a full range of medical imaging solutions. These include CT, MRI, ultrasound, diagnostic, eye care and interventional X-ray equipment, as well as a full suite of healthcare IT solutions that enable visualization and analysis of 2D, 3D, and 4D images of anatomy and physiological functions.
European Director Marketing Jack Hoogendoorn said:
"What is most important for us is to focus on getting the best images possible and we address that at ECR. All our technologies are about getting the best images possible because that is what the specialists in the hospital want—they need to be able to judge and diagnose based on what they see."
Combining Technologies
With more than 100 years' experience in the medical industry, Canon Medical was known as Toshiba Medical Systems until 2016, when it was bought by Canon Inc. This, said Jack Hoogendoorn, is now resulting in some exciting developments:
"We are seeing the technologies used in photo cameras and other imaging modalities from Canon Inc being combined with the medical technology we have. Based upon technology from Canon Inc, for example, is our Advanced intelligent Clear-IQ Engine (AiCE)."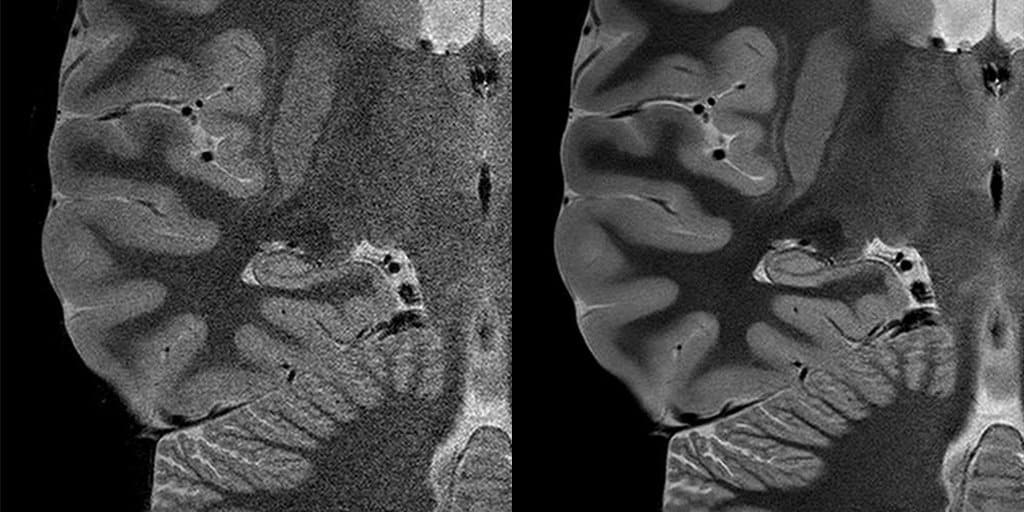 This deep learning reconstruction (DLR) technology, is now being integrated across a broad portfolio of scanners with a wide range of clinical applications. It features a deep learning neural network that can reduce noise and boost signal-to-noise ratio (SNR) to deliver sharp, clear and distinct images, further opening doors for advancements in CT and MR systems. Jack Hoogendoorn said:
"It has exceptionally low noise properties and enhances anatomical resolution and reconstructs the image in real time until it gets the best image possible."
AiCE technology is incorporated in almost every CT system. Thus also within the Aquilion ONE/PRISM Edition, which will be introduced at ECR. This is a spectral CT system, which integrates AI technology to maximize conventional and spectral CT capabilities and automated workflows, while providing intelligent clinical insights to assist physicians in making more informed decisions across the patient's care cycle: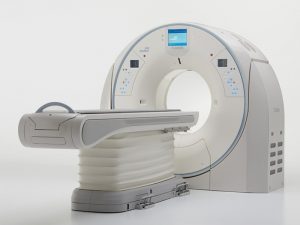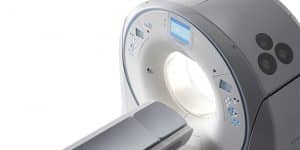 It offers opportunity for innovation within medical imaging, said Hoogendoorn, having the power to illuminate clinical insights and initiate business opportunities designed to improve patient outcomes. Its innovative approach to CT reconstruction uses deep learning to distinguish true signal from noise to deliver sharp, clear and distinct images at fast speeds. Trained using vast amounts of high-quality image data, AiCE provides enhanced anatomical resolution across the whole body including brain, lung, cardiac and musculoskeletal scans.
The DLR technology provides pure energy datasets combined with full field of view acquisitions, patient-specific mA modulation (to reduce radiation doses) and whole-body coverage. The Aquilion ONE/PRISM Edition also has an all new CT fluoroscopy (CTF) interface enabling one-person operation thanks to ergonomically-designed controls and a versatile touchscreen tablet.
Reducing Scan Times
Finally, Canon Medical will also be showcasing its Compressed SPEEDER MR technology. MRI scan times are often a challenge in clinical practices, where shorter scan times are typically associated with lower resolution or decreased SNR. Hoogendoorn said:
"Available on the Vantage Galan 3T and Vantage Vantage Orian 1.5T, the SPEEDER technology dramatically reduces MRI scan times. The technology provides exceptional image quality and has great potential to help clinicians improve productivity. Reduced scan times enhance patient comfort, which in turn produces higher quality images by mitigating patient movement caused by patient discomfort during long scans."