For thirty years, the German company Medisana has been delivering home health care products to help people monitor their own state of health independently and conscientiously. At MEDICA 2019 they will be showcasing Meditemi, a care robot designed to help people live independently at home until they reach old age.
With smart services and artificial intelligence, the robot makes everyday life easier and increases safety thanks to various health service and emergency response functions, according to the company. The robot supports elderly people and their relatives in their everyday lives and provides increased safety, communication and entertainment.
Rafael Aviram, chief executive of Meditemi said:
"Thanks to artificial intelligence, it really interacts with humans. At the same time, its mobility, navigation, video and audio integration, as well as its health assistance systems, support independence for users with health challenges."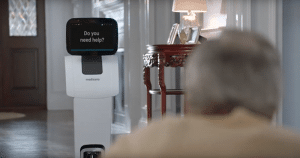 As a home health assistant, the robot can provide comprehensive health monitoring, preventive healthcare and domestic independence. It uses artificial intelligence to continually learn and navigate autonomously throughout the home.
It is connected to an app that can record vital signs such as blood pressure, blood sugar, weight, pulse rate and oxygen saturation. If the user chooses, this data can then be sent to a doctor or a family member. The technology also includes voice-controlled and touch screen video calling so that an individual can communicate with friends and family.
The device is expected to launch at the end of the year at a selling price of 2,999 euros, including 30 months of service.