How can a mask protect against Coronavirus? Between the surgical mask and the FFP2 respirator, which mask offers the best protection? Also, with the mask shortage at the beginning of the pandemic, new alternatives to those masks have appeared: the "barrier mask" and the face shields. How effective are they against Covid-19? Read this article to choose the right protection.
Hicham Dhouibi contributed to this article.
The coronavirus keeps circulating and the number of contaminated people is still rising. In order to avoid any new lockdown, many countries are asking people to wear face masks in public areas. Various face masks and face shields are now increasingly visible in our streets. The particles of the SARS-CoV-2 virus are extremely small—0.12 micrometers, 0.12 thousandths of a millimeter—and can last several tens of minutes in the air when they are expelled by someone contaminated who is coughing, talking or even breathing. There are officially two types of protective masks that protect against such viruses: the surgical masks and the respirators.
1. Surgical Masks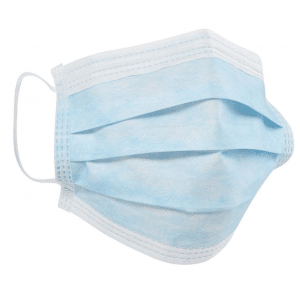 What Is a Surgical Mask?
A surgical mask is a disposable medical device that can be bought in pharmacy and that protects against infectious agents transmitted by "droplets." These droplets can be droplets of saliva or secretions from the upper respiratory tract when the wearer exhales. These masks are single-use devices and should not be worn for more than 3 to 8 hours.
What Is It Made Of?
A surgical mask is made of three layers: a filter layer made of a melt-blown polymer, most commonly polypropylene placed between two non-woven fabric layers. The melt-blown material is the material preventing the microbes from exiting the mask.
A surgical mask can have different shapes: pleated (most often three longitudinal folds that can unfold), duck beak (allowing the lips to be held slightly apart), and molded shell. An internal nasal bar with a high and adjustable border greatly improves the quality of the fit to the face and therefore the effectiveness of the mask. In addition, it helps to reduce fogging on glasses.
Who Should Wear a Surgical Mask?
A contagious patient should wear a surgical mask as soon as contagion is suspected because the mask prevents the patient from contaminating his or her surroundings and environment. If worn by the caregiver, the surgical mask protects the patient and his or her environment (air, surfaces, equipment, surgical site). A surgical mask can also protect the wearer from the risk of splashes of biological fluids. In this case, the surgical mask must have a waterproof layer. It can also be equipped with a visor to protect the eyes.
What are the Standards?
Surgical masks are tested in the direction of exhalation (from inside to outside). The tests take into account the efficiency of bacterial filtration.
In Europe, they must comply with the European standard EN 14683, which has 3 levels of bacterial filtration efficiency (BFE1, BFE2, Type R):
Type I: bacterial filtering effectiveness > 95%
Type II: bacterial filtering effectiveness > 98%
Type IIR: 98% and splash-resistant
In the United States, they must respect ASTM standards which have three levels of protection (from level 1 low risk of exposure to fluids to level 3high risk of exposure to fluids).
Do Surgical Masks Protect Against COVID-19?
A surgical mask does not protect against "airborne" infectious agents so it will not prevent the wearer from being potentially contaminated by a virus such as coronavirus. However, according to experts, if everyone (contaminated people as well as healthy people) wears a surgical mask and respect hygiene and social distancing measures, it could be possible to reduce the risk of transmission of the virus.
Masks are indeed recommended for use in the fight against SARS-CoV-2 because of the Van Der Waals effect: The mesh of the mask acts as an electrostatic barrier so the particles are largely trapped by electrostatic action. When a very small particle such as SARS-CoV-2 encounters a fiber, it sticks to it permanently. The multitude of non-woven fibers multiplies the chances of a collision and thus the efficiency of the filter.
How Much Does a Surgical Mask Cost?
A surgical mask costs less than 1 € the unit. In France, the price has been fixed at 95 cents the unit. In Italy and in Portugal, surgical masks cost 50 cents the unit.
2. Respirators

What Is a Respirator?
A respirator is personal protective equipment that prevents the wearer from inhaling aerosols (dust, smoke, mist) as well as vapors or gases (disinfectants, anesthetic gases) that are health hazards. It also protects those who wear them from inhaling "droplets" of infectious agents.
What Is It Made Of?
Those masks generally consist of four layers:
an outer layer ;
a non-woven filter layer, generally made of polypropylene microfibre to capture the virus ;
an acrylic backing for mask support ;
and an inner layer for facial comfort.
Respirators can be insulating and filtering. Filtering respirators consist of a facepiece and a filtering device. Depending on the type of filter, the mask will either be effective only against particles, only against certain gases and vapors, or against particles, gases and vapors. Filtering respirators can sometimes also be equipped with an exhalation valve to improve user comfort. The valve prevents condensation inside the mask, misting on the glasses and helps the user breathe in and out easily. Respirators can be disposable or reusable. In the second case, it is possible to replace the filter when it is full.
What are the Standards?
Respirators are tested in the direction of inspiration (from outside to inside). The tests take into account the efficiency of the filter and leakage to the face.
In Europe, they must meet the European standard EN 149: 2001 which has three classes of disposable particulate respirators (FFP1, FFP2 and FFP3):
FFP1 refers to the least filtering of the three masks with an aerosol filtration of at least 80% and leakage to the inside of maximum 22%. This mask is mainly used as a dust mask (home renovations and various types of work).
FFP2 masks have a minimum of 94% filtration percentage and maximum 8% leakage to the inside. They are mainly used in construction, agriculture, and by healthcare professionals against influenza viruses.
FFP3 masks are the most filtering mask of the FFPs. With a minimum filtration percentage of 99% and maximum 2% leakage to the inside, they protect against very fine particles such as asbestos.
In the United States, respirators must meet NIOSH (National Institute for Occupational Safety and Health) standards. Within this standard, there are several classes of respirators depending on the degree of oil resistance:
Class N: no oil resistance. A distinction is made between N95, N99 and N100. The number after the letter indicates the percentage of filtration of suspended particles.
Class R: mask resistant to oil for up to eight hours. Here again, a distinction is made between R95, R99 and R100.
Class P: a completely oil-resistant mask. There are also P95, P99 and P100.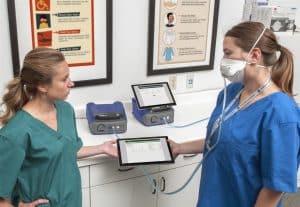 Do Respirators Protect Against Covid-19?
Respirators of class FFP2 or FFP3 (EU standards) and of class N95 (US standards) are the ones offering maximum filtration of particles and aerosols. Unavailable in pharmacy, they are the ones that best protect the wearer from airborne infectious agents i.e. against contamination by a virus such as coronavirus, SARS, H1N1, etc. They remain the n°1 protection in the event of an outbreak as we the one we are experiencing today.
Who Should Wear a Respirator?
Caregivers have the obligation to wear a respirator when caring for a patient who is infected or suspected of being so. Everybody who wants to have the best protection because of his/her job or because he/she is in contact with people at risk and/or work in an environment at risk should wear a respirator. However, respirators must be fit tested before being worn in order to prevent any leakage and to offer the best protection.
How Much Does a Respirator Cost?
Depending on the vendors, respirators can cost around 30€ the unit.
3. "Barrier" Maks
What Is a Barrier Mask?
The shortage of FFP2 and surgical masks has fueled an increase in patterns and tutorials for making protective masks. A new type of protective mask has recently appeared and has been named the "barrier mask."
What Is It Made Of?
It is made of fabric (cotton for example) and it is washable and can be reusable up to 20 times in general.
Who Should Wear a Barrier Mask?
The "barrier mask" is meant to be worn by healthy people.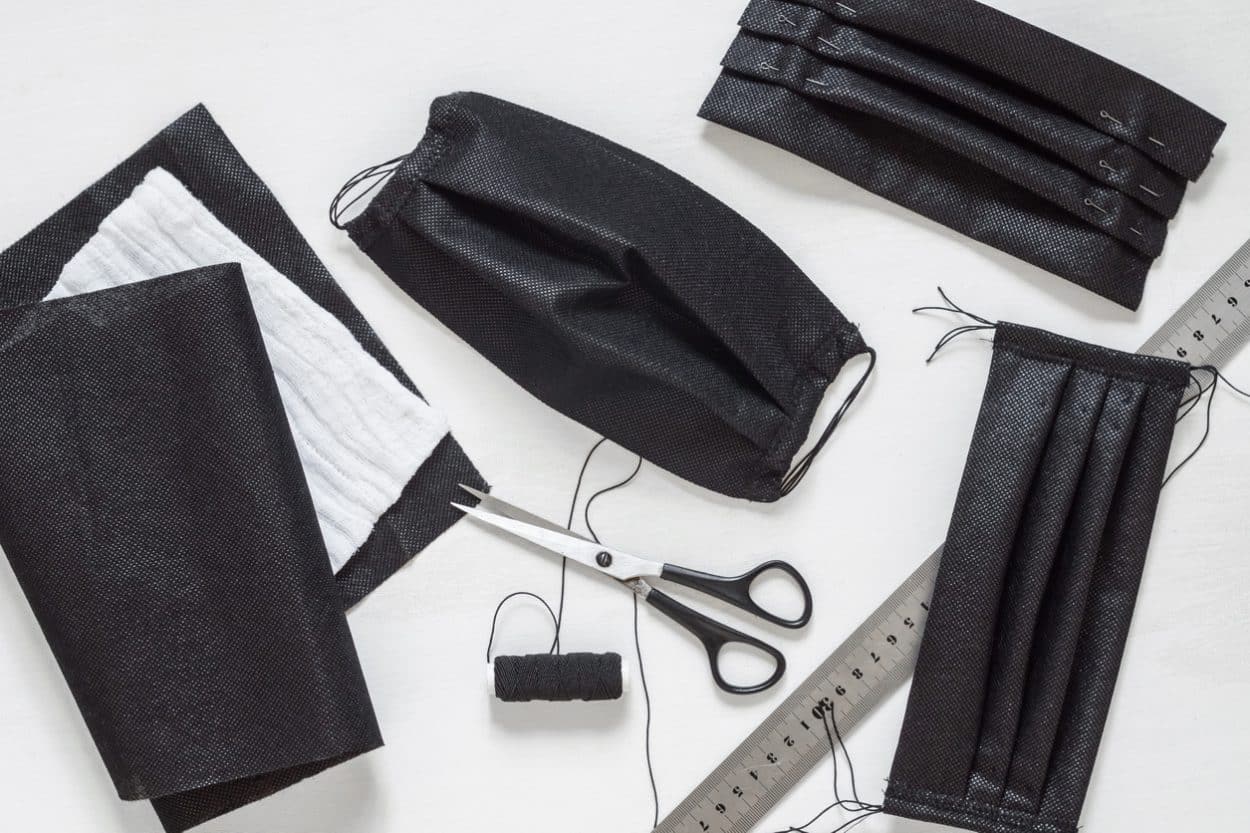 What are the Standards?
The barrier mask has been approved by the certification organization AFNOR. AFNOR has produced a reference document with the requirements to be satisfied when making these new barrier masks. This AFNOR Spec-Barrier masks document can be downloaded online free of charge.
Do Barrier Masks Protect Against COVID-19?
The requirements for barrier masks are less ambitious than those for FFP2 and surgical masks, which should be reserved for healthcare professionals and other people at risk of exposure. Barrier masks meet a set of criteria endorsed by 150 experts and are aimed at providing all healthy people with further protection, in addition to good hygiene practices and social distancing. There are two categories of barrier mask:
The category 1 masks are for people exposed to the public in the course of their work, such as postal workers, delivery personnel, receptionists. These fabric masks filter out more than 90% of the particles emitted with a size greater than or equal to 3 microns.
The category 2 masks are for people with occasional contact, i.e. the entire population who also respect barrier gestures and social distancing. These masks filter out 70% of 3-micron particles.
Who Can Make Barrier Masks?
Textile and plastics companies can use the document to mass-produce these masks. The document's appendix includes a list of laboratories (list to be complemented by the AFNOR website) for companies wishing to test their prototypes before going ahead with mass production. The document is also intended to offer guidance to all those with the necessary materials and craftsmanship to make masks by themselves. The COVID-19 pandemic being worldwide, the model of barrier mask is available in several languages. Spain, which has been hit hard by the virus, has its version in Castilian. Versions in German, Russian and Chinese are also available.
How Much Does a Barrier Mask Cost?
In Europe, commercially available barrier masks cost between 2 and 5 euros.
4. Face Shields
What Is a Face Shield?
A face shield provides almost complete protection by its anti-projection effect on the three areas through which the virus enters: the mouth, the nose and the eyes. Face shields are mainly used in resuscitation. It can easily be cleaned or disinfected, so it can be reused, and it allows for a certain degree of airflow without pain for the person who wears it.
What Is It Made Of?
Face shields are made of transparent Plexiglas screens or plastic that protect against potentially infected droplets and sputter.
Do Face Shields Protect Against COVID-19?
According to experts, face shields are not sufficient to effectively protect against coronavirus if used without a mask. They are an additional barrier layer, to wear with a surgical mask for example.
How Much Does a Face Shield Cost?
Depending on the vendors, a face shield costs between 2 and 5 € per unit.