One of the largest health-related disparities in China is the inequality between rural and urban healthcare. The ongoing roll-out of telemedicine systems, which allows remote clinical services through the use of big data, cloud computing, Internet of Things (IoT), artificial intelligence (AI) as well as blockchain and 5G networks, offers hope.
Today, there are less than half as many hospital beds and doctors per 1,000 citizens in China's rural areas compared to big cities. In even more isolated areas, where there are only small township health centers and no hospitals, the figure drops as low as 1.27 beds for the same number of people.
China's rural residents are more likely to be significantly impacted by medical expenses too. The country's New Rural Cooperative Medical Scheme (NCRMS), which began in 2003, covers most people. However, it only reimburses a limited number of outpatient services and the reimbursement amount varies by area. 
This means rural Chinese households whose members have chronic conditions are 1.5 times more likely than the average household to experience so-called "catastrophic health expenditures" (CHEs), which can push them into serious debt.
Mind the Gap
Siren Chen, a healthcare analyst at China-focused investment research firm and information service provider EqualOcean, believes there is a huge gap between China's rural and urban healthcare in terms of accessibility, availability, and affordability. Siren Chen explained:
"In my opinion, the biggest challenge is cost. Only 20% of outpatient expenses and 30% of inpatient expenses can be reimbursed if patients covered by the NCRMS want to seek better quality health services from tertiary hospitals. 

Secondly, all tertiary hospitals are located in big cities, so rural patients must pay for travel and accommodation expenses. 

Thirdly, it's hard to register with well-known hospitals and doctors and there is a long wait for hospitalization. This inevitably increases costs too."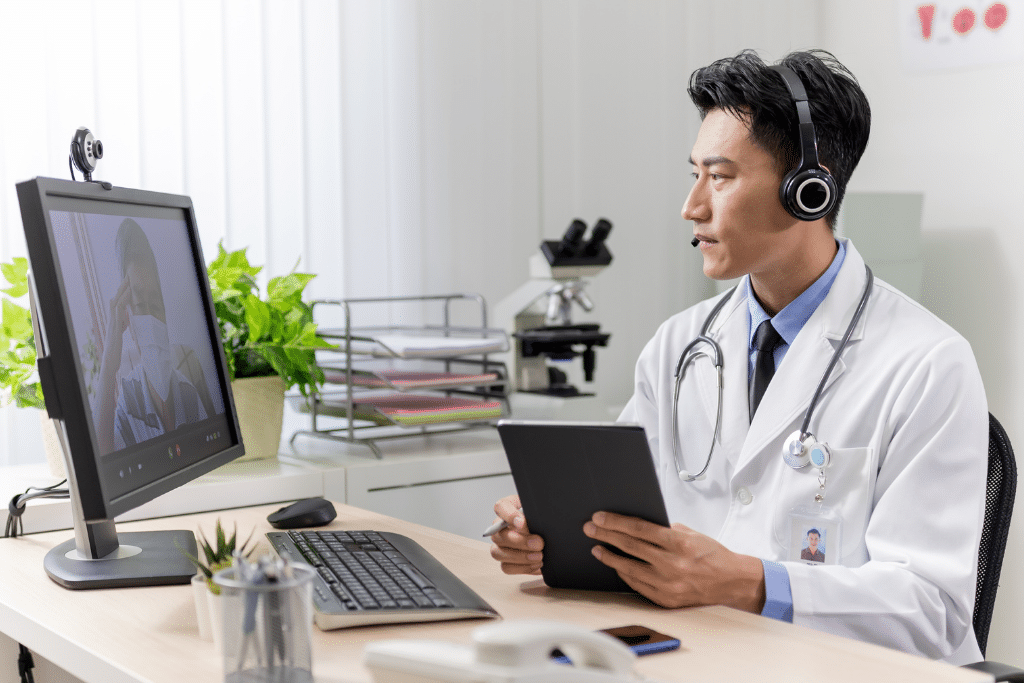 The Rise of Remote Solutions
How can these challenges be addressed? Clearly, new types of technological solutions are needed. The ongoing roll-out of telemedicine systems, which offer remote clinical services and facilitate exchanges between healthcare practitioners, offers hope.
Telemedicine began to gain traction in China in 2015 when Beijing legalized online healthcare providers. The market expanded rapidly during the Covid-19 pandemic, which served to focus attention on the advantages of remote care.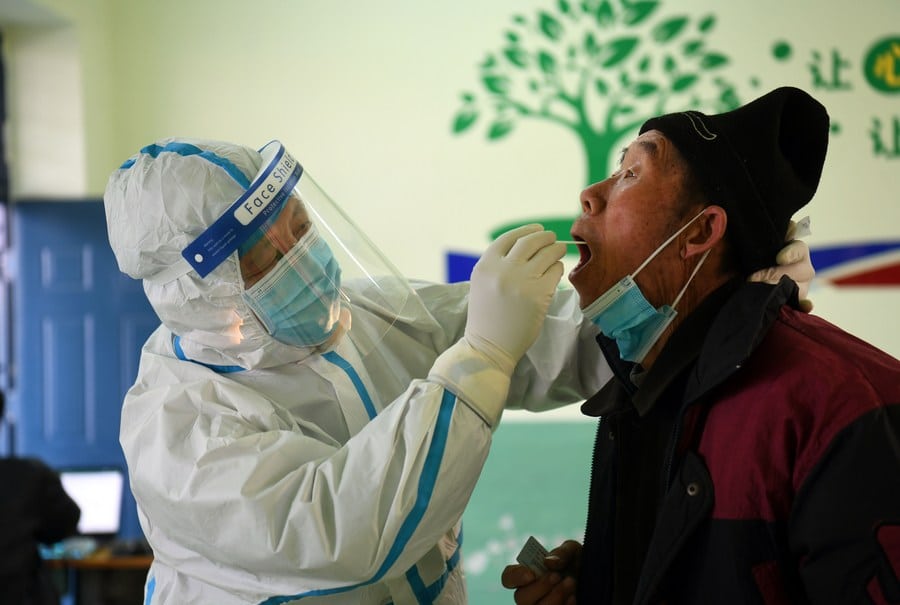 At the end of 2020, the Chinese government took measures to develop the country's telemedicine network further, not only to bolster epidemic prevention but also to improve access to healthcare in less-developed rural areas.
A Three-Layered System
There are generally acknowledged to be three layers in China's evolving telemedicine system:
The use of big data and cloud computing to digitalize medical systems (e.g. data collection and integration, public health monitoring, and infectious disease detection).
The use of IoT and AI to acquire daily health data or optimize diagnosis (e.g. chronic disease management via household equipment and remote diagnosis support). 
The use of blockchain and 5G networks to optimize remote treatment (e.g. emergency treatment with hospital-based doctors accessing real-time health data and interacting with professionals in ambulances).
Tiange Yu, B2B Research Director at Shanghai-headquartered Daxue Consulting and a specialist in China's healthcare and life sciences market, said:
"The first layer is rapidly penetrating rural medical systems. Penetration rates of medical data collection and integration, by 2021, had reached around 90% at province level, 40% at city level, and 30% at county level.

"Meanwhile, the second layer is also gaining momentum. It's worth noting that online medical care and pharma e-commerce corporates are also playing an active role in this layer. The development of the third layer is still in its early stage, though remote treatment in rural areas has huge potential."
Sharing Resources 
One way of meeting the needs of patients in China's rural areas is by connecting top-tier hospitals to smaller hospitals and primary care facilities that are closer to patients. This allows them to share resources and expertise in order to provide quality care at lower cost.
Siren Chen added:
"The Chinese government has promoted so-called 'medical consortiums' for several years. This is a type of vertically integrated healthcare system that often involves one widely recognised tertiary hospital and multiple secondary hospitals or community health centers in less developed areas. The overall goal is to improve patient outcomes."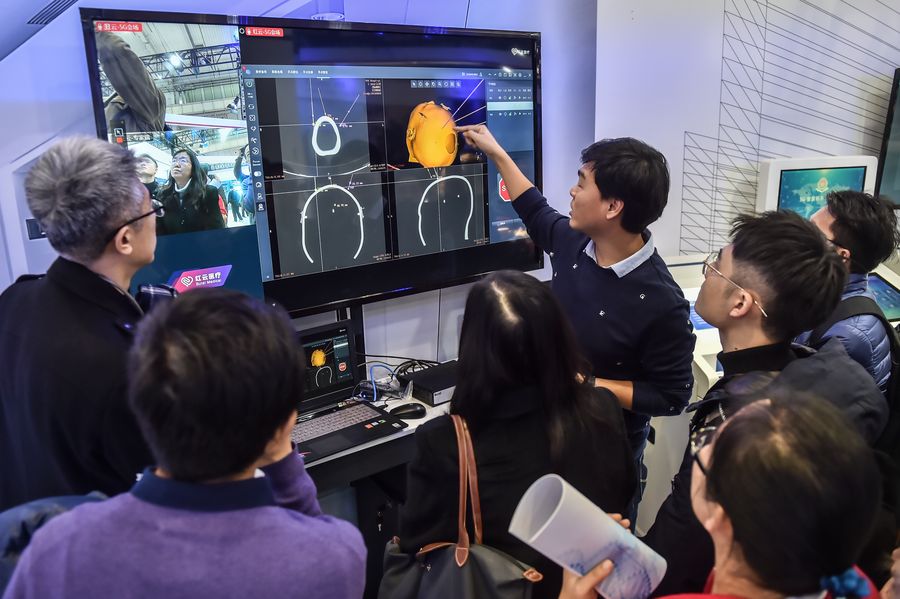 In 2018, Dutch multinational Philips partnered with Digital China Health, the largest provider of cloud-based healthcare services in China, to jointly launch a teleradiology platform.
The platform allows radiological images and associated patient information to be remotely viewed and analyzed by clinical experts anywhere in the country so that patients can receive treatment via their local healthcare facility, wherever they are. A pay-per-use arrangement makes the platform affordable, even for smaller hospitals.
Significant Obstacles to Overcome
Significant obstacles need to be overcome before telemedicine can significantly impact China's rural-urban healthcare gap. Internet access is still lacking in some rural areas, many Chinese residents have no access to a smartphone, and awareness of telemedicine systems is low.
New telemedicine business models must be developed, with much closer collaboration between healthcare providers, government organizations, industry associations, private insurers, and other stakeholders.
Nevertheless, the deployment of telemedicine and innovative telemedicine services in China will continue to gather pace, driven by the demands of an aging rural population, the government's desire to promote equity in healthcare services, and developments in medical devices and communication software.