Selecting the right surgical microscope for your ophthalmology practice is essential to obtain the best outcomes. Learn about the important aspects to look out for.
By Leica Microsystems
Ophthalmic microscopes play a vital role in every ophthalmology practice. They support diagnostics and eye surgery, ensuring precision and high-quality patient care. As such, choosing the right surgical microscope is critical.
What are the key factors that should be considered when choosing an ophthalmic surgical microscope? Here are 6 decisive features to guide your choice.
1/ High Optical Quality
An ophthalmic microscope is at its core an optical instrument, enabling the visualization of micro-anatomical details. Therefore, there should be absolutely no compromise on the optical quality. High optical quality delivers high resolution, large depth of field and true-to-life color representation for accurate tissue differentiation. This allows ophthalmic surgeons to see more detail in one view, reducing time-consuming refocusing and fostering maximal concentration.
2/ Powerful and Safe Illumination
An ophthalmic microscope should offer optimal light conditions for both the surgeon and the patient. This means illumination needs to be powerful but also safe, guaranteeing patient safety and reducing the risk of phototoxicity. For cataract surgery, it is also important to ensure stable red reflex and optimal contrast for a constant and uncompromised view throughout surgery. Some microscopes, such as the Proveo 8 from Leica Microsystems, even allow you to adjust the illumination diameter to each patient's eye, so no light is lost.
Watch cataract surgery with a Leica microscope (Video Courtesy of Dr. Fabio Dornelles):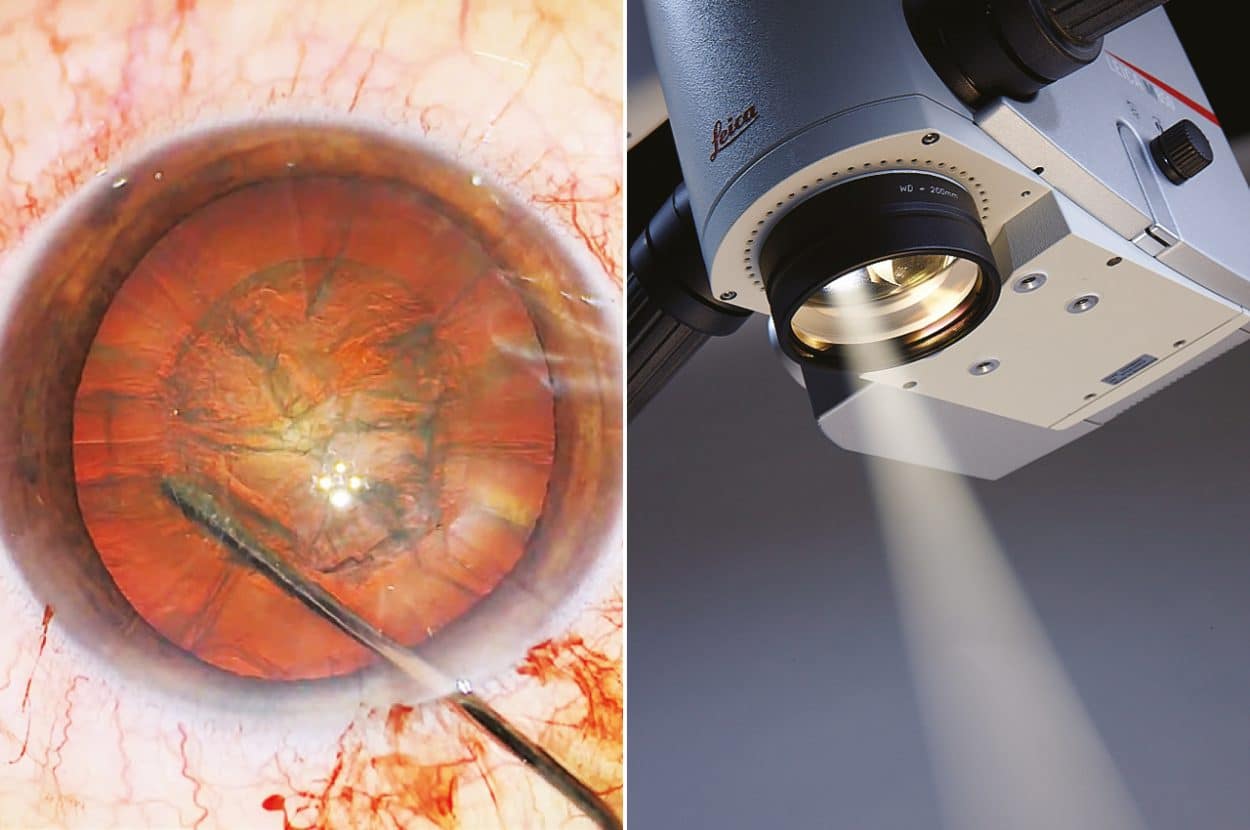 3/ Workflow Support
Another key factor to consider is whether the microscope supports a seamless, smooth and uninterrupted workflow allowing simple progress through all phases of surgery. In addition, programmed settings for light, focus and magnification according to the type of procedure and surgery phase enable quick microscope setup and maximum efficiency in the OR. The option to operate "heads up" looking at a monitor can also considerably enhance surgical workflow.
4/ Open Architecture and Connectivity
The ability to connect the microscope with other devices, accessories and technologies is a critical aspect, allowing you to use one single microscope for all cases. This includes cameras and recording systems to capture, document and share patient cases as well as patient information systems. But also Optical Coherence Tomography (OCT), such as the EnFocus intraoperative OCT from Leica Microsystems, which provides greater insights during retina, cornea and glaucoma procedures to help surgeons make more informed decisions.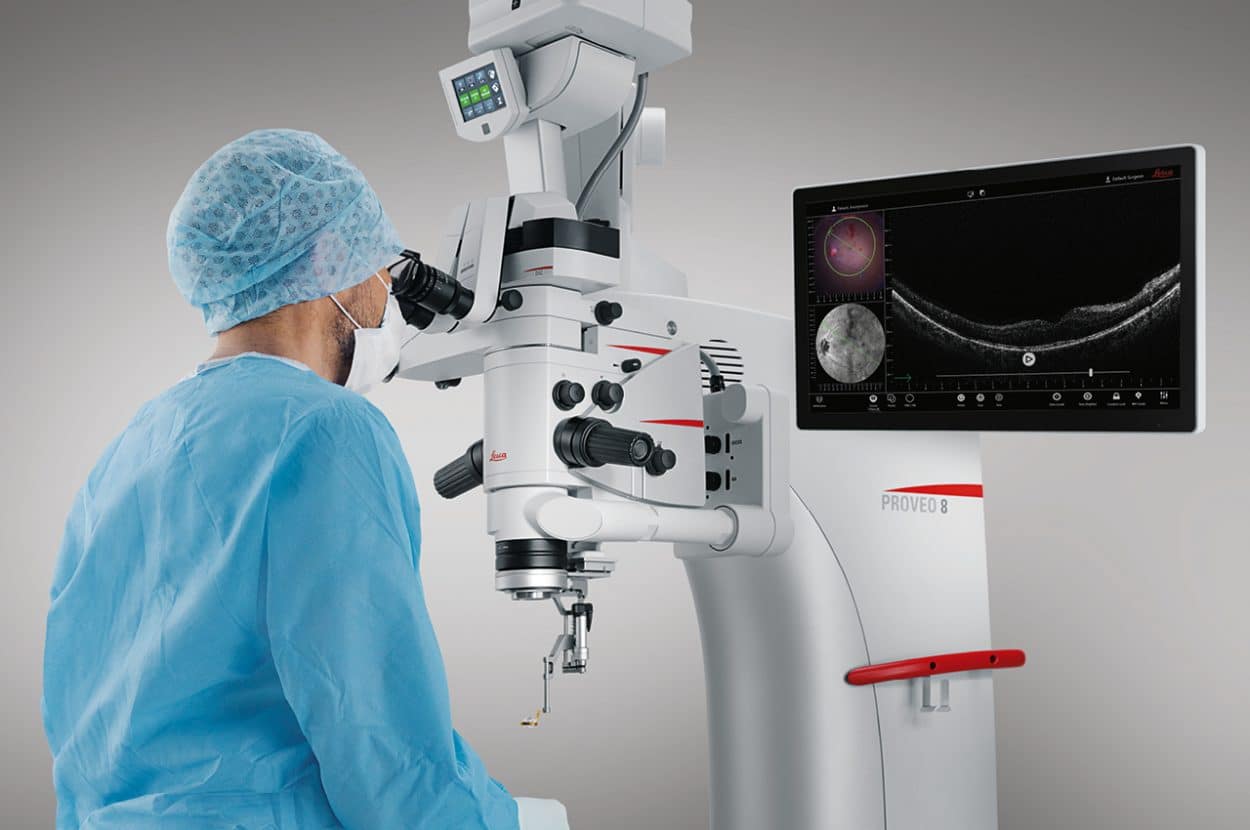 5/ Ergonomic Accessories
Working in comfort, with a long reach, enables ophthalmic surgeons to focus on the patient and surgery. Ergonomic accessories such as adjustable binoculars and wireless footswitches improve comfort, reducing eye strain and musculoskeletal pain. M822 microscopes from Leica Microsystems for cataract surgery have the largest selection of ergonomic binoculars available, giving surgeons the best possible view, in a natural, comfortable and upright position.
6/ Hygiene
The microscope must be easy to clean, which entails streamlined design, flat surfaces and internally routed cables. Antimicrobial coating (a paint which is designed to provide an antimicrobial effect on surfaces) also supports hygiene protocols. Removable parts including handles and sterilizable covers should be made from robust materials to ensure longevity.
In conclusion, the key features to look out for in an ophthalmic surgical microscope are: high optical quality; powerful and safe illumination; workflow support; open architecture and connectivity; ergonomic accessories; hygiene.
Of course, depending on your needs, you may want to consider other factors. If you teach ophthalmology for example, high-definition video may be a must. Or if you plan on evolving your practice, upgradability may be central to your decision.
In any case, to ensure the microscope meets your requirements, the best approach is to request a product demo and discover the features first-hand. At Leica Microsystems, we offer remote product demos with our clinical experts to give you the opportunity to experience our ophthalmic surgery portfolio.