The first step out of bed: this is how Danish company Life Science Robotics describes ROBERT®, its comprehensive and flexible solution for rehabilitation. This innovative therapy system uses a KUKA LBR Med robot and focuses on the mobilization of the lower limbs.
The sooner mobilization occurs, the better. Facilitating movement as soon as possible after hospital admission or surgery is crucial for a more efficient rehabilitation process, more effective treatment and optimal recovery.
Early mobilization promotes the patient's blood flow preventing blood clots, bed sores and wound infections; improves respiratory function by clearing secretions which helps avoid chest infections; maintains muscle strength which reduces muscular atrophy and neuropathy, thus contributing to increased independence and confidence; and activates the digestive system, increasing general well being. Getting patients to move early is more likely to lead to earlier discharge.
This is the goal behind the conception of ROBERT®. The innovative robot also brings many benefits to healthcare professionals. Lifting or moving patients is the main cause of injury among workers in this field, especially when they are dealing with obese patients.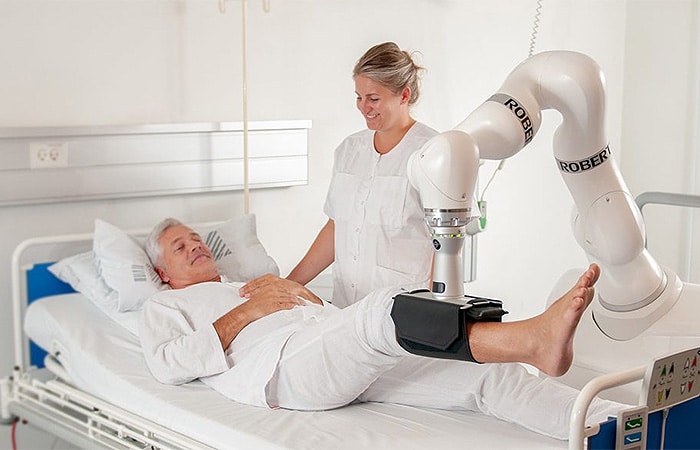 According to a 2021 survey by Eurostat, while 45% of adults living in the EU had normal weight in 2019, slightly more than half (53%) were considered overweight (36% pre-obese and 17% obese) and almost 3% underweight, according to their body mass index (BMI). Reducing the need for heavy and repetitive lifting and facilitating easy maneuvering are very important features of this device.
Also, while it is impossible for a therapist to perform 200 manual repetitions of an exercise on a patient, ROBERT® can do it more than 400 times, if necessary. The simple interface is another positive point, as it enables a quick, safe and intuitive operation.
Repeating the Exercises Without Human Assistance
The robot works by being "attached" to the patient with a fixture fastened around the foot. Then the health professional records the exercises planned for the session into the robots system, based on previous medical assessments. This way, ROBERT® can precisely memorize the movements and repeat these exercises independently with no further human assistance.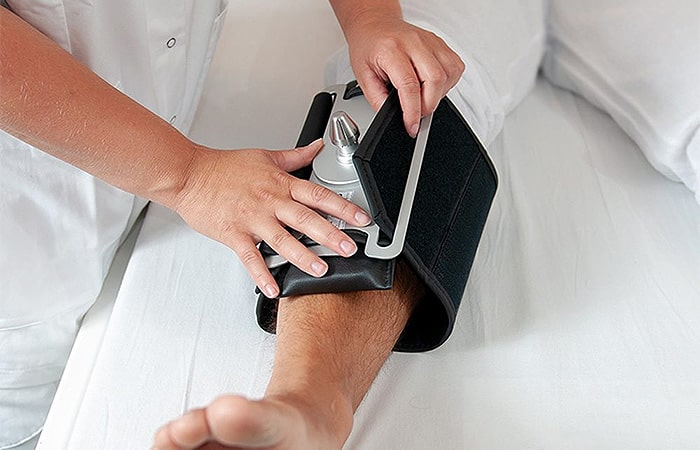 Every time a patient finishes an exercise routine, the results appear on the robot's screen. Up to four different exercises can be programmed per session, and ROBERT® can even treat two patients simultaneously.
Keld Thorsen, CEO and partner of Life Science Robotics, explained:
"Creating a rehabilitation device is in itself no trivial task. That gets even more complex if one wants to obtain the right balance between providing useful features that can be customized uniquely for each patient whilst keeping a simple and safe use. That is why this process has involved many iterations in collaboration with end users."
The robot has three modes:
Guided Mode where the leg of severely affected patients, with reduced or nonexistent level of function, is mobilized passively ;
Active Mode where the robot offers resistance to the patient's movements, at a level determined by their functional strength ;
Hybrid Mode where a passive movement is followed by an active exercise.
Watch a demonstration video:
With the use of ROBERT®, the number of patients a nurse or physiotherapist can work with increases from 8 to 24 per shift. This leads to a better outcome for patients, an improved work environment for health professionals and reduced staffing costs for health institutions.
As a matter of fact, the manufacturer estimates that the cost of 10 treatments in one shift with the robot amounts to only 9 euros per treatment—and that within two years the product pays for itself.
Numerous patients can benefit from ROBERT® in rehab centers, care homes, physiotherapist clinics and hospitals. In the field of neurology, the robot can be used on patients suffering from stroke, acquired brain injury (ABI), traumatic brain injury (TBI), spinal cord problems, Guillain-Barré Syndrome, multiple sclerosis and Parkinson's Disease. Other fields of medicine that can employ this device include orthopedics, geriatrics and oncology.
So far, ROBERT® has been used in leading spinal cord centers, rehabilitation centers and clinics in large municipalities in Denmark as well as in hospitals and clinics in Germany, Hong Kong, Malaysia and the United States.
A Partnership Between Life Science Robotics and Kuka
For the ROBERT® project, Life Science Robotics partnered with German company Kuka and made use of its lightweight robot LBR Med which is ideally suited for integration into the medical product thanks to its medical precertification.
Keld Thorsen said:
"We had heard that the company had just developed the LBR Med at that time: a lightweight robot intended specifically for medical technology."
The LBR Med is facilitating the certification process. It is the only robot certified for integration in medical products in accordance with the CB Scheme.
Keld Thorsen added:
"KUKA provided us with the services of a development engineer who gave us detailed insights into how the robot works."
According to him, the greatest challenge was that ROBERT® had to be very easy to handle despite its high complexity.
The ROBERT® is FDA registered and has been approved as a Class IIa medical device, in compliance with the Medical Device Directive 93/42/EEC. Life Science Robotics has just introduced a module for ROBERT® which focuses on the mobilization of the upper limbs. 
Keld Thorsen said:
"This module empowers users to train for activities of daily living (ADL) and provides all of ROBERT®'s strengths, such as the ability to target specific joints and to do many repetitions. Also, Life Science Robotics will be announcing more new, exciting projects in the near future."