China has experience building prefabricated hospitals in under ten days since 2003. It's paying off now in the fight against the new coronavirus outbreak. How have these hospitals been made exactly, though? What prefab elements are being used? Why is a prefab hospital more suitable for an emergency situation? What will happen to the hospitals when the epidemic subsides? Read our interview to learn more.
WUHAN, China—As the coronavirus continues to spread throughout China and internationally, Chinese authorities have initiated the construction of several prefab hospitals in the region. First, the construction of a new temporary 1000-bed hospital in Wuhan's Caidian district, completed in 9 days. The hospital and its staff of 1,400 medical professionals from the armed forces received corona-infected patients to treat in isolation on February 3, 2020.
The Huoshenshan hospital covers an area of 34,000m² across two floors and was built from prefabricated elements assembled off-site to reduce the cost of construction and completion time. The design of the hospital is similar to that of the Xiaotangshan hospital that was built in Beijing to tackle the 2003 SARS virus outbreak—constructed within seven days. Same region, same story; the second prefabricated hospital, Leishenshan, with 1,500 beds was completed on February 6, 2020. The Leishenshan make-shift hospital covers an area of 30,000m². As of January 30, 2020, 40% of the construction—that began on January 26—was completed.
See all parties involved in the construction of the Huoshenshan hospital here.
Read an article about how China built two hospitals in ten days on the site The Urban Developer.
Interview on Constructing Healthy and Safe Prefab Hospitals
Projects of this nature and scale often take two years, minimum, to complete. A temporary building might only take a month to build, but a hospital is a different genre. So what does it take to construct a health facility so quickly without risking quality? How can architecture facilitate the work of medical professionals while maintaining humane efforts?
We spoke to Mr. Tian XiaoTao, Marketing Director, Oversea Business Department of House Space Prefab to learn more.
What does House Space Prefab supply exactly?
Mr. Tian: Our company focuses on prefab houses made in the style of what is called a flatpack house, like a container. These flatpack houses are prefabricated off-site and can be assembled very quickly on-site. They can be made into different shapes, like a transformer. The structure can reach three stories high.

For one standard flatpack, it takes three professional workers half a day—3 to 4 hours—to complete its assembly. However, a basic concrete foundation needs to be set before we can begin. We can set the foundation in addition to supplying the flatpack houses if needed. It depends on the contractor's needs.
What was House Space Prefab's involvement in the prefab hospitals built in Wuhan?
Mr. Tian: The two prefab hospitals completed in Wuhan were constructed very quickly, in under ten days. For one hospital, it required 3000 sets of flatpack houses and, in fact, we supplied one-fifth of the total amount of flatpack houses used to construct the two hospitals. We designed and fabricated flatpack houses specific to the hospital project, modifying the size and material selection of the standard flatpack house. All modifications met the needs of the contractors assigned to the project. The walls, for example, required additional thickness in order to prevent the spreading of the virus. All medical instruments and equipment integrated into the interior of the hospitals were supplied by other companies.

Since Wuhan is the center of the disease, the flatpack house factory located there cannot be used so we've been supplying a large amount of flatpacks. The contribution of flatpack houses from other companies involved has helped speed up the construction process of these hospitals, an important point since there are several hospitals under construction right now.
Read an interview with Fang Xiang, project manager of the Third Construction Co. Ltd of China Construction Third Engineering Bureau, on Xinhua net.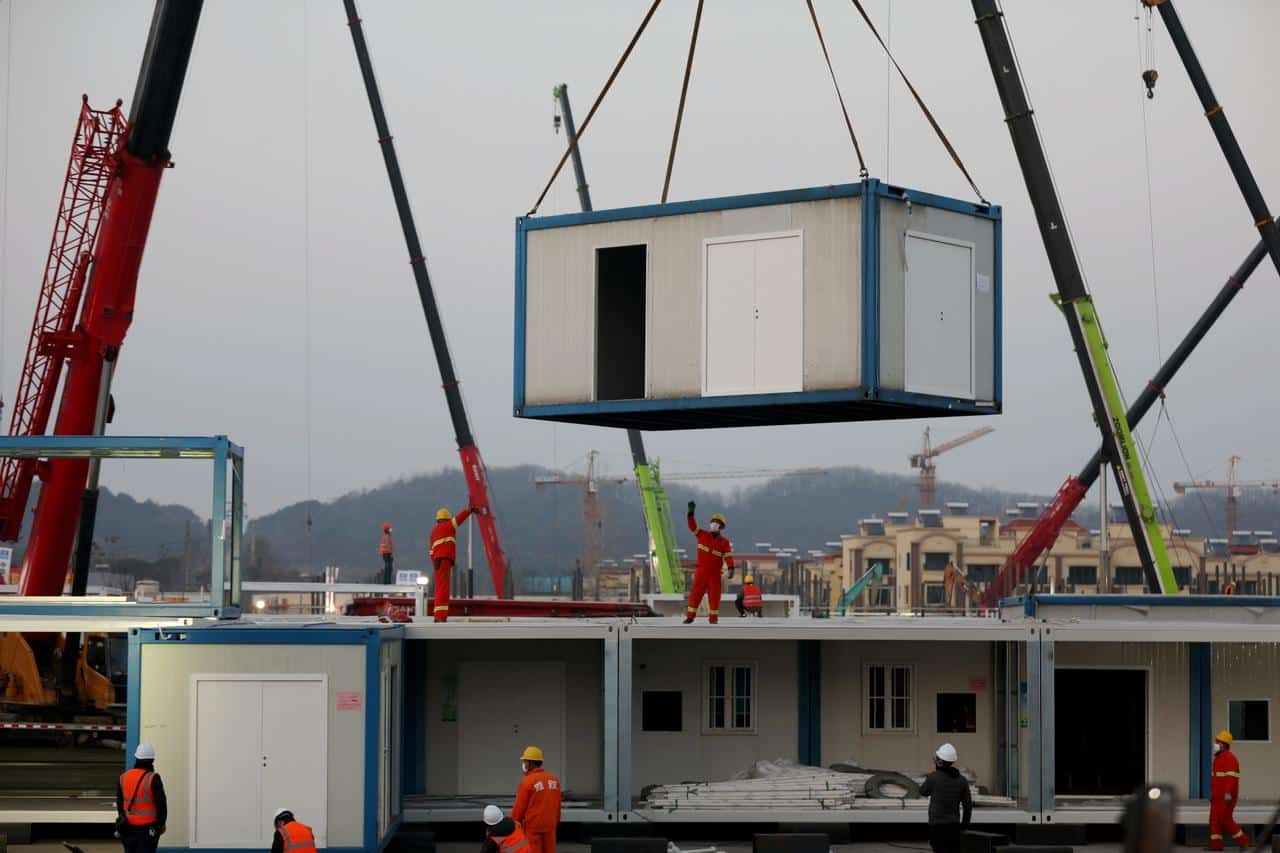 What does it take to construct a health facility so quickly without risking quality?
Mr. Tian: Flatpack houses are made from steel and a variety of other materials so ensuring the right combination and quality is important. Also, during the entire cycle of the project, standard procedures need to be followed—fabricating the flatpack houses, assembling the houses, on-site construction procedures.
Wuhan natives greatly contributed to the construction of the hospital. Although their participation has been a raving success, it could have been difficult to manage work procedures and, not to mention, it could have contributed to the spreading of the virus.
Why is a prefab hospital more suitable for the current situation, for the outbreak of coronavirus?
Mr. Tian: A normal hospital is meant to last a long time and so is mostly made of concrete. The epidemic hospital, especially one equipped to handle several diseases, is temporary so the flatpack house style construction of the hospital is the most suitable because they are easily and quickly assembled and can be dismantled. Although we're unsure as to when this will happen, when the epidemic subsides, we'll dismantle the prefab hospitals. Once they're dismantled, they can be reused. They can be transported by truck to other cities where they're needed. We can also recycle the steel and other useful materials used in the flatpack houses and we can sell them back to factories.
READ A RELATED INTERVIEW PUBLISHED BY OUR SISTER PUBLICATION ARCHIEXPO E-MAGAZINE.