Chinese manufacturer SCW Medicath Ltd. introduces its innovative angiographic syringes—an essential tool for the safety of various medical procedures. Its angiographic syringes are all compatible with high-pressure injection equipment.
SCW Medicath Ltd.'s angiographic syringes are used by health professionals to manually inject contrast agents in medical procedures such as Computed Tomography (CT) scans, coronary angiograms, Digital Subtraction Angiography (or DSA, a fluoroscopic technique used extensively in interventional radiology for visualizing blood vessels) and Magnetic Resonance Imaging (MRI).
SCW Medicath Ltd.'s angiographic syringes are disposable and come in a variety of sizes. They are all compatible with high-pressure injection equipment.
A Bit of Context
An angiogram is a diagnostic procedure that employs X-ray images to look for blockages in a patient's blood vessels (which can be either arteries or veins). It allows doctors to see how blood is circulating in parts of one's body such as heart, neck, kidneys, legs or any other where it could be necessary not only to locate the source of an artery or vein issue but also assess the extent of the damage done to them.
The most well-known type of angiogram is the coronary one. The usual reason a patient undergoes this type of examination is the need to check if there are any restrictions in the blood flow going to the heart. Among the symptoms and problems which make a patient eligible for a coronary angiogram are chest pain, congenital heart defects and abnormal results on non-invasive exams like an echocardiogram, for example.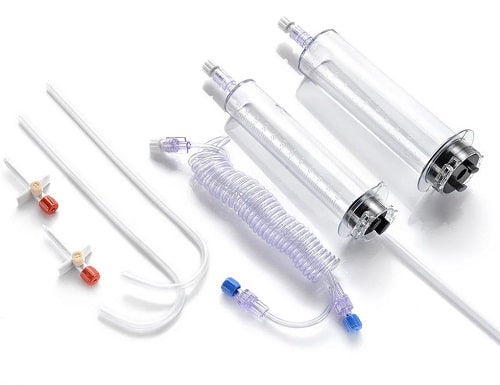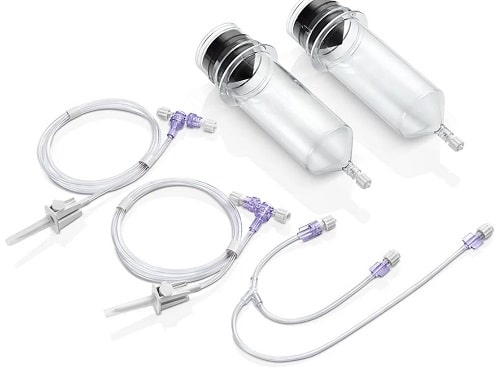 During a coronary angiogram, a small incision is made at the entry site (which can be in the arm or, in emergencies, in the groin), and a short plastic tube (the sheath) is inserted into the artery. A catheter is then inserted through the sheath into the blood vessel and carefully threaded to the heart or the coronary arteries.
Through the catheter and with the help of an angiographic syringe, a type of contrast agent which is visible by an X-ray machine is injected into the blood vessels of the patient's heart. The X-ray machine then rapidly takes a series of images which will offer the doctor a clear view of the flow within these vessels.
Also, depending on what is discovered during the angiogram, the doctor can perform an angioplasty. A balloon catheter is inserted in the patient's vessel to deliver stents to the affected areas, opening up narrowed arteries.
A Glass-Like Texture
As must be clear by now, as much as angiograms are considered a safe procedure, they always carry some degree of risk. And the quality of medical supplies—like the angiographic syringes—is essential when it comes to providing the greatest safety possible for patients.
One of the main safety features this type of syringe needs to have is being made of clarified polypropylene so that its content is made very visible and bubbles can be spotted right away.
After all, complications arising from air embolism caused by the introduction of air bubbles into the patient during the procedure are extremely dangerous and often fatal.
That is why SCW Medicath Ltd.'s syringes are not only very transparent but even have a smooth, "glass-like" texture. Dual sealing also helps prevent air aspiration, as well as leakage.