A new partnership between 3D printer manufacturer Stratasys and regenerative and aesthetic medicine company CollPlant has the potential to revolutionize not only breast implants but also the field of regenerative medicine.


Stratasys and CollPlant recently announced their collaboration involving bioprinting for regenerative medicine. The two firms have joined forces to develop and commercialize a process that combines Stratasys' P3™ 3D printing technology—currently used in industries such as aerospace, automotive, consumer products, healthcare, fashion and education—and CollPlant's rh-Collagen-based bioinks. 
The first fruit of this partnership will be a revolutionary breast implant suitable for both aesthetic and reconstructive procedures—and one which does not elicit an immune response.


The breast implant was approved after extensive animal studies were completed in January 2023. Prior to that, a preclinical study had already confirmed its bio-functionality by showing the formation of maturing connective tissue and neovascular networks within the implants, with no adverse events reported.
These positive results led to the planning of a subsequent large-scale animal study later in 2023 which will employ commercial-size implants, followed by human trials and, finally, commercialization.
Collagen Production From Tobacco Plants

Collagen is an essential building block for the human body and a crucial element for tissue regeneration. Also, it provides structural support and biological signals to connective tissues and organs. 
Animal and human cadavers had been the only options for collagen extraction to which science could resort, but neither source is ideal due to the high risk of contamination and the possibility of inducing an allergic response.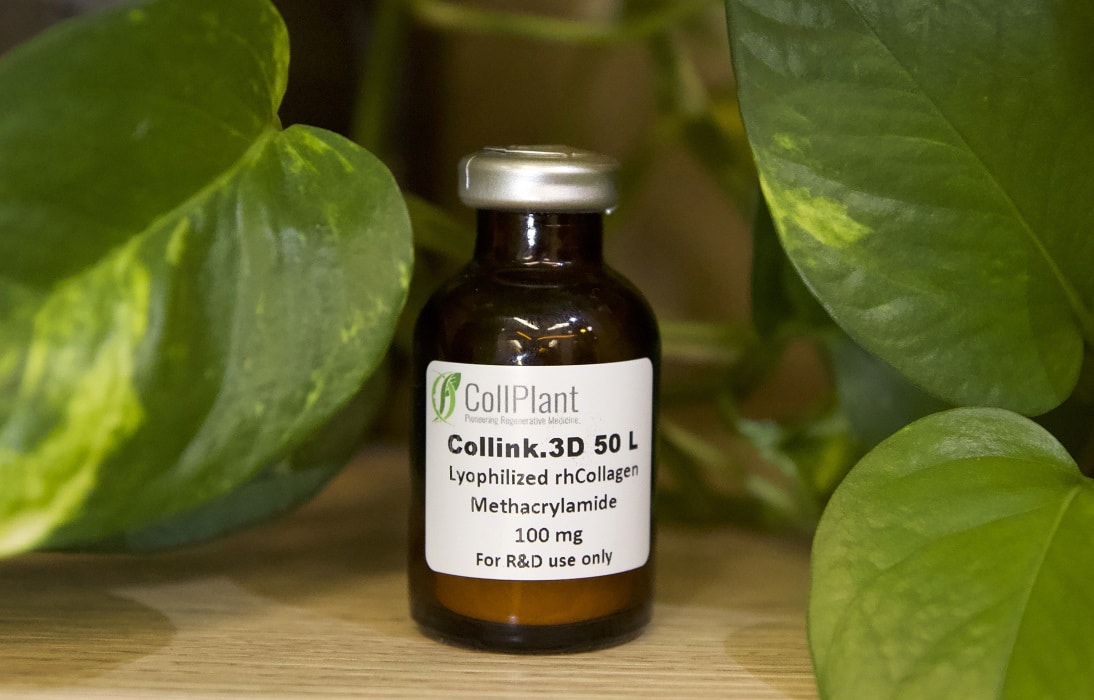 Additionally, the extreme purification process that extracted collagen requires poses further risk, as it can result in irreversible modifications which alter its biofunctionality.

CollPlant's rhCollagen is the result of an ingenious and complex new production process that employs genetically engineered tobacco plants to manufacture—starting at an intra-cellular level—a recombinant human type I collagen identical to the collagen produced by the human body. 
Watch this video on rhCollagen production:
In this process, the correct mRNA is synthetized and converted into the primary amino acid sequence (a protein) that will form the "base" of the substance. After further modifications, a stable procollagen is constructed and later converted into collagen through enzymatic digestion. Finally, the substance undergoes purification.

Extensive studies show that this protein produced by CollPlant is equivalent to human collagen at molecular, physical and biological levels. Plus, its excellent bio-functionality explains the implant's success in tissue healing experiments. 
Also important is the rhCollagen's superior homogeneity, in the sense that its properties are very controlled and easily reproducible. Additionally, the improved safety and greater purity result in a product that is non-immunogenic, non-allergenic, free from pathogens and that does not trigger rejection by a patient's immune response.
Stratasys' P3 Technology
According to Stratasys, P3 technology is a unique combination of several tightly controlled, programmable steps in the printing process. P3 extends digital light processing (DLP) printing's capabilities and supports the next generation of production applications made with photopolymers. This powerful combination of production-grade technology and performance materials unlocks functional end-use applications in 3D printing with competitive throughput and part cost.
P3 technology will be fundamental in the production of this new implant, as it allows for very high resolution and level of process control in the printing process. Eran Rotem, Deputy CEO & Chief Financial Officer at CollPlant, explained:

"The main technical challenge in the development of this implant was to create a product that mimics the physical properties of the native tissue, has a controlled degradation profile and also presents a great biological performance, all at once."
Watch this video about soft tissue bioprinting:
A Strategic Partnership

Under their new partnership, both Stratasys and CollPlant will mutually promote each other's bioprinting products with partners and customers. The choice to kickstart the cooperation with a breast implant makes a great deal of sense from a strategic point of view. Research consultancy IMARC Group estimates that the current global breast implant market is worth US$ 2.6 billion. 
Breast reconstruction and augmentation procedures represent the second most common plastic surgery procedure currently performed worldwide, according to an assessment by the International Society of Aesthetic Plastic Surgery done in 2021.

The medium-term future looks even more promising. Eran Rotem said:
"We expect to see within the next five years more and more companies transitioning from Research & Development activities in biofabrication of tissues, implants and life-saving organs to the actual commercialization of final products. 

The firm United Therapeutics, for example, is already developing life-savings organs for situations such as lung transplants."
Erez Ben-Zvi, Vice President Medical at Stratasys, added: 
"Stratasys and CollPlant will explore additional collaboration opportunities, including the co-development of new regenerative medicine products."