Increasingly sophisticated medical exoskeletons are helping a growing number of wearers take the next step.
Until recently, medical exoskeletons—metal frameworks fitted with sensors, actuators, power sources and control systems that multiply the wearers' strength—belonged to the pages of science fiction. Today they are increasingly impacting people's lives by helping the disabled and infirm get around safely and independently.
The value of the global market will reach over US $570 million by 2023, up from US $117 million in 2018.
Driven by advancing technology, the growing number of people with physical disabilities and increasing insurance coverage in many first world countries, today the medical exoskeleton industry is developing rapidly. According to a report published by research firm Research and Markets, the value of the global market will reach over US $570 million by 2023, up from around US $117 million in 2018.
Medical exoskeletons are typically divided into two groups: rehabilitative and augmentative. Rehabilitative devices assume that the wearer's mobility impairment will lessen over time and that after a period of supervised training the exoskeleton will no longer be needed. Conversely, an augmentative medical exoskeleton is designed for permanent use, with a design that assumes the wearer's condition will never improve.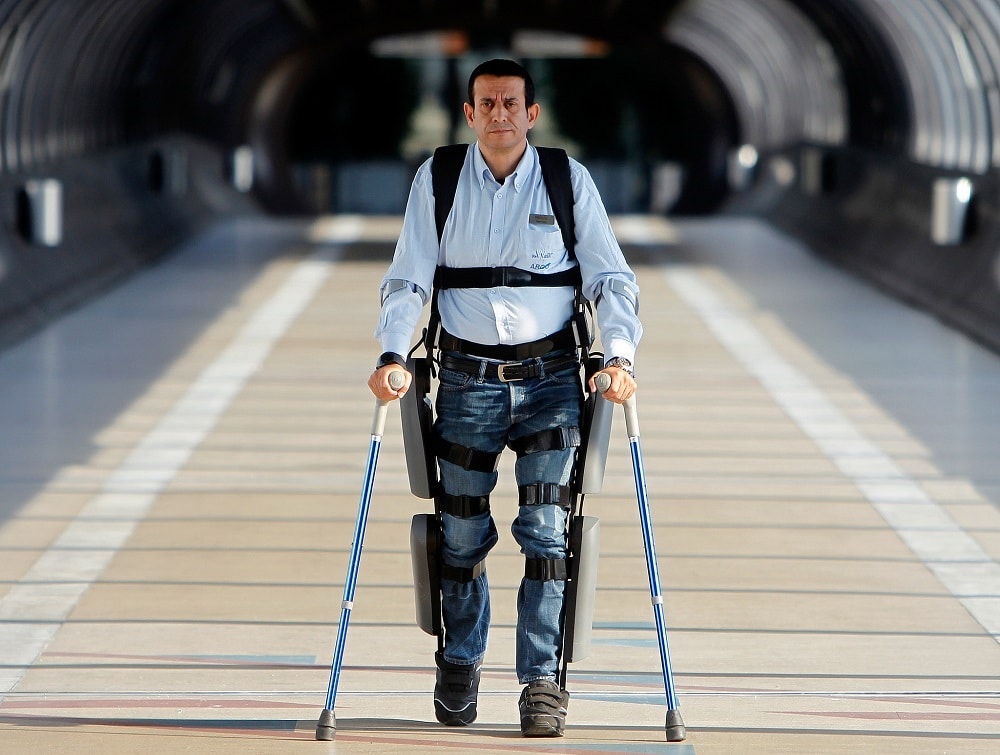 Massachusetts-based exoskeleton maker ReWalk Robotics designs, develops and commercializes exoskeletons which allow wheelchair-bound individuals to stand and walk again. The company's latest product, the augmentative ReWalk 6.0, uses cutting-edge technology to allow individuals with paraplegia, a spinal cord injury resulting in complete or incomplete paralysis of the legs, to stand, turn and walk. ReWalk Robotics CEO Larry Jasinski explained:
"The system integrates proprietary on-board computers and software, motion sensing technology and battery-powered motorized legs to power knee and hip movement."
While the ReWalk 6.0 costs a little under US $80,000, ReWalk Robotics is currently developing a soft, rehabilitative exo-suit called the ReStore, with targeted commercialization in early 2019. This is designed to help stroke survivors with gait impairments, and will be priced at around US $20,000. It will provide coordinated plantarflexion and dorsiflexion assistance to the wearer's impaired side, with power transmitted through cables to attachment points on a calf wrap and shoe insert.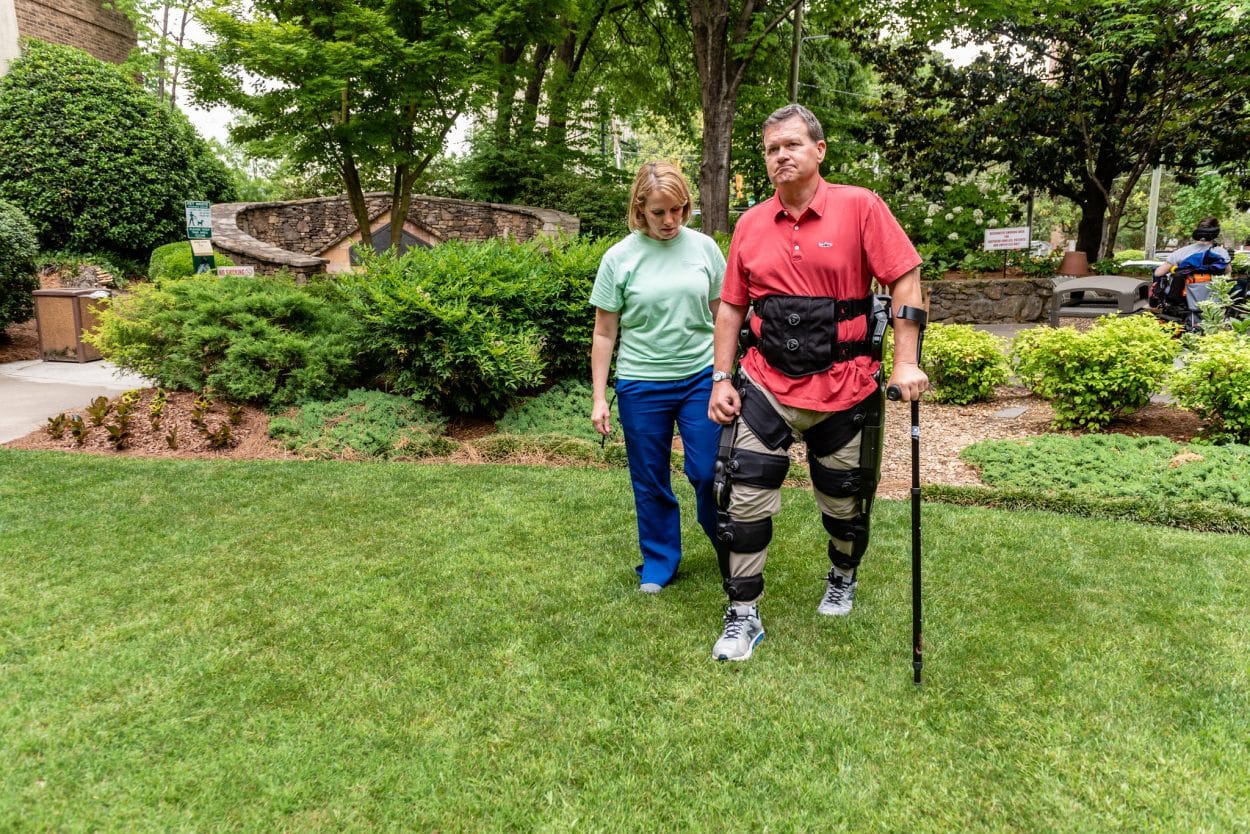 Another sophisticated rehabilitative exoskeleton is the newly released Indego Therapy Exoskeleton from Cleveland-headquartered Parker Hannifin, a lower limb-powered device that enables therapists to deliver task-specific, overground and individualized gait training. One of this exoskeleton's most innovative features is the ability to rapidly adjust components while the patient is wearing it. Stefan Bircher, a global market development manager in Parker Hannfin's Human Motion & Control department explained:
"The device's integrated Therapy+ software, which incorporates control algorithms based on proven motor learning principles, allows for setting changes during the swing and stance phase for each leg."
The Ekso GT from California-based Ekso Bionics is also a leading rehabilitative exoskeleton. It features SmartAssist software, which allows physical therapists to vary the support of the device for each leg independently. This capability enables the Ekso GT to rehabilitate a larger range of patients, from those too weak to walk to those who are nearly independent. Watch a video:
Lighter, Smarter and Cheaper
A small but growing number of medical exoskeleton manufacturers are now investing huge sums into both hardware and software development, as designs become lighter, smarter, more capable and less expensive. Rewalk Robotics' Jasinski said:
"Going forwards, technological evolution will refine what is already an effective platform. Weight and size will continue to be reduced, batteries will become more efficient, and data and metric outputs will be enhanced to meet the expectations of an information-driven healthcare system."
While limited power supplies are still a constraint in many areas, the latest medical exoskeletons are still pushing the boundaries. Not only are passive devices arriving on the wearable robotics catwalk, but many exoskeletons have gone completely soft, swapping metal frames for flexible fabric and artificial muscles.
For those with mobility issues, such advances are potentially life-changing.
Read more about exoskeleton on MedicalExpo website.