A new study from Google's DeepMind shows that artificial intelligence may be able to predict breast cancer better than human doctors.
Can an artificial intelligence diagnose breast cancer better than a human? According to a new study it might. By feeding the AI software huge datasets of mammograms from almost 30,000 women from the US and UK, it was able to recognize patterns in the breast scans that could be signs of cancer. The neural network did so slightly better than human radiologists while reducing the number of errors. The number of false positives (predicting cancer when it isn't there) fell by 5.7% and false negatives (not detecting the cancer) fell by 9.4% in the US and a bit less in the UK (1.2% and 2.7% respectively).
The results were published in the renowned scientific journal Nature. Graham Colditz is the Associate Director of Prevention and Control at Siteman Cancer Center in Missouri and a specialist in breast cancer prevention. He said:
"This would translate to fewer women needing follow-ups and fewer false cancer diagnoses in women who have been cleared by exams. That's a measurable impact on the quality of life by not having to do a biopsy for instance."
If you feel like Google is already seeping into every part of your life, you're not entirely wrong. One of the company's more recent bets is that AI will play a big part in the future of healthcare and Google Health is studying, among other things, how AI can be used in predicting patient outcomes, preventing blindness in diabetics and storing our healthcare data. Google's parent company, Alphabet, also owns the anti-aging company Calico, the life science research company Verily, and the venture capital firm GV, which has invested in dozens of healthcare-related startups. So it's very likely that Google will be part of your visit to the doctor in the future.
AI Doesn't Get Tired
Nonetheless, most experts agree that the potential in AI-assisted detection is huge. Breast cancer is the second deadliest type of cancer for women, but if caught early the outcome improves significantly. According to Cancer Research UK, breast cancer screening programs in the UK save around 1,300 lives each year, which is why Carolyn Aldigé, CEO of the Prevent Cancer Foundation, is excited about the prospects of the Google DeepMind study. She said:
"It's the wave of the future. AI and machine learning are going to help us detect better, earlier and more precisely."
An AI can read thousands of images without getting tired and is able to recognize patterns we humans might not. The more data you feed the neural network, the better it should get at making predictions and Carolyn Aldigé is hopeful that AI will be able to be used in screening for other types of cancer such as lung cancer as well. She added:
"Screening is incredibly important and early detection often leads to a surgical cure of cancer, so if we can do screening cheaper and faster and equally accurate, that could help save lives."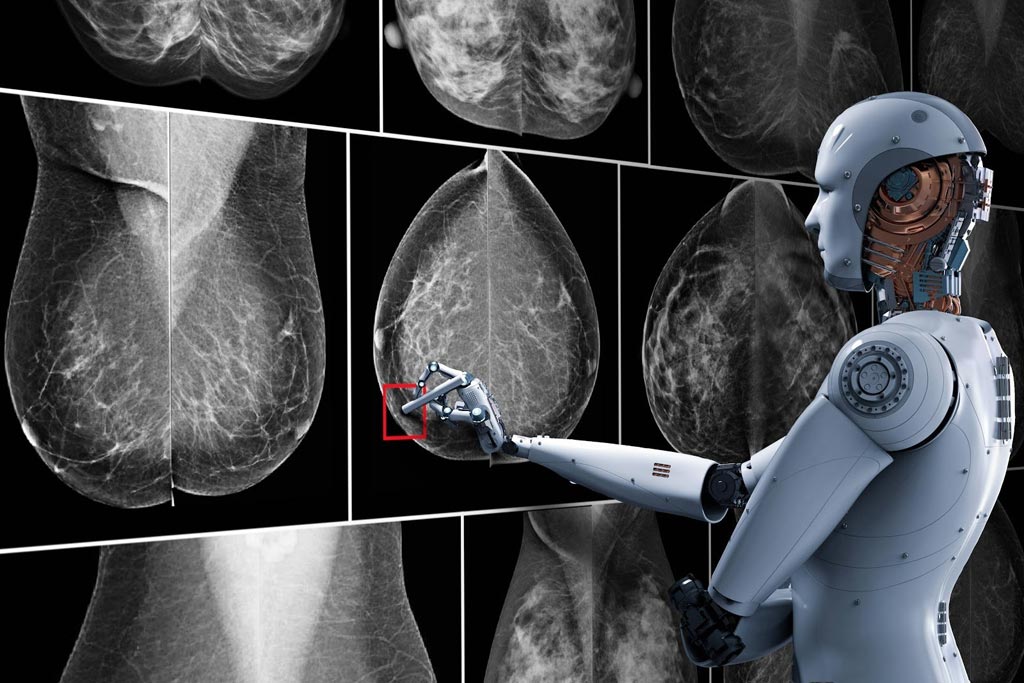 Graham Colditz is equally upbeat about the prospects of the study. He said:
"This clearly has potential and shows the ability of deep learning AI to streamline mammography screening and presumably other image processing down the road."
Radiologists might read the study with an uncertain feeling but they need not worry about losing their jobs to an artificial intelligence. Carolyn Aldigé said:
"It's not going to put radiologists out of business."
Rather, it could reduce their workload by performing initial scans. In the UK, mammograms are being assessed by two different specialists to minimize the risk of false diagnoses and the AI could potentially handle one of these readings, so radiologists could focus their resources on high-risk suspicions of cancer. At a time where there's a shortage of over 1,000 radiologists in the UK, AI could be crucial in closing the gap. Graham Colditz said:
"If, say, 80% of mammograms wouldn't need a second read because an AI read it instead, that would change the overall efficiency in the UK screening process. For the complicated images in radiology we're still going to need an expert to make the call so we won't make radiology or histopathology obsolete, but we will reengineer the way we practice it in the future."
AI Still Has a Lot to Learn
The DeepMind study is only a preliminary piece of work merely looking at two sets of patients in one hospital system. The AI missed several cases of cancer that the human radiologists caught, though the AI also identified cancer in a case where the radiologists didn't—but it's unclear what causes it to miss or identify cancer. Graham Colditz emphasizes that artificial intelligence still has a lot to learn before it can be put to work in the real world. He said:
"The unknown factor is whether it's going to perform equally well when it's rolled out on a broader range of images coming from multiple ethnic populations. But this is a step in the right direction and it's only a matter of time until these next studies will refine the best approach to integrating this into clinical care."