Around the world, national healthcare contingency plans have struggled to cope with the impact of Covid-19, with healthcare facilities and critical care systems buckling under the extraordinary pressure. Faced with a massive influx of long-term intensive care patients, overstretched hospitals have often had to rely on medical evacuations organized by regional health agencies, and even the army. In a growing number of countries, this is leading to a complete rethink about the way hospitals are designed.
This article was first published in ArchiExpo e-magazine.
Italian architect Filippo Taidelli, founder of Milan-based Filippo Taidelli Architetto, explained:
"Covid-19 has brought into sharp focus all the existing structural, organizational and technological challenges associated with old and obsolete healthcare facilities. The pandemic has shown us that we need to halt the industrialization of healthcare spaces and humanize them instead."
As highly complex and often inflexible institutions, hospitals typically rely on external support and supply lines which operate with minimal margin of error and at very high rate and capacity. This means even a slight increase in admissions can overwhelm them. During the Covid-19 pandemic, hospitals also faced two associated issues—the physical and mental exhaustion of healthcare workers, and a growing backlog of essential, non-Covid healthcare procedures.
A New Anti-Pandemic Hospital
The Emergency Hospital 19, a new "anti-pandemic" hospital, was conceived by Filippo Taidelli and partners as a response to these issues. Grounded in versatile, scalable, sustainable architecture, and buildable in just three months, it meets the critical demands of both emergency and routine healthcare at the same time. The first example, constructed next to an existing hospital, opened in the summer in a municipality on the outskirts of Milan.
(Image Credits: Rendering of Emergency Hospital 19. Courtesy of Filippo Taidelli Architetto.)
Comprising six standard modules that can be rapidly adapted for various uses, the requirements of patients lie at the heart of the Emergency Hospital 19 design: dimensions, flows, medical equipment and support systems are designed to offer ideal use and ensure high-quality care. The hospital is equipped with an emergency department, diagnostics, intensive sub-intensive care, regular hospital rooms and operating theaters, organized along clearly separated paths to ensure the safety of patients, visitors and caregivers.
Filippo Taidelli said:
"The most innovative aspects of the design relates to its extreme flexibility, which means it can be transformed rapidly to meet the demands of both emergency and permanent projects. In one-third of the time taken to construct a traditional hospital you can realize a modular, sustainable structure that can be customized inside and outside, both aesthetically and functionally, to suit any location in the world."
Therapeutic Beauty
The Emergency Hospital 19 design also looks to the environment: the entire structure is enclosed in a second skin that helps reduce incoming thermal energy by 50 percent. There are numerous external green spaces, as well as a central patio that offers everyone using the building an opportunity to connect with nature and relieve stress. Taidelli said:
"We consulted widely with medical professionals to better understand the needs of hospitals in terms of their design. The major takeaway was the need to humanize healthcare spaces by integrating what we call 'therapeutic beauty.' The use of green spaces, light, color, choice of materials and furnishings can all accelerate healing through intellectual and sensorial stimulation."
(Image Credits: Rendering of Emergency Hospital 19. Courtesy of Filippo Taidelli Architetto.)
Critical MASS
Filippo Taidelli Architetto isn't the only architectural practice reimagining hospital space in the wake of Covid-19. MASS Design Group—a nonprofit architecture-and-design collective based in Boston and Kigali, Rwanda with a major focus on hospitals—also sees architecture as a medium for healing.
MASS has worked widely in developing nations (mostly in Africa), constructing and retrofitting buildings to enhance the control of highly infectious diseases such as cholera, tuberculosis and Ebola. The Butaro District Hospital in Rwanda, for example, was designed to mitigate and reduce the transmission of airborne disease through various systems, including overall layout, patient and staff flows, and natural cross-ventilation.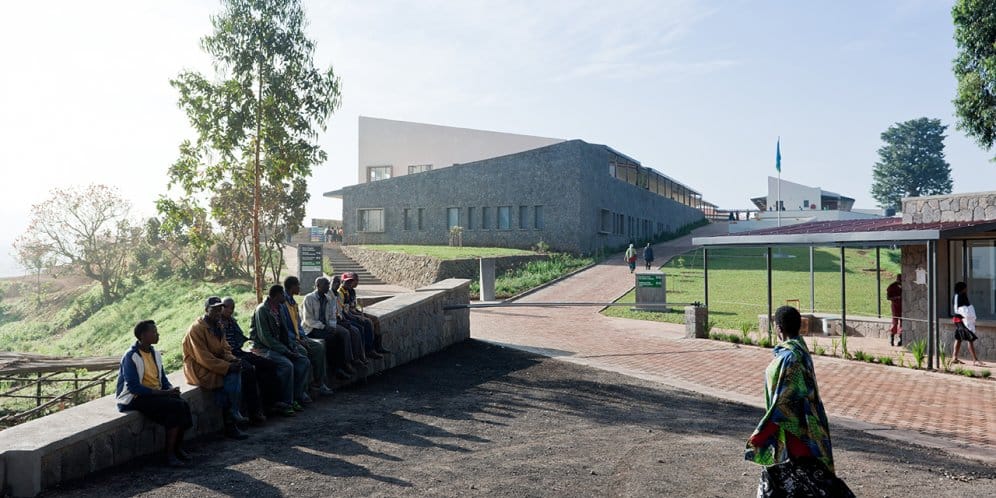 During the Covid-19 pandemic, MASS leveraged their considerable expertise to form a US-based design response team, which shared strategies for mitigating the risk of infection in healthcare spaces and beyond. Michael Murphy, founding principal and executive director of MASS Design Group, explained:
"The Covid-19 pandemic marks a moment that will change the way we consider designing and building the spaces we need in the future. Architecture has been relegated as a passive backdrop, but if it is deployed as an active agent in the fight against the coronavirus pandemic, we can recapture trust over our public spaces and solve problems."
In March, MASS partnered with healthcare innovation consultancy Ariadne Labs to help Mount Sinai Hospital in New York understand how its built environment could influence contagion control and to gather additional knowledge that could be shared with other hospitals facing a surge in Covid-19 patients. Following the implementation of a range of measures at Mount Sinai, they subsequently published a report titled "Redesigning Hospital Spaces on the Fly to Protect Healthcare Workers."