3D printed nasopharyngeal simulator tests are being used by healthcare providers in France during training for swab testing for Covid-19. The design of these simulators has been made available to the public by Bone 3D.
It all started with a novel idea from 12-year old Axel Sananes, who wanted to assist caregivers training with swab tests for Covid-19. He figured out how to safely perform these tests by creating a 3D printed nasopharyngeal swab simulator that caregivers can easily use. A project that was just an idea is now a reality, thanks to the financial support of Protege Ton Soignant, a French nonprofit organization that provides material assistance to caregivers treating Covid-19 patients; Dianosic; and Bone 3D, a well-known startup who developed the 3D simulator tests printed in multi-material.
READ: Stratasys: Covid-19 Is an Accelerator and Eye-Opener for 3D Printing
Testing and segmenting contaminated patients requires many healthcare providers, and before performing the actual swab tests, caregivers are required to undergo training. The 3D printed simulator test aids in the process of nasopharyngeal sampling, which is one of the most effective analysis methods known today for detecting the virus at an early stage of the disease, even in asymptomatic patients. In the US, the CDCs have published guidelines on how to collect, handle, and test specimens for COVID-19.
The 3D simulator tests help caregivers perform the actual tests more effectively. They are printed with Polyjet technology and they imitate the actual rhino-nasal area with exactly the same textures and colors, making these models as close to reality as possible for the caregivers who are training with them.
A Simulator That Can be Printed Anywhere
The design of these simulators has been made available to the public by Bone 3D. This means anyone equipped with a Stratasys J750 or any FDM 3D printer can print their own 3D simulator test for training use at home or in a healthcare center or facility. The instructions and printing process can be downloaded here.
READ: Covid-19: Smartphone-Based Tests to Do at Home
READ: The New CRISPR-Based Covid-19 Test Could Be a Game-Changer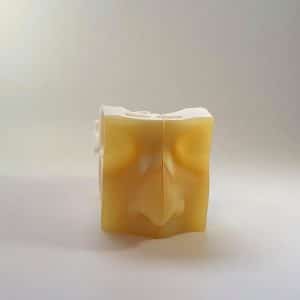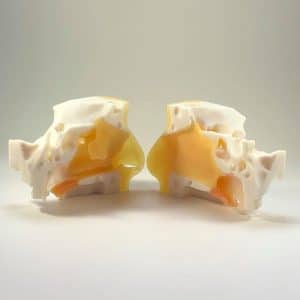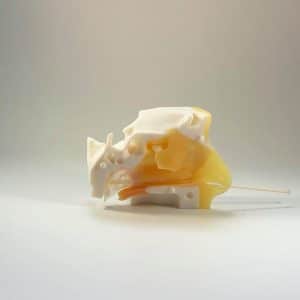 (Credit: Bone 3D)