Created using 3D printing, the recently-launched myReflection bespoke breast prostheses are adapted for a perfect fit so they are comfortable to wear and won't be dislodged. Made with a flexible inner core coated in ISO certified silicone, the goal is for the patient to forget she is wearing them so she can feel like herself again.
Up until recently, if women decided not to have reconstructive surgery after a mastectomy, few options were available to them. Generic silicone bra inserts can be uncomfortable and slide out of place when going about your daily routine. Something as simple as a hug can dislodge them. They also do not really look like the breast (or breasts) the woman had before surgery.
New Zealander Fay Cobbett and her partner Tim Carr decided to take matters into their own hands. Cobbett underwent a mastectomy to treat breast cancer after diagnosis in 2015, and Carr wanted to use his previous knowledge of 3D printing to create a better solution for her. He wanted something that would be comfortable, mould to her chest and actually imitate the shape of her original breast.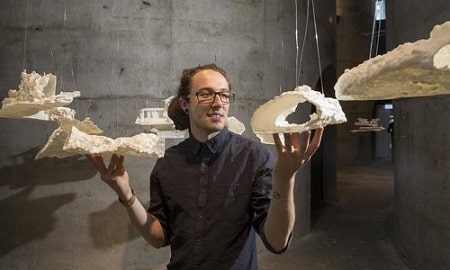 Cobbett and Carr developed the idea, and Carr started working with 3D printing expert Jason Barnett. The project really came together in September 2018 after Weta Workshop, a special effects and prop company based in Miramar, gave them access to their facilities and material knowledge.
Before creating a new prosthesis, a 3D photographic map of the patient's torso must be created. Both sides are scanned if the scan is performed before the mastectomy, and if the map is created post-op the remaining breast is scanned in order to replicate it. An additional advantage of this process is that as a patient ages, the torso can be remapped and a new prosthesis can be created to match the remaining breast for a realistic, symmetrical effect.
It was very important to Carr that myReflection be an affordable option and not just accessible to an elite section of the population. With this in mind he worked to reduce production costs so the prostheses would be covered by the New Zealand government grant for citizens who have had a mastectomy intended to pay for prosthesis and custom bra costs.