Today there is strong competition in the healthcare market across the globe. In addition to delivering excellent clinical outcomes, healthcare providers must meet the burgeoning expectations of patients with regard to their time spent in the hospital. This has seen a growing focus on patient comfort and the development of associated equipment and technology.
Enhancing the patient experience has a number of benefits. Calmer patients tend to move less when being analyzed or treated, producing more favorable results, while less sedation may also be needed (this is especially true for children). Flexible, adaptable environments that suit the needs of individual patients can accelerate recovery times and thereby minimize hospital stays.
Digital innovation is also creating a step change in clinical performance and enhanced connectivity. Through new interactive technology, patients are increasingly empowered to make decisions about their own health, giving them a greater feeling of control.
Better Beds
Whether they support an elderly resident, a person undergoing treatment or a recuperating patient, today's hospital beds play a key role in the provision of medical care. They can relieve pressure, boost circulation, improve safety, facilitate transfers and increase access for caregivers.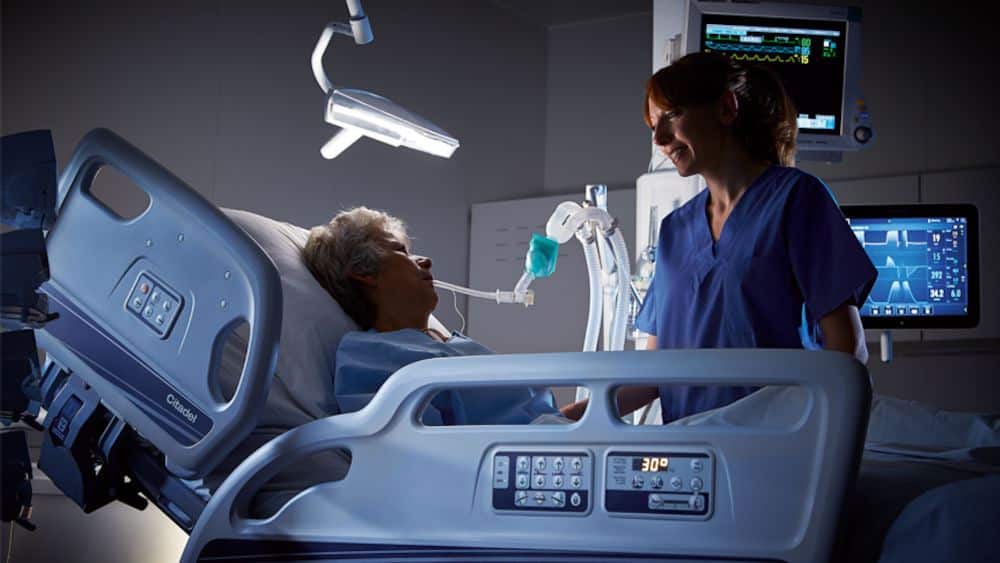 The Citadel Patient Therapy System from Swedish medical equipment and solution provider Arjo provides flexible patient care, integrating innovative bed frames and therapeutic mattresses for use in critical care, high-dependency units (HDUs) and medical surgery.
"The system's 'reactive' support surface optimizes pressure redistribution," explained Arjo Senior Director Anders Svensson. He said:
"The head and seat sections can be independently deflated, while full-length 'firm' mode can also be used to assist nursing interventions. There is also a continuous low-angle patient turn function, which can complement or supplement routine repositioning."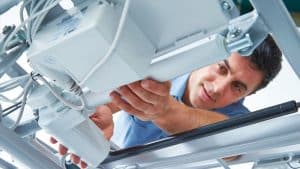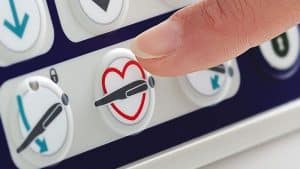 Fantastic Light
Lighting plays an essential but often overlooked role in supporting patient comfort and care in medical facilities. Light that mimics daylight can improve the daily activity pattern for both short and long-term hospital residents.
Signify's dynamic lighting recipes boost patient comfort and improve sleep cycles by supporting biorhythms and more natural circadian rhythms. These rhythms are most effectively underpinned by new lighting systems, like Philips HealWell, which aims to enhance sleep and rest using the natural power of light. James Bennett, Signify's Commercial Director (End User – Indoor Lighting) explained:
"HealWell is based on innovative Tunable White technology, which promotes healthy sleep patterns and helps alleviate anxiety. Simulated daylight sequences facilitate the ideal sleep-wake rhythm for patients."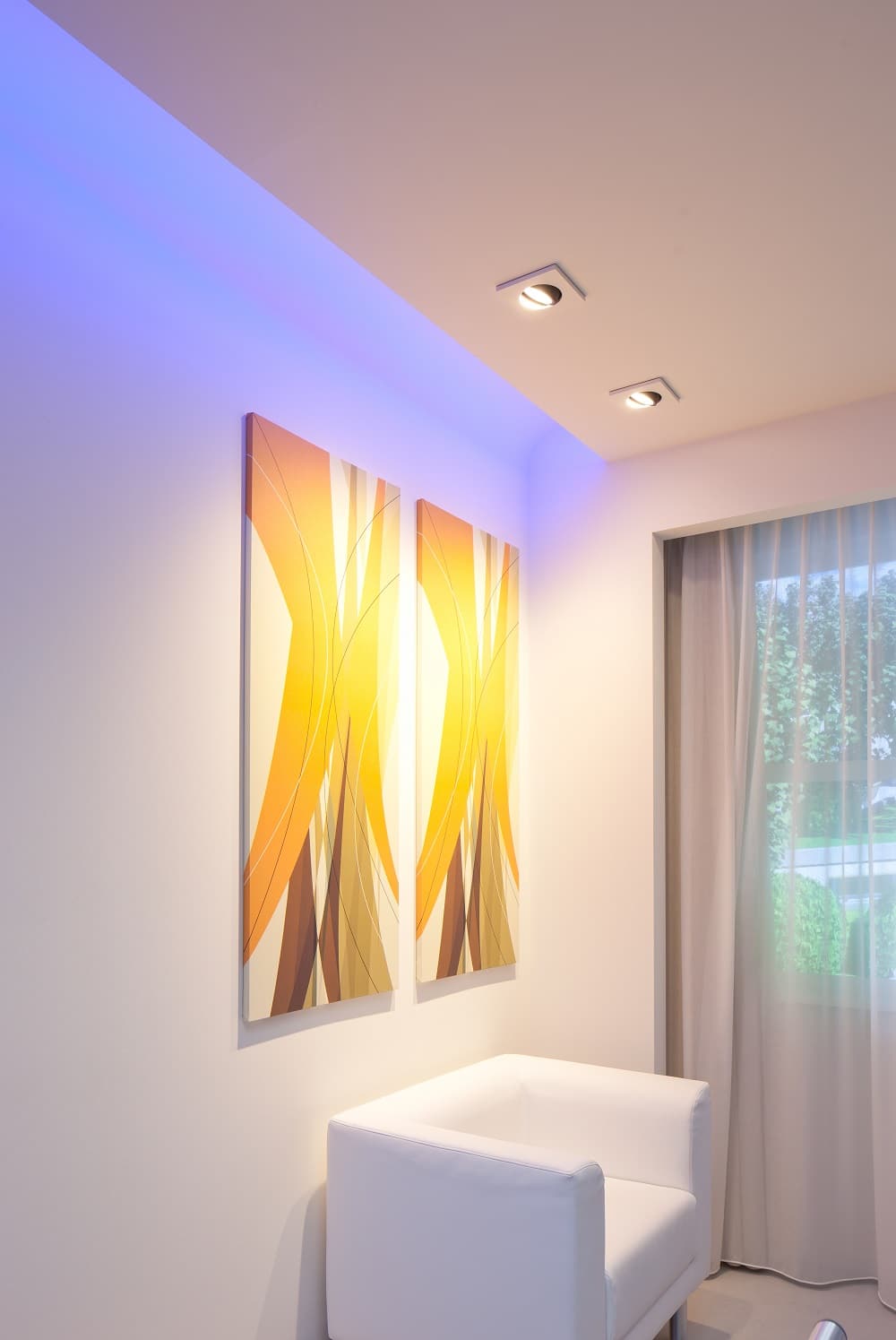 There are other benefits too. In addition to enhancing the hospital environment for patients, the wellbeing and concentration levels of medical practitioners are improved as well. Signify's Bennett added:
"As part of a networked lighting system for hospitals, Healwell can boost staff comfort levels. Subtle ambient and orientation lighting enables care teams to perform their duties without disturbing patients, providing excellent visibility for the performance of important medical tasks."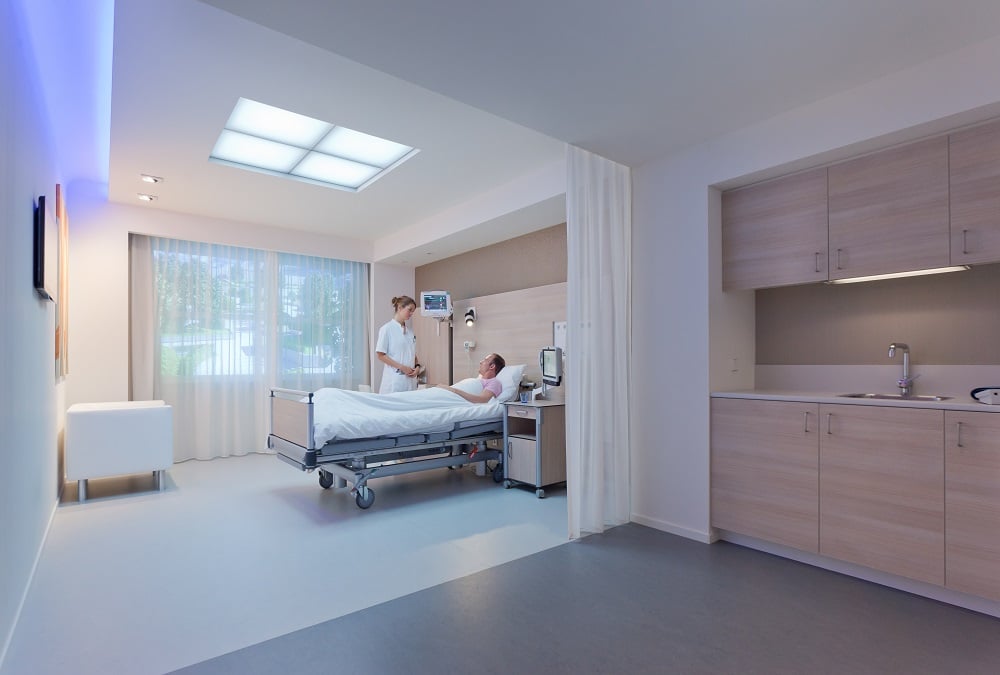 Serene Scanning
The health and wellbeing of patients isn't simply the culmination of competent diagnosis, medical treatment and care. The design of rooms and medical devices plays a vital role in determining the quality and outcome of the time patients spend in hospital. The majority of patients who undergo a magnetic resonance imaging (MRI) scan understandably experience some level of anxiety. As a result, some move so much that they cause motion artifacts or are unable to complete the scan, or fail to show up for their examination at all. This can result in increased health risks and additional expense.
Launched by Siemens at RSNA 2018, Innovision is a new in-bore infotainment system that helps ease patient anxiety by transforming the MRI experience into one that is fast, comfortable and entertaining. Innovision allows healthcare practitioners to customize the scanning environment using atmospheric lighting, projections and wall coverings. In-bore entertainment and noise reduction further enhance patient relaxation. The system features a screen where movies and music can be played, as well as the remaining treatment time and breathing instructions. A specially designed pillow transmits clear audio signals and attenuates scanner noise substantially.
Siemens Healthineers' Alexandra Zahn said:
"The screen makes the inside of the scanner seem larger, which helps patients who suffer from claustrophobia. Innovative contour coils, placed on top of the patient like soft, flexible, lightweight blankets, also enhance patient comfort."