San Francisco-based companies Viaex Technologies and DaD Sewing House have joined forces and created the O2 Nano Mask, a sustainable protective mask with a triple-layer nano filter system made from materials ensuring high breathability. MedicalExpo e-Magazine spoke with the founders, Rebecca Cahua and Vivian Qu, to learn more about the technology behind this innovative locally manufactured product.
Viaex Technologies, a material science startup and laboratory, has been researching nanomaterials and developing their own products for over six years. They have collaborated with DaD Sewing House, a network of local manufacturers that provide employment opportunities to skilled craftspeople in San Francisco, to create the O2 Nano Mask. Distributed under O2 Brands, the O2 Nano Mask was created in April 2019 as a high-quality pollution mask, and this year, its production was increased to meet the demand of communities and healthcare facilities for protective masks for health workers and people affected by Covid-19. O2 Brands launched a Kickstarter campaign last May 12, to raise funds that will aid in producing 20,000 O2 Nano masks a month at scale to reach their intermediate donation goal in 2 months.
The O2 Nano Mask is sold at $35.99 and comes in medium and large sizes.
MedicalExpo e-Magazine: Can you describe the O2 Nano Mask and the technology behind it? How many times can it be reused and how can it be washed and cleaned?
Cahua and Qu: The mask consists of two components: the reusable skin and the replaceable filter. Each filter features three layers: two layers of PET and one embedded with nanofiber material. The fibers are on the order of 85 ± 20 nm in diameter. This nanoscopic morphology creates uniquely small pores and drastically increases the membrane surface area while leaving open-air travel paths in 99% of the membrane volume.
The O2 Nano Mask's filter component stops 99% of PM2.5 particles, including dust and other air pollutants; pollen; dander and other allergens; bacteria and other germs; harmful gases; smoke (including from wildfires) and other fumes with its five-layer protection and hypoallergenic hydrophobic nanofilter. The filter media we use has achieved 99% particle removal efficiency based on EN143 European certification standards and third-party testing.
The mask's outer shell component can last for a long time. Our mask is machine washable and tumble dryer safe. It's intricately constructed to be worn time and time again. The filters are long-lasting depending on the level of pollution and are also fully recyclable. Each O2 Nano Mask filter can last from eight hours to 20 days (with light exercise in a moderate AQI environment).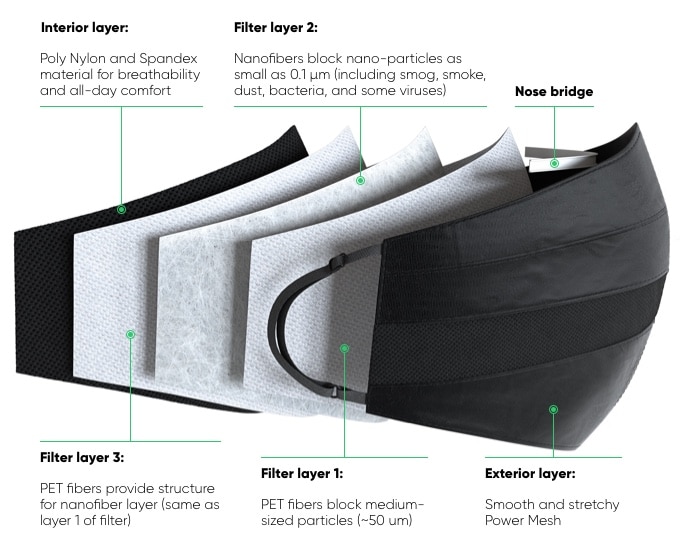 ME e-Magazine: What are the different parts and functions of the O2 Nano Mask?
Cahua and Qu: The O2 Nano Mask consists of the reusable skin, the 3-layer nanofilter membrane, and a nose bridge for a snug fit. Its main function is to allow wearers to breathe freely while staying protected and avoiding the spread of germs. The materials we chose for the O2 Nano Mask ensure high breathability with a 1 mbar pressure at 60 L/min of airflow, which is much better than most masks on the market. The lower the mbar number, the easier it is to breathe. Using the same air flow rate as the mask, the pressure needed for SCUBA gear is 28 mbar. Blowing up a balloon at 60 L/min takes 120 mbar of pressure, for comparison.
ME e-Magazine: Why were Poly-Nylon and Spandex chosen as the other materials for the O2 Nano Mask?
Cahua and Qu: These materials have been chosen due to their durability, hypoallergenic properties, and higher breathability compared to other fabrics.
ME e-Magazine: Where do you manufacture the O2 Nano Mask and your other products?
Cahua and Qu: Our business is 100% local. The filter systems in the O2 Nano Mask have been designed by Viaex and are produced in the Bay Area. The mask skins are manufactured by DaD in San Francisco. The packaging is also produced locally. We want to continue to create products based on high-performance materials, focused on sustainable design and product development, while staying local and creating a brand focused on transparency.