Open the pages of any beauty magazine or catch up with a social media influencer on Instagram and you may well find yourself coming face to face with LED masks. What are they used for and what are the realistic levels of success?
Ranging in price from around €230 to €2,000, these devices are designed to help with a variety of skin conditions, from acne and rosacea to eczema and psoriasis. They are also increasingly promoted for skin rejuvenation, wrinkle reduction and complexion improvement.
The masks, intended for everyday home use, feature tiny LED bulbs that emit different colored wavelengths of light to penetrate skin cells and stimulate healing reactions. Blue is said to fight bacteria to improve acne and eczema, while red stimulates cell renewal and amber helps create glow. Green light is suggested for pigmentation and sunspot reduction and white to encourage skin repair.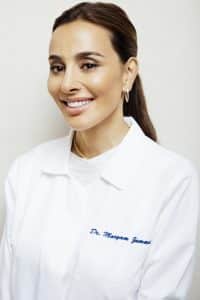 Dr. Maryam Zamani, a London-based facial aesthetics and oculoplastic surgeon, and founder of MZ Skin, launched the Light-Therapy Golden Facial Treatment device two years ago. She said:
"LEDs are excellent for lots of different skin conditions. They are a really great way to boost collagen and elastin production; a really good anti-inflammatory and can help those who suffer from acne and rosacea. They also help healing and can be used post laser or surgery and for pigmentation; they can be used on sensitive skin and are color blind as they can be used on dark or light skin."
She said the masks can complement other skin treatments, including skincare routines, microdermabrasion, peels or stronger LED treatments. To date, the home-use masks have not been as strong as clinical treatments, but Dr. Zamani does have a medical-strength home device in the pipeline. She added:
"If you are thinking of buying a mask, make sure you buy one that is FDA [or equivalent organization] approved and look at the wavelengths of light to make sure it has the one you need for the treatment you require."
Realistic Expectations
Dr. Waseem Bakkour is a consultant dermatologist and dermatological surgeon at the London Clinic. He explained:
"LED masks are safe if people follow the manufacturer's recommendations. They are definitely less effective than LED treatments at a clinic or a salon because to increase safety, the manufacturers have to dial down the settings. They have been marketed for different indications and there is more independent evidence for some indications than others. For example, there is more evidence for their success with mild to moderate acne; I think the evidence is weaker in terms of rejuvenation."
He said that those purchasing the masks should have realistic expectations of levels of success. He added:
"These masks are a treatment option, but people need to understand what they are likely to achieve and what they are paying for. They do offer a reasonable and safe treatment, but cost must be taken into consideration and people must understand there are medical treatments that might be more successful."